Spain's Exhumation of Dictator Franco Seeks to Repair the Past
(Bloomberg) -- Speaking at the 1959 inauguration of the monument he'd commissioned to commemorate the victims of the civil war, Spanish dictator Francisco Franco left little doubt that it was really built to celebrate his victory.
His vanquished enemies had been obliged to "bite the dust of defeat," Franco said then, according to Paul Preston's biography of the general who ruled Spain for 36 years after defeating Republican forces in the 1936-1939 conflict, a precursor to World War II.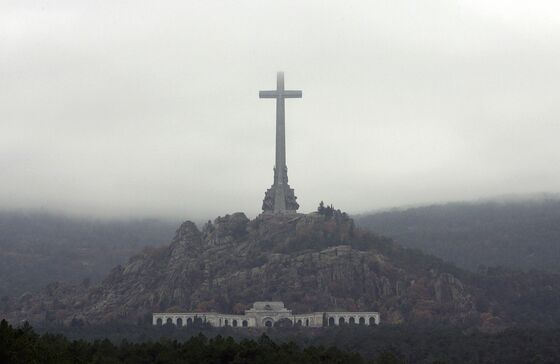 Fifty years later, Franco's flower-strewn tomb at the same site has become a pilgrimage destination for Spaniards still harboring sympathy for his fascist regime. On a recent Sunday, a small group of people gathered around the grave after mass to pay their respects, some crossing themselves or kneeling to touch the tombstone. Nearby, a priest sprinkled holy water on three men.
Now Prime Minister Pedro Sanchez is seeking to put a stop to the tributes. His Socialist government said Friday that it had issued a decree allowing for Franco's body to be removed from the site and transferred to a place of his family's choosing. It's a decision that threatens a backlash in a country whose political fault-lines reach back to the civil war.
Without Franco's tomb, the basilica will serve its original purpose, which is to commemorate the remains of some 34,000 victims from both sides of Spain's civil war that are also buried there, the government said.
Extracting Franco's remains from a memorial built using forced labor from 20,000 political prisoners brings to an end a 40-year struggle to come to terms with Franco's legacy, said Alejandro Quiroga, a professor in Spanish history at Newcastle University in England. It represents another step in attempts to address the grievances of the families of an estimated 200,000 Spaniards who were killed for opposing his regime.
"There's no doubt that this will at least normalize a situation that by European standards is abnormal and extraordinary," Quiroga said. "It's unthinkable that in any other place where there's been a fascist dictatorship that you could have this kind of celebration of a dictator in a monument constructed by slaves."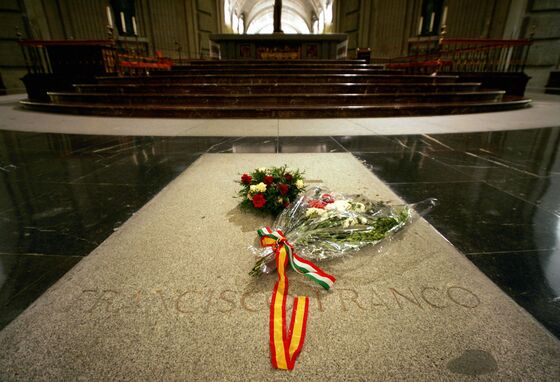 The move will play well with Sanchez's supporters but it illustrates how, nearly 80 years after the end of a bloody civil war, Spain's fledgling democracy is still deeply polarized. Unlike in Germany or Italy, Spain's fascist regime wasn't ousted by force and the payoff for a peaceful transition to democracy after Franco's death in 1975 is that the perpetrators of atrocities, including mass executions and labor camps, have never faced trial. For years, Spaniards held an unofficial "pact of silence" -- it was best to let sleeping dogs lie, was the thinking.
It's an idea that still holds sway today. About 41 percent of Spaniards approve of the idea of removing Franco's remains while 38.5 percent are opposed, according a July 15 Sigma Dos survey carried out for El Mundo. Yet even with a majority in favor of the measure, 54 percent don't think that now is the moment to do it, the poll found.
Commissioned by Franco, the 262-meter (860-foot) basilica is longer than St. Peter's in Rome and took 18 years to build. Its 150-meter-high cross towers from a rocky escarpment surrounded by pine, poplar and oak trees on the edge of the Guadarrama mountain range an hour's drive northwest of Madrid.
Franco's grave commands the central point in the basilica, under a mosaic dome on the far side of the altar from the tomb of Jose Antonio Primo de Rivera, the founder of Spain's fascist movement known as the Falange.
Nowhere is opposition to Franco's exhumation expressed more vehemently than here, where hundreds come to attend mass each Sunday. Mercedes Laso, 64, said the government was attempting to rewrite history.
"I don't care either way about Franco but they should leave his remains alone," Laso said. "They want to change the result of the civil war after having lost it."
Others argued that it would be a profanity to dig him up after so many years or that it was a smokescreen to distract from other issues such as poverty and immigration. Taking selfies outside the church, Nerea Lerida, 22, said she'd made the 250 kilometer (155 mile) trip from Ciudad Real to visit the monument before the government acts on its plans.
"He built this place for himself so he should be allowed to remain here," Lerida said.
For Sanchez, who governs with a minority after ousting Mariano Rajoy in a no-confidence vote following a corruption scandal involving the conservative People's Party, it's a chance to notch up a concrete achievement. With just 84 seats out of 350 in Spain's parliament, Sanchez is struggling to implement his agenda, such as a levy on banks to cover pension payments or increasing the budget-spending ceiling.
Under the previous Socialist government, symbols of Franco's regime were removed from public spaces and streets renamed. A commission on the monument's future concluded Franco should be removed and Primo de Rivera relocated within the mausoleum, but the recommendations were ignored after the People's Party took power in 2011.
"It's about time they did this," said Cristina Garcia, a 37-year-old engineer from Madrid. "It can remain as a monument but it shouldn't be a place of pilgrimage for fascists. You can't turn the page without reading it first."