In Sunny Australia, People Are Mad as Hell
Australia is a sunny place, with endless beaches, clear blue skies, barbecues and beer. So why are its citizens so angry?
Like other countries, populism has taken hold Down Under, manifesting in a soupy mix of concern over stagnating wages, rising housing costs and, in some places, opposition to refugees and immigrants, especially Muslims. Underlying it all is the feeling politicians have stopped listening.
In the capital of Canberra, lawmakers from the ruling Liberal Party responded to public discontent by ejecting centrist Malcolm Turnbull as prime minister and replacing him with Treasurer Scott Morrison. While Morrison defeated a far right-wing populist, he's still a more conservative figure than Turnbull.
With regular party-room knifings and snap elections, Australia looks similar to Italy: No prime minister has served a full term in a decade. That has curbed their willingness to enact bold, and potentially painful, policies to modernize Australia's commodity-dependent economy.
Lawmakers say they are acting for the public on leaders they dislike, and Morrison has promised stability. Voters will get their say at an election expected by May. But the latest bloodletting, which pushed Australia's dollar to a more than two-year low, simply reinforces the view that in Canberra, politicians act only for themselves.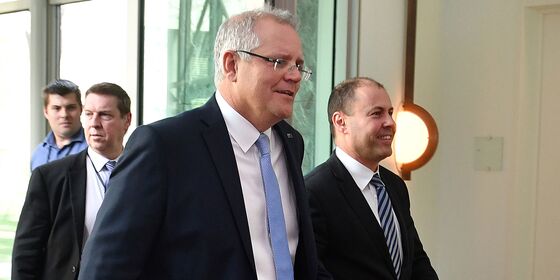 All over the map | With the fallout still rocking Washington from Michael Cohen's claim that his former client Donald Trump directed hush payments to two women ahead of the 2016 election, Toluse Olorunnipa charts the vague and shifting statements the U.S. president and his team have made about his alleged affairs.
Green light | Trump may have received a crucial nod from two Republican senators to carry out this threat to fire Attorney General Jeff Sessions — with the caveat that he wait until after the November midterm elections. The president has reaffirmed his open resentment that Sessions recused himself from what's become a wide-ranging investigation led by Special Counsel Robert Mueller after this week's convictions of Cohen and former Trump campaign chairman Paul Manafort.
Losing luster | Saudi Arabia's acknowledgement that the sale of shares in its giant hydrocarbons company Aramco is on hold represents the most significant reversal in Mohammed bin Salman's plans to transform the insular, oil-dependent kingdom into a 21st-century economy. As Matthew Campbell and Glen Carey write, the crown prince will find other ways to fund his vision, but investors considering deals that rely on government commitments are likely to pause.
Deepening rifts | The publication of the U.K.'s emergency planning for a no-deal Brexit again laid bare the divisions in Prime Minister Theresa May's Tory party. Hours after her Brexit secretary tried to play down the risks, Chancellor Philip Hammond said leaving the EU without an agreement would put a "large" dent in the country's finances, and the government said it could bring higher prices, slower service — even less sperm.
Taiwan tensions | The White House signaled a firmer pushback against China over Taiwan, fueling concerns a trade dispute between the world's two largest economies is becoming a battle for global influence. Days after El Salvador switched diplomatic ties to Beijing from Taipei, Press Secretary Sarah Huckabee Sanders said the U.S. would oppose further efforts by China to woo Taiwan's dwindling allies or engage in "political interference in the Western Hemisphere."
Ahead of Fed Chairman Jerome Powell's speech today in Jackson Hole, Wyoming, two regional Fed chiefs said Trump's criticism of interest-rate increases wouldn't influence U.S. central bank policy.
Zimbabwe's Constitutional Court rules today on a bid by the main opposition party to overturn the results of last month's presidential election.
And finally ... Confused by Venezuela's re-denomination of the bolivar to cope with a bout of hyperinflation? The central bank has rolled out an Android app for that — the Sovereign Calculator — Daniel Cancel writes. While the calculations it performs aren't particularly complex — telling users, for example, that 100,000 of the old bolivars are now worth 1 of the new version — it's already been downloaded thousands of times on Google Play, where it enjoys a nearly five-star rating. It's "a tool for everyone," the central bank said on Twitter. "Download it now!"