Hopes for Argentina's Economic Renaissance Fade Under Macri
(Bloomberg) -- Ariel Lechenao feels like a fool. He voted for Argentine President Mauricio Macri in 2015, fed up with the stagnant economy run by his predecessor and convinced by promises of a better life.
At first, Macri's moves to unwind populist policies, boost growth and rein in inflation paid off. But just two years later it all seems to be going downhill for many Argentines: the country is on the brink of recession, the peso has collapsed and consumer prices are rising more than 30 percent a year.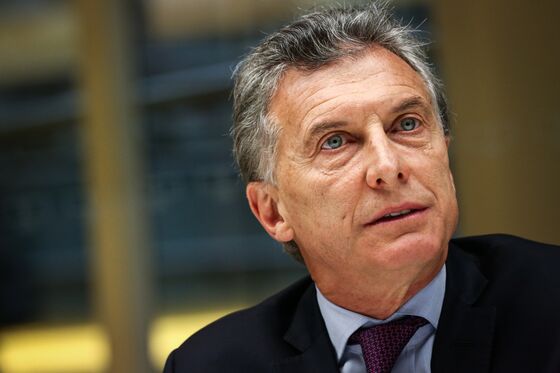 "I decided to vote for Macri because I thought he was really going to change things for the better," said Lechenao, a 41-year-old taxi driver and divorced father of two. "I believed a lot of things – I'm an idiot, right?"
More than one third of Argentines point to the poor state of the economy as their top concern, followed by corruption at 14 percent, according to a recent survey from consulting firm Isonomia. The disenchantment has caused the president's approval rating to fall by more than one-third since he took office. Consumer confidence plunged to 36 percent from 54 percent in the same period. And data released on Thursday showed June's economic activity contracted 6.7 percent from a year ago, the worst performance in nine years.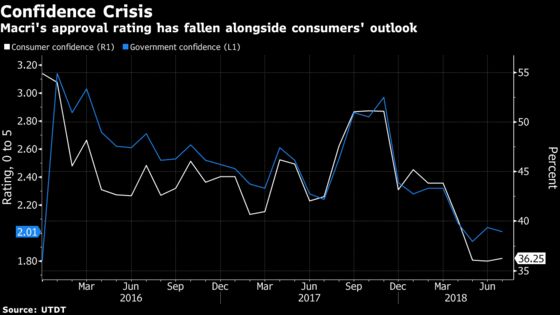 The question now is whether Macri's declining popularity and a less cooperative Congress will hinder his ability to put the economy back on track and to implement additional austerity measures agreed upon with the International Monetary Fund in exchange for a record $50 billion credit line.
"Macri is in a difficult situation because his main message to his electorate was short-term pain for long-term gain," said Thomaz Favaro, director at consulting firm Control Risks. "So far they've only felt the former."
Macri has conceded that the crisis will wipe out some of Argentina's recent progress in poverty reduction -- one of his top campaign promises. Wages are growing more slowly while unemployment is picking up and approaching the double digits.
Growth prospects have been sinking accordingly. Economists who earlier this year forecast the economy would expand 3 percent in 2018 now estimate it will shrink 0.3 percent this year. Inflation remains the biggest scourge, though, stuck above 30 percent even after the central bank raised interest rates to 45 percent, the highest level among G-20 nations.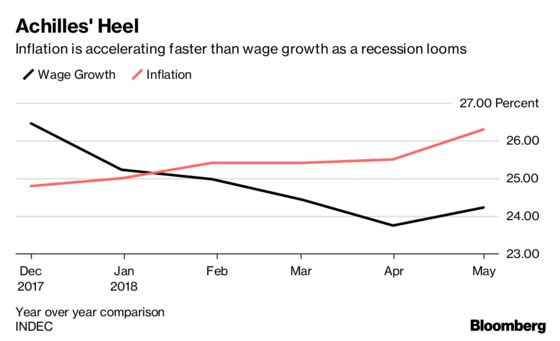 Soaring prices of gas, electricity and water bills have become the daily reality for millions of Argentines. Lechenao, the taxi-driver, has lived his whole life in a middle-class neighborhood of Buenos Aires but now stands near the official poverty line. He can't even afford to take his soccer-crazed kids to see their favorite team play.
"My quality of life keeps going down with this government," he said.
Macri has acknowledged that some of his initial goals, like reducing inflation, were too ambitious and became unattainable as Argentina went through a "storm" this year. But he repeatedly says his government, its policies and Argentina's economy are on the right path. Officials also insist that all economic decisions have been taken at their own will and not under instructions of the IMF.
Argentina will hold presidential elections in 2019. While the economic slowdown and the peso collapse will play a part in next year's vote, at least for now Macri is getting a bit of a respite as attention has turned to his top political foe, former President Cristina Fernandez de Kirchner. Macri's predecessor is embroiled in a widening corruption scandal and her approval ratings have plunged even lower than his.
The government says the economy will remain flat this year and start a modest recovery in 2019. But that forecast "sounds a bit too optimistic," cautioned Daniel Kerner, managing director for Latin America at Eurasia Group. "Most people are feeling very uncertain about where the economy is going."