Women Are a Majority in Brazil, and They Don't Have a Presidential Candidate
(Bloomberg) -- Brazilian women remain undecided over who to back in the presidential race, feeling uninspired by the candidates and unrepresented by their policies.
Half of women do not know who they'll vote for and a further 15 percent plan on spoiling their ballots, according to the latest Datafolha opinion poll, a number far higher than their male counterparts. With women comprising 52 percent of the electorate, their vote will determine the outcome of one of the most unpredictable elections in the past 30 years. Voting is compulsory for Brazilians over the age of 18.
Candidates' lack of proposals on women's issues is a major reason for this indecision, according to Eva Bay, a professor at the University of Sao Paulo (USP). "They aren't talking about violence against women, they aren't talking about problems related to reproductive health, children, maternity, abortion,"she said. "Women are more empowered and they want to vote with certainty, they don't want to throw away their vote."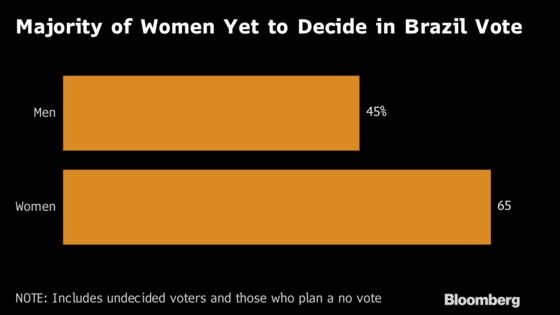 The macho political and cultural climate in Brazil also tends to put off women voters. "Historically, politics is done by men for men," said Deysi Cioccari, a political scientist at the Pontifical Catholic University of Sao Paulo (PUC-SP) "The campaign debates are an aggressive process, with a predominantly masculine atmosphere. When a subject linked to women crops up, like abortion for example, it's a wasted opportunity."
While female voters have become a bit more certain since they were last surveyed in June, there's still a twenty percentage point gap between undecided men and undecided women.
In the streets of the capital, Brasilia, women's indecision is evident. Among interviewees the lack of policies directed towards women is one of the main complaints.
"I don't feel represented by any of the candidates," said Luzia Martins, a 43-year old shopkeeper. "None of them are worth my vote. I'll have to watch the TV programs and study a little bit more."
Maria de Socorro Silva, a 52-year old maid, said that she was disillusioned with politics because she couldn't see any honest candidates. "I don't know who to vote for, it's all the same thing. I think I either won't vote or annul my vote. It's very sad to see the country like this."
In her first election, student Fernanda Marcela, 17, said she felt frustrated. Despite intensive research into the candidates, she still hasn't made her pick. "All the candidates get corrupted," she said.
As the only woman running for the presidency with a potential shot at victory, Marina Silva said it's essential for voters to understand the proposals, intentions and career trajectories of the candidates before making a decision. "Women are more judicious and, after so many disappointments in politics, caution and chicken soup don't hurt anyone," she told Bloomberg, referring to a popular saying.
Another reason for women's difficulty in picking a candidate stems from the fact just 30 percent of the candidates in this election are female, the bare minimum required by law. Brazil ranks 154th globally in terms of the number of women in Congress, according to the Inter-Parliamentary Union, a democracy-promoting organization.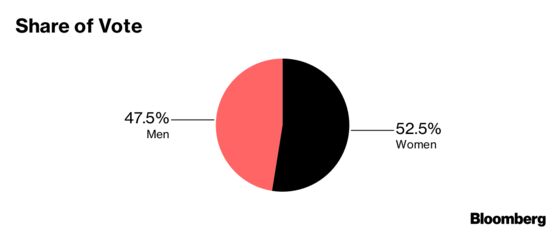 Beyond the ballot box, a gulf exists between Brazilian men and women in terms of their professional lives. Women study longer, work more and earn less than men, according to the Brazilian Institute of Geography and Statistics (IBGE).
A June survey found that women's salaries, on average, are 23.5 percent lower than men's. Data from the public prosecutor's office reinforces the need for more policies geared towards women's needs. From 2016 to August 2018, the state recorded 1.2 million cases of violence against women, including femicide.