Trump's Sense of Invulnerability Is Facing Its Biggest Test Yet
(Bloomberg) -- Donald Trump once boasted during his run for president that he could shoot someone in the middle of Fifth Avenue and not lose voters.
Now that sense of invulnerability is in for its biggest test, as he suddenly must defend against grave threats on two fronts.
On one side, he's contending with the Russia probe led by Robert Mueller, newly energized after the conviction of Trump's former campaign chairman Paul Manafort. On the other, he potentially faces a separate federal investigation into campaign violations sparked by the guilty plea of his former lawyer Michael Cohen.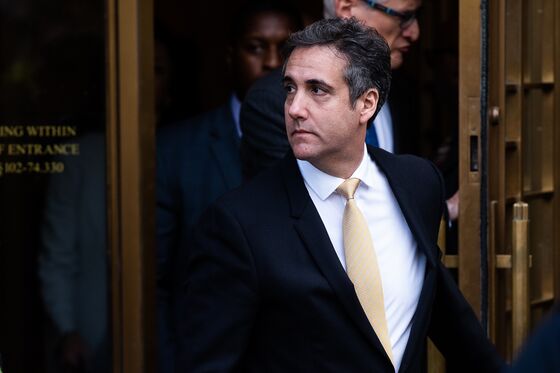 Trump's bravado may not be enough this time, despite helping him weather storms of his own making on immigration and race, as well as multiple scandals involving his aides and the ongoing Russia investigation.
Trump's power to impose his will on Washington -- or even survive politically -- may require a wholesale rethinking of how his White House does business, said Chris Whipple, author of "The Gatekeepers," a book about White House chiefs of staff. Cohen's plea could begin a crisis in the presidency of Nixonian proportions.
"We haven't seen anything like this since the summer of '73," Whipple said. "This White House is coming apart."
Trump confronts the challenge with fewer political assets than either Richard Nixon or Bill Clinton had during the crises that engulfed their administrations. He's an outsider without many genuine allies in Congress or in Washington. Scandals are enveloping him early in his presidency, before many major achievements. And he draws support from a relatively narrow political base, demonstrated by his persistently low job approval rating.
The threat is intensifying as Trump confronts a midterm referendum on his presidency. If Democrats win the House of Representatives in November, as seems increasingly likely after this week's legal setbacks, he can expect wide-ranging investigations of his administration.
So far, the president has stayed true to form.
He was uncharacteristically restrained in the hours after Cohen's plea but returned to Twitter by Wednesday morning to bash his longtime fixer. He sat for an interview with Fox News, insisting he only learned "later" of hush money paid to women before the election who claimed to have had affairs with him, and said that Cohen was reimbursed for those payments from Trump's personal funds, not campaign money.
Cohen said under oath in federal court that Trump directed him to make the payments in violation of campaign law.
White House Press Secretary Sarah Sanders told reporters that Trump "did nothing wrong" and "there are no charges against him." She also dismissed the need for any sort of internal reorganization or code-red response. "The White House is focused on the same things that we were focused on the first day that we got here," she said. She rejected the notion of a crisis, saying, "I wouldn't view it that way."
Clinton Scandal Parallel?
The closest post-Watergate precedent, Whipple said, may be how the Clinton White House adjusted under siege during the Monica Lewinsky scandal, starting with the chief of staff and deputy chief of staff dividing responsibilities.
"Erskine Bowles was focused on governing and John Podesta was what they called the Secretary of Sh*t," Whipple said. "Bowles kept Bill Clinton focused on governing" and Clinton ultimately survived. But with Trump, Whipple said, that may be more challenging: "It's Mission Impossible to keep Trump focused on anything."
Trump and his aides have grown accustomed to political tumult and some advisers brushed off the Cohen guilty plea as another crisis du jour.
In Trump's interview with Fox, which was broadcast on Thursday, the president used the Cohen plea to go on the attack. He blamed his Attorney General Jeff Sessions, the Justice Department, and the Obama administration for his current legal predicament. He also said the practice of "flipping" -- when someone accused of a crime agrees to incriminate others for lesser punishment -- should be "outlawed."
It was a year ago when his nascent presidency seemed in peril as business leaders and lawmakers in both parties were abandoning him and accusing him of fueling racism for his response to the deadly clashes between white supremacists and protesters in Charlottesville, Virginia.
He has seen three associates -- his former National Security Adviser Michael Flynn, former deputy campaign manager Rick Gates, and campaign foreign policy adviser George Papadoplous -- plead guilty to crimes.
And Manafort has now been convicted on eight counts of tax and banking fraud.
Trump faced days of backlash over his July summit with Russian President Vladimir Putin as Republican lawmakers, who had largely stood by him, were pushed to the breaking point by his seeming embrace of Putin and his casting doubt on American intelligence agencies.
Those self-inflicted crises have barely left a mark on Trump's approval ratings consistently hovering around 40 percent, according to Gallup polls.
But Trump's talent for turning public attention in new directions may be less effective this time. He's implicated in a criminal inquiry, and unlike the Mueller investigation, which he could halt by ordering his deputy attorney general fire Mueller, he has no clear way to stop career prosecutors in the Southern District of New York.
If prosecutors in New York determine that Trump knowingly and willingly accepted illegal campaign contributions, they could charge him with a felony for violating election law, said Paul S. Ryan, a campaign finance lawyer with Common Cause.
Under current Justice Department guidelines, a sitting president can't be charged with a crime while in office so the offenses would likely be referred to Congress for impeachment.