South Africa's Rand Weakens as Trump Tweets About Land Debate
(Bloomberg) -- South Africa's rand declined against the dollar after a tweet by President Donald Trump on the country's land debate prompted speculation of possible punitive U.S. sanctions.
The currency weakened as much as 1.8 percent after Trump said he asked U.S. Secretary of State Mike Pompeo "to closely study the South Africa land and farm seizures and expropriations". The South African government hit back, tweeting that it "totally rejects this narrow perception, which only seeks to divide our nation."
The acting U.S. ambassador to the country will be summoned to explain Trump's comments, two people familiar with the situation said Thursday. He was intervening in an ongoing debate about whether South Africa should implement a policy of seizing land without paying for it in a bid to address inequalities built up during apartheid.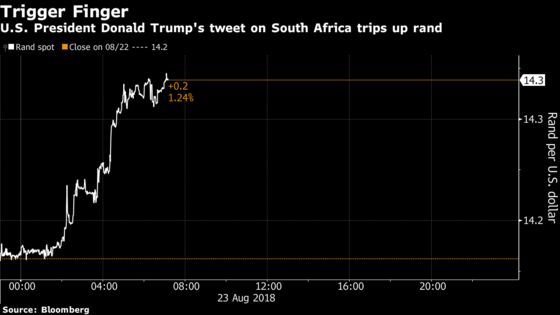 The comment raised concern that the U.S. could target South Africa with economic sanctions having already moved against Turkey, a decision that would weaken the rand further, according to Hironori Sannami, an emerging-market currency trader at Mizuho Bank in Tokyo.
The rand was 1.8 percent weaker at 14.4232 per dollar by 9:22s a.m. in Johannesburg. Yields on benchmark 2026 government bonds rose 4 basis points to 8.97 percent. The benchmark FTSE/JSE All Share Index climbed 0.1 percent, supported by shares in companies that benefit from rand weakness.
On Wednesday, South African President Cyril Ramaphosa told parliament that increasing access to land for the poor would happen in an orderly fashion and would initially focus on making state property available. The rand strengthened on his comments.
"One tweet does not make a book," said Warrick Butler, a currency trader at Standard Bank Group Ltd. in Johannesburg. "There are far too many other components affecting the rand. If the dollar reverses its recent correction then so too will the rand regardless of Twitter."