Pompeo Taps Ford Executive to Lead North Korea Nuclear Talks
(Bloomberg) -- Secretary of State Michael Pompeo tapped a Ford Motor Co. executive to lead talks with North Korea as the U.S. seeks to ensure that tough international sanctions imposed last year remain in force.
Ford's former head of government affairs, Steve Biegun, "will lead negotiations and spearhead diplomatic efforts with our allies and partners" as the U.S. special representative for North Korea, Pompeo announced on Thursday. "He and I will be traveling to North Korea next week to make further diplomatic progress towards our objective."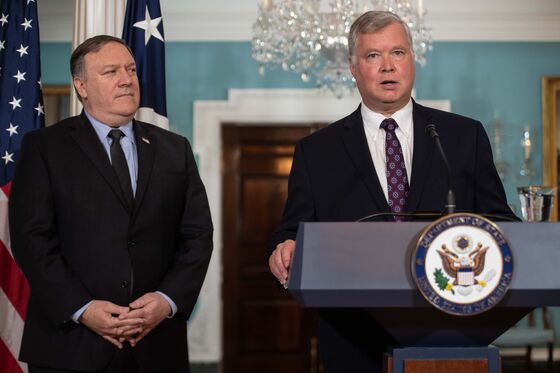 Pompeo doesn't have plans to meet North Korean leader Kim Jong Un on the trip, State Department spokeswoman Heather Nauert told reporters Thursday. Asked when the secretary and Biegun will leave for Pyongyang, she just said it would be "relatively soon."
"We have no expectations of meeting with Chairman Kim," Nauert said. "That is not a part of this trip."
Pompeo has sought to shore up support for tough sanctions on North Korea until there's "verifiable" progress on denuclearization by Kim's regime after the historic summit between Kim and President Donald Trump in June. Although North Korea delivered what it said were U.S. remains from the Korean War to the U.S. for examination and identification, the regime criticized Pompeo's stance on his last two visits to Pyongyang as "gangster-like" and too focused on the nuclear issue.
Despite the lack of concrete results on the nuclear front, U.S. ally South Korea has moved to improve ties, announcing this week that it would set up a liaison office at an industrial park it sponsors in North Korea. That followed a set of reunions this week between families separated by the 1950-53 Korean War.
While Pompeo may welcome sharing some of the burden of North Korean talks with Biegun, the appointment may be a blow to Ford amid escalating U.S. trade tensions with much of the world.
Biegun has been directing Ford's Washington office since chief lobbyist Ziad Ojakli left last month to join Japan's SoftBank Group Corp. Now Curt Magleby, vice president of U.S. government relations, will lead Ford's lobbying efforts on an interim basis while the company searches for Ojakli's replacement.
Before joining Ford, Biegun, was national security adviser to then-Senate Majority Leader Bill Frist, a Republican from Tennessee who left the Senate in 2007. Biegun also worked in the administration of President George W. Bush, serving as executive secretary of the National Security Council from 2001 to 2003.