Manafort Jury Tensions Threatened Mistrial Before Verdict
(Bloomberg) -- Court transcripts made public after Paul Manafort was convicted of tax and bank fraud this week reveal that the judge considered a mistrial before the case went to the jury because one juror complained that others on the panel had improperly discussed the case.
U.S. District Judge T.S. Ellis III refused a mistrial bid on Aug. 14 by Manafort, President Donald Trump's former campaign chairman. The judge rejected a second mistrial request over a separate dispute on Aug. 20, a day before the jury convicted Manafort on eight of the 18 counts he faced, according to transcripts unsealed Wednesday.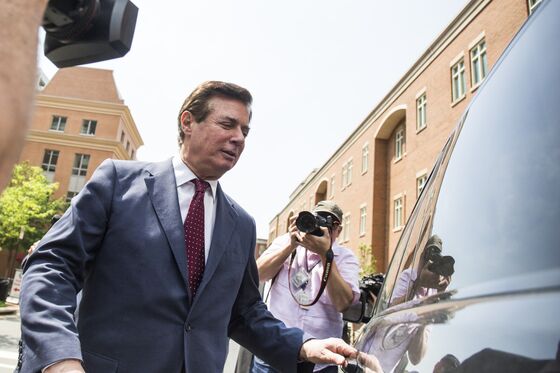 Ellis conducted a series of extraordinary closed-door hearings, starting on Aug. 10, saying he wanted to avoid creating "pandemonium in the media'' as he sought to determine whether jurors weighed Manafort's guilt before hearing the final witnesses, closing arguments, or legal instructions.
The behind-the-scenes battle raises questions about how the judge handled jury tensions in Special Counsel Robert Mueller's first trial since he began investigating Russian interference in the 2016 election. Details revealed in the transcript could provide fodder for critics of Manafort's conviction. Ellis declared a mistrial on 10 counts after the jury failed to reach a unanimous verdict on them.
Throughout the trial, Ellis criticized Mueller's prosecutors and told them to move their case faster.
The dispute began when one juror told a court security officer that another panelist had discussed the case, even though Ellis had explicitly told them not to talk about it until he instructed them to begin their deliberations in federal court in Alexandria, Virginia.
The judge has ordered that the names of all jurors remain under seal, saying later that he had decided to do so because he had personally received threats related to the trial and was concerned for the safety of jurors.
On the morning of Aug. 10, Ellis interviewed the juror who'd complained. The juror told him another panelist had said Manafort "hadn't presented any evidence'' and she was "unimpressed'' by the defense. At that point, prosecutors were still presenting their case, and Manafort's lawyers hadn't said whether they would call any witnesses.
"My understanding was that she had essentially made up her mind regarding the case based on the information presented to her thus far,'' the complaining juror told Ellis. "I did remind her that we have not heard from – what she said was, 'They didn't – they couldn't have much to present.'''
She said others on the panel were "talking too much about the case,'' saying that three had talked. Those remarks had taken place over the previous four or five days, she added.
But she said the one juror "made it very clear that she didn't feel that the defense really had anything to offer'' for "the rest of the trial.'' The complaining juror said she responded, "Of course they have a lot to present. This is what a trial is all about. And it's our responsibility to listen to everybody'' and not form opinions until deliberations.
In a room to the side of the courtroom, Ellis then interviewed the juror who was the subject of the complaint. When asked if she had said that the defense hadn't presented any evidence and she was unimpressed by their case, she denied the accusation.
"I think I said, 'It would be a tough job' is all I said,'' the juror said. "I was just saying it would be tough to be a defense lawyer. That's all.''
Ellis pressed her on whether she could keep an open mind until the end of the case and that Manafort was presumed innocent. She agreed.
After conferring with lawyers on both sides, the judge brought back the juror accused of making the remarks and interviewed her again. He asked her explicitly if she had said: "The defendant has not presented any evidence and I am unimpressed.'' The juror said: "I don't recall, but I mean – what I meant was that it would be really hard to have to defend against that.''
Ellis then made plain his concern to the juror, saying: "You cannot make up your mind until all the evidence is in. Are you prepared to do that?''
"Yes, sir,'' responded the juror. "I mean your job is to wait until all the evidence is in to try to analyze it.''
Ellis asked if she had heard any other jurors discuss the strength of the evidence or politics around the case. The juror said no. After the juror left, Ellis said he was concerned about potential publicity on the matter, calling it "more grist for the wild media mill'' and saying the "less hoopla we make about this the better.''
Manafort attorney Kevin Downing said "it's a pretty serious issue when one juror is saying that these conversations are going on and the other juror said none of them are going on.''
At a later hearing that day, Ellis said he could declare a mistrial if he determined the jury was no longer impartial. Prosecutor Greg Andres said that the two jurors at the heart of the dispute were in disagreement over what happened, and that the judge could remind the entire panel of their obligation to keep an open mind. The judge said at that point he didn't see grounds for a mistrial.
By Aug. 13, Manafort's lawyers filed a sealed motion. After jurors heard the final witnesses that day, Ellis closed the courtroom to the public and heard arguments. In that sealed courtroom, Downing said jurors had been "collectively talking as a group'' and voicing their opinion "at a pretty early time in the case.''
He said to Ellis that it appeared the group engaged in "some kind of premature deliberation mode before you've ever instructed them, before all the evidence has come in, and that's what we'd like the court to take a closer look at.''
Andres responded that while the accounts of the two jurors were at odds, they suggested "random comments'' and there was "absolutely no evidence in the record'' of premature deliberations.
On Aug. 14, a day before jurors heard closing arguments, Ellis questioned each one individually to determine if they still had an open mind and presumed that Manafort was innocent. Each said yes. One juror complained that she was under a great deal of stress.
The next day, Downing said he had filed a motion to exclude a juror "based on her lack of candor with the court.'' Ellis said that when he interviewed the two jurors, they gave conflicting accounts. He said that when he interviewed all the jurors, "they all said nothing was heard. So I'm left with a situation where I don't know who is dishonest or untruthful.''
The judge didn't act on the request, and denied a motion for a mistrial.
On Aug. 20, on the third day of jury deliberations, Ellis considered whether the jurors were too intimidated by the intense public scrutiny of the trial to ask questions and receive answers in open court. Downing then again moved for a mistrial.
Ellis denied the motion, saying he "saw no earthly reason for a mistrial." Jurors, he said, "may be intimidated simply because they don't want their questions read in open court and answered in open court. I can understand that with this whole crowd here, but that's no reason for any mistrial.''
The next day, the jury returned its verdict – guilty on five counts of falsifying tax returns, one count of failing to file a foreign bank account report, and two bank fraud counts.
After the verdict, Downing waded into a throng of reporters and photographers outside the courthouse. Manafort, he said, "would like to thank Judge Ellis for granting him a fair trial."