Latvia Needs to Ramp Up Money-Laundering Fight, Watchdog Says
(Bloomberg) -- A European money-laundering watchdog demanded Latvia report its progress under the enhanced monitoring of its financial sector, saying that the country had failed to adequately appreciate the threat of illicit transactions among its banks.
Moneyval, the Council of Europe body that monitors money-laundering and terrorism financing, recommended that Latvia pursue money laundering as a priority and seek to systematically prosecute a wider range of offences. The watchdog grades the overall money laundering risk of the Baltic nation as "medium high."
Latvia, which has long served as a magnet for so-called non-resident banking, has been at the center of a string of financial scandals in recent years. Its banks allegedly handled some of the $1 billion stolen in 2015 from Moldova's financial system, helped shift as much as $20 billion in illicit cash from Russia between 2010 and 2014 and facilitated bribes by a Scandinavian telecommunications company. Last year, five Latvian banks agreed to fines for failing to gather sufficient information on transactions linked to North Korea.
"There is uneven and overall inadequate appreciation of the threats emanating from large financial flows passing through Latvia," the watchdog said.
The European Union and euro-area member is struggling to regain access to the U.S. dollar market after the country's third biggest bank, ABLV, was closed amid a money laundering scandal. Central Bank Governor Ilmars Rimsevics has been charged with soliciting a bribe from Trasta Kommercbanka AS, a small lender that was shut down in 2016 after being implicated in another money-laundering scheme. Both ABLV and Rimsevics deny wrongdoing.
Moneyval recommended increasing the frequency of supervisory visits to the non-resident banking industry and said staff should be better trained to understand money-laundering and terrorism financing threats and vulnerabilities. Until recently, the risk of terrorism financing didn't appear to be appropriately identified and assessed by Latvia, while the judicial system didn't consider money laundering a priority, the report said.
"Latvia's legal basis for targeted financial sanctions in the area of terrorism financing and proliferation financing call for urgent clarifications and improvements," the report said.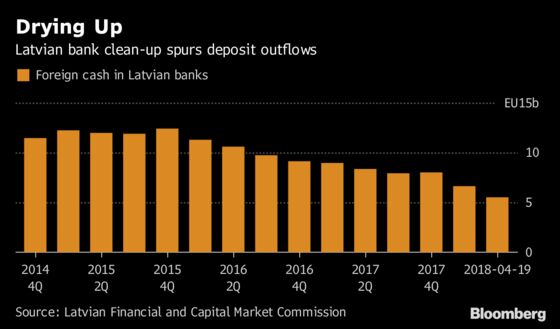 To rebuild trust, Latvia is taking steps to dismantle the non-resident banking industry, which offers a financial entry point into the European Union. Latvia's authorities may have taken insufficient steps to mitigate targeted financial sanctions-evasion risks, the watchdog said.
"Latvia's own level of corruption, vulnerability to international organised crime and significant shadow economy are also key factors of the overall money laundering risk," the report said.
Latvia will have to report to Moneyval in 2019 about implementation of its enhanced recommendations.