Italy's Salvini Signals Support for State Role in Autostrade
(Bloomberg) -- Deputy Prime Minister Matteo Salvini signaled support for a political compromise taking shape following last week's Genoa bridge collapse, saying he favored a government ownership role in toll-road operator Autostrade per l'Italia, but opposed nationalizing the highway network.
Italy should consider a partnership between public and private investors for Autostrade following a review of its concessions, Salvini said on RTL 102.5 radio. He also said said he's "outraged by the attitude" of Atlantia SpA, which controls Autostrade and said on Wednesday that political reaction to the Aug. 14 bridge failure, which killed 43 people, had hurt its investors.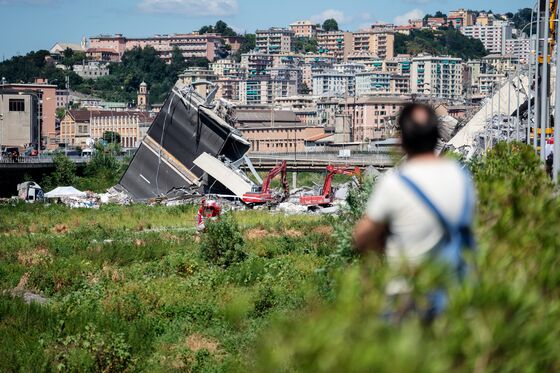 "That Autostrade rebuilds everything it had to oversee in Genoa is the bare minimum," Salvini said. The leader of the League party, half of the governing populist coalition, said Italy should review its approach to state concessions, to determine the cost and the benefit of public and private investment. "There might be a public-private partnership with good results," he said.
The collapse of the bridge, which has been managed privately for about two decades, unleashed finger-pointing in Italy focused on Autostrade's maintenance. Deputy Prime Minister Luigi Di Maio, who leads the anti-establishment Five Star movement -- the other half of the ruling populist coalition -- has called for nationalizing the system. Bloomberg News reported this week that the government was considering a compromise plan involving state lender Cassa Depositi e Prestiti SpA.
A role for CDP is just one potential option being weighed by Prime Minister Giuseppe Conte's government, people familiar with the matter said. Since then, the concept has been gaining steam.
Transport Minister Danilo Toninelli "doesn't exclude" a role for the state lender, Il Sole 24 reported Thursday, citing an interview. Toninelli has joined Di Maio in threatening Atlantia with nationalization of Italian toll roads that were privatized in the late 1990s.
Deploying the CDP would offer the populist government a solution that meets pledges to take control over operations while stopping of short of full nationalization, a step that could unsettle investors already concerned at budget-busting rhetoric and Italy's lukewarm commitment to the euro. The lender, whose holdings include stakes in energy company Eni SpA and Telecom Italia SpA, is controlled by the Italian treasury with an 83 percent stake.
Salvini, who is also interior minister, also said the the government is seeking to increase investor appetite for Italy and will avoid allowing more Italian companies to be sold off to foreign buyers. "Someone will try to put their hands on Italian saving, we will not allow it."
Atlantia said Wednesday that it had "begun assessing the effects of ongoing commentaries and dissemination of news about the company," in order to provide "the best possible protection for the market and investors."
In the interview, the deputy Prime Minister also said he wants to completely stop migrants from reaching Italy on refugee boats through the Mediterranean.