Key Republicans Give Trump a Path to Fire Sessions After the Election
(Bloomberg) -- Donald Trump, who's long threatened to fire Attorney General Jeff Sessions, may have received a crucial go-ahead signal from two Republican senators with a key condition attached: wait until after the November elections.
Confronted with the criminal convictions this week of his former campaign chairman Paul Manafort and his former personal attorney Michael Cohen, the president has only reaffirmed his open resentment that Sessions recused himself from what's become a wide-ranging investigation led by Special Counsel Robert Mueller.
The pivotal message on Thursday came from Senator Lindsey Graham of South Carolina, who oscillates between criticizing many of the president's policies and defending a president who sometimes invites him to go golfing at a Trump-branded resort.
"The president's entitled to an attorney general he has faith in, somebody that's qualified for the job, and I think there will come a time, sooner rather than later, where it will be time to have a new face and a fresh voice at the Department of Justice," Graham told reporters.
But he added that forcing out Sessions before November "would create havoc" with efforts to confirm Trump's Supreme Court nominee Brett Kavanaugh, as well as with the midterm elections on Nov. 6 that will determine whether Republicans keep control of Congress.
Senator Chuck Grassley of Iowa, the Judiciary Committee's chairman, also changed his position on Thursday, saying in an interview that he'd be able to make time for hearings for a new attorney general after saying in the past that the panel was too busy to tackle that explosive possibility.
It wasn't clear, though, whether the senators' comments were intended to endorse a move on Sessions later, or to coax Trump out of taking precipitous action now. And some senior Republican senators strongly rejected Graham's seemingly impromptu fire-him-later idea.
Sessions, who represented Alabama in the Senate for 20 years and was an early backer of Trump, defended his performance in a statement on Thursday.
"We have had unprecedented success at effectuating the President's agenda," Sessions said, adding, "While I am attorney general, the actions of the Department of Justice will not be improperly influenced by political considerations."
Trump, in a series of Friday morning messages on Twitter, implored Sessions to go after "the other side" in the Russia probe that he's often chided as a politically motivated investigation aimed at derailing his presidency.
"'Department of Justice will not be improperly influenced by political considerations.' Jeff, this is GREAT, what everyone wants, so look into all of the corruption on the 'other side' including deleted Emails, Comey lies & leaks, Mueller conflicts, McCabe, Strzok, Page, Ohr," Trump said in one posting, listing figures central to the investigation.
He later said: "Open up the papers & documents without redaction? Come on Jeff, you can do it, the country is waiting!"
Two federal investigations are drawing closer to the president. Mueller's probe -- which extends to whether anyone close to Trump conspired with Russia to interfere in the 2016 election and whether Trump sought to obstruct justice -- has been newly energized after Manafort's conviction. And the president may face a separate investigation sparked by the guilty plea of Cohen, his longtime fixer, who said under oath in federal court that Trump directed him to make hush payments to two women in violation of federal campaign law.
"I put in an attorney general that never took control of the Justice Department, Jeff Sessions.," Trump said in an interview with Fox News that aired on Thursday. "And it's sort of an incredible thing." Sessions' inability to "control" the department was "regrettable," Trump added.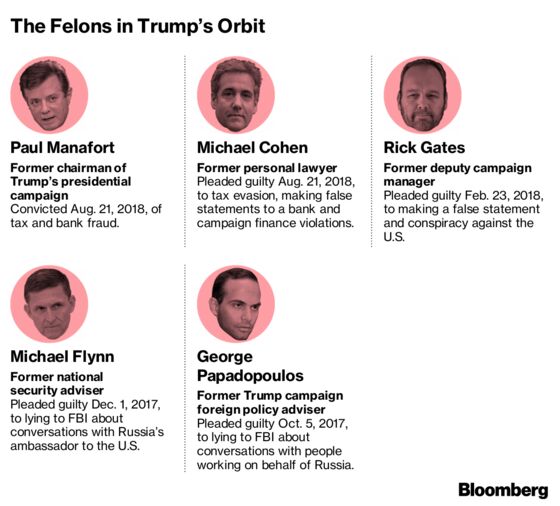 Any talk of firing Sessions, 71, a was rejected by John Cornyn of Texas, the No. 2 Senate Republican, who said doing so "would be bad for the country, it would be bad for the president, it would be bad for the Department of Justice for him to be forced out under these circumstances."
Senator Susan Collins, a Republican moderate from Maine, said firing Sessions "would not be a wise move" and "I don't see the president being able to get someone else confirmed as attorney general were he to fire Jeff Sessions."
Senator Thom Tillis of North Carolina, a Republican member of the Judiciary Committee, said he hopes Trump keeps Sessions, saying he has "full confidence" in the attorney general. Senator Ben Sasse, of Nebraska, a frequent Trump critic among Republicans, said on the Senate floor that he'd heard "goofy talk" about firing Sessions but "I find it really difficult to envision any circumstance where I would vote to confirm a successor to Jeff Sessions, if he is fired, because he's executing his job, rather than choosing to act as a partisan hack."
Trump often takes aim at Sessions over the Russia investigation, including saying on Twitter that "Attorney General Jeff Sessions should stop this Rigged Witch Hunt right now" and calling his own appointee "very weak," beleaguered, and a disappointment.
Graham urged Trump on Thursday to pardon neither Manafort, a possibility the president has acknowledged, nor Cohen. "If there's a pardon of either one of them it will be seen as self-serving, and it will create a political problem for the president," he said. "I don't know what Manafort's done to earn a pardon. He hasn't even been sentenced yet."
The president asked his lawyers about the possibility of pardoning Manafort several weeks ago, Trump's attorney Rudy Giuliani told the Washington Post on Thursday. Giuliani said they recommended he wait at least until Mueller concludes his investigation.
Graham's comments about Sessions could be sending a message that Mueller faces a de facto deadline to wrap up his Russia investigation before November's election.
If Trump replaces Sessions, who's so far resisted the president's very public hints that he should resign, a new attorney general could take over the investigation and potentially fire Mueller or cripple the probe.
Trump wouldn't need to wait until his new choice for attorney general was confirmed by the Senate, which would be a difficult fight. He could install an interim attorney general directly after ousting Sessions, although some legal experts argue that the powers of such an appointee would be limited.
Asked about a possible replacement for Sessions, Grassley took a different position from a year ago, when he warned the White House that he didn't have time to do another confirmation hearing that year.
"I do have time for hearings on nominees that the president might send up here that I didn't have last year," Grassley said Thursday. Grassley has clashed with Sessions this year because of the attorney general's intense opposition to Grassley's efforts to pass a criminal justice overhaul.
Grassley said, though, that Kavanaugh's confirmation would take precedence over any other nominees Trump might send to the Senate.
Grassley declined to comment specifically on the fate of Sessions when asked about Graham's prediction the president will replace him after the election.