Cohen's Plea Reveals Web of Hush-Money Associates or Targets
(Bloomberg) -- Michael Cohen's guilty plea Tuesday was stunning because he said Donald Trump commissioned a criminal act.
But the mea culpa was notable, too, because Cohen fingered a host of individuals at companies who he says also participated in the scheme. That signals that there's a roster of people who could emerge as potential witnesses or targets in any ongoing investigation into campaign finance violations.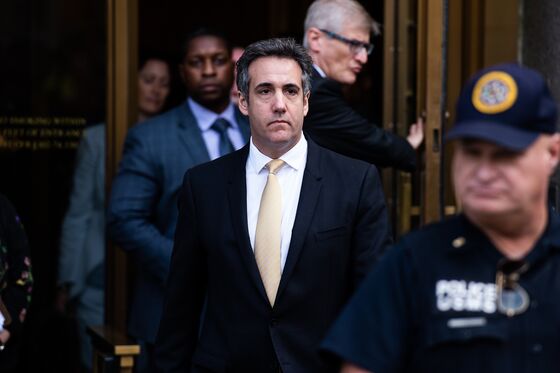 Cohen didn't name people or companies, but the details in his admission leave little doubt: Some individuals at the Trump Organization, the Trump presidential campaign, American Media Inc., and its National Enquirer subsidiary all knew about or played a role in paying hush money in 2016 to two women who had had affairs with Trump more than a decade ago. The payments were directed by Trump and amounted to illegal campaign contributions, Cohen claimed.
The individuals include American Media chairman David Pecker, and its chief content officer, Dylan Howard, who oversees the Enquirer and other AMI titles.
Pecker didn't immediately respond to an email seeking comment. American Media's chief content officer, Dylan Howard, referred questions to company spokesman Jon Hammond, who didn't return emails or calls for comment.
Although it wasn't always clear how much various individuals knew of the hush-money plan, three people at the Trump Organization were aware of payments to Cohen. Cohen coordinated with one or more people in the Trump campaign about the nature and timing of the payments, according to Cohen's filing. The Trump Organization's CFO, Allen Weisselberg, reportedly knew about the payments to Cohen. The identities of the others wasn't immediately apparent.
Weisselberg and the Trump Organization didn't respond to requests for comment.
It's not clear how the government will proceed. But by securing an admission of guilt from Trump's former personal lawyer that pointed to people who knew about the violation of campaign finance laws, prosecutors showed they have a roadmap for further action, should they decide to move forward.
"We will not fear prosecuting additional campaign finance cases," Deputy U.S. Attorney Robert Khuzami, who oversaw the Cohen prosecution, said in a statement following Cohen's guilty plea. A spokeswoman for the U.S. attorney's office in New York declined to comment further Wednesday.
Cohen pleaded guilty Tuesday without the benefit of a cooperation agreement from prosecutors that could have cushioned him from a stiff prison sentence in exchange for evidence or testimony. Though he could still provide information to authorities, the fact that prosecutors didn't give him a cooperation deal suggests he didn't have information they wanted or that his credibility made it difficult to use him as a witness.
Cohen pleaded guilty to five counts of tax evasion, one count of lying on a loan application, and two counts of campaign finance violations. The last two charges center on payments made to Playboy model Karen McDougal and Stephanie Clifford, an adult film actress known as Stormy Daniels, to keep them from talking about their affairs with Trump in the run-up to the 2016 election.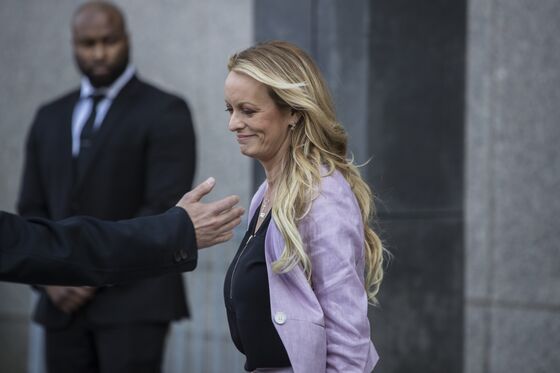 During his plea hearing Tuesday, Cohen said in court that he helped arrange a $150,000 payment to McDougal working in concert with "the CEO of a media company at the request of the candidate," referring to Pecker and Trump. He also said he coordinated with Trump on a $130,000 payment to Clifford, and that the personal funds he advanced for that payment were later reimbursed by Trump.
Both Cohen and the federal prosecutor who spoke during the hearing, Andrea Griswold, emphasized that the purpose of the payments was to benefit Trump's campaign by suppressing information that would harm his chances in the election.
There's an indication that those companies have cooperated with investigators: Griswold noted that the evidence to prove the charges came in part from records produced by the companies whose descriptions match those of American Media and the Enquirer.
Court papers filed Tuesday detail how Cohen and the executive believed to be Pecker struck an agreement with one or more officials of Trump's campaign to bury negative stories about Trump's relationships with women by purchasing them and not publishing them, a practice known as "catch and kill." The deal was struck in August 2015, just weeks after Trump had announced his candidacy.
As McDougal began attempting to sell her story in June 2016, she hired Keith Davidson, who contacted the editor-in-chief of the Enquirer with an offer. Pecker and an editor, believed to be Howard, notified Cohen, and Howard pursued the deal. AMI finalized the $150,000 arrangement with McDougal in August 2016.
Davidson also represented Clifford in her deal with Cohen, which at least in part was brokered by Pecker and the editor. When they were approached about Clifford's story in early October 2016, they contacted Cohen and notified him of the offer. As the days dragged on and the deal was not finalized, the editor sent Cohen a text message saying they needed to coordinate on the matter "or it could look awfully bad for everyone." After discussing it through an encrypted phone call, Cohen agreed to make the payment and sent it to Davidson on Oct. 27.
A representative for Chatham Asset Management, which owns about 80 percent of American Media, had no immediate comment.
Leon Cooperman, who says he owns less than 10 percent of American Media, defended the chairman, saying, "I have a lot of confidence in David Pecker. He seems very relaxed that the company had no exposure. I assume he's met with the government more than a few times."
Paul Berra, an attorney for Keith Davidson, said his client "respects the investigation unfolding in New York" and declined to comment.
Cohen said the payment plan was directed by the then-candidate, Trump. But there were others in Trump's circle who were aware of the payments: The deals were "coordinated with one or more members" of the Trump campaign, who were aware of the nature and timing of the payments, according to filings.
Two employees at the Trump Organization were also identified as participating in Cohen's misconduct. According to court filings, Cohen provided documentation to the Trump Organization showing that he had made the $130,000 payment to Clifford's lawyer, and asked for reimbursement for it along with other campaign expenses. The Trump Organization decided to pay him $420,000, telling them to invoice them for monthly installments of $35,000.
Submitting the invoices, Cohen falsely claimed they were pursuant to a retainer agreement. A handful of executives at Trump Organization -- identified as Executive-1, Executive-2 and "another employee" -- approved the payments. It isn't clear that the identified executives are the same as the ones who knew of the payment to Clifford's lawyer.
In the court filing outlining Cohen's violations of campaign finance laws, prosecutors said Cohen submitted a bill to the Trump Organization seeking reimbursement for the $130,000 he had paid out of his own funds to the lawyer representing Stormy Daniels. To this bill, Cohen added an additional request for $50,000, which would cover "tech services" that Cohen had sought from a technology company on behalf of the Trump campaign.
The Trump Organization "grossed up" Cohen's $180,000 invoice to $360,000, to cover taxes associated with the payment, and added a $60,000 bonus, according to the court filing.
Prosecutors often make judgment calls about whether to charge certain participants based on factors including their intent and knowledge level, and whether they benefited from any scheme.
"Someone who's doing their job and being told what to do, they don't know the full scope of things," said Kan Nawaday, a former federal prosecutor in the public corruption unit. "Prosecutorial discretion says maybe you shouldn't pursue someone criminally who simply got caught in the mix."
If Khuzami's team does pursue the matter, it's unlikely they would bring any charges before mid-November. Under the soft guidelines of the Justice Department, prosecutors generally try to avoid public moves that could affect voter sentiment within 60 days of an election.
With the November mid-terms looming, that date would be Sept. 7 -- potentially explaining why prosecutors rushed to wrap up the Cohen matter now, and why any additional charges, if any, may wait until later this fall.