Brazil Retail Magnate Brings Women's Issues, and Song, to Campaign
(Bloomberg) -- Luiza Helena Trajano, one of Brazil's most prominent businesswomen, gathered the contenders in October's presidential election to make sure women's issues are center-stage in the campaign that is shaping up to be the most disputed in decades. She even got them to hold hands in a sing-along.
With some strict ground rules -- no booing, no clapping if the candidates were still speaking -- the seven candidates present (five men and two women) answered questions on how they plan to deal with violence against women, income and gender inequality, education and health if elected. Trajano gave them folders with the group's own proposals, which were often more assertive on the topics than the candidates' own plans.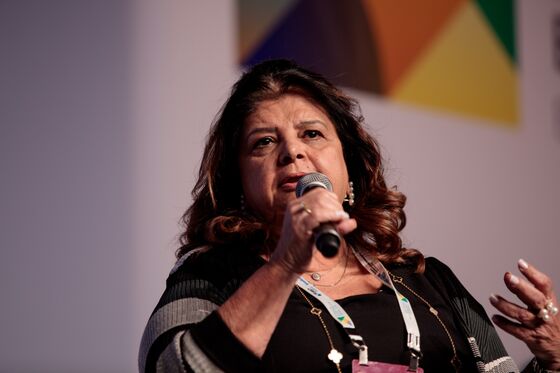 "We're here to help, not to complain," the chairwoman at retailer Magazine Luiza SA told the candidates last week in front of an audience of 1,000 women of her Brazil Women's group, created in 2013 by half a dozen female executives and that now has more than 19,000 members. "Our committee has been studying Brazil's public health system for years and we have a proposal to fix it that we'll be happy to share with you."
Absent were the two front-runners -- former President Luiz Inacio Lula da Silva, who's serving jail time after being convicted for corruption and money laundering, and conservative right-wing candidate Jair Bolsonaro. Fernando Haddad, who's expected to replace Lula as the Workers' Party candidate, wasn't there either.
The gathering ended in an unexpected way. The audience went on stage, grabbed the candidates by the hand and led a sing-along to a tune by Raul Seixas, a deceased composer from the 1970s, known for his utopia-themed songs, many written with Brazilian author Paulo Coelho. The lyrics were about how dreaming together makes it a reality.
The civility from the event didn't last very long, though.
Bolsonaro, who leads voter intentions without Lula, clashed with presidential candidate Marina Silva on women's issues a day later during a televised debate. Following a report in local media that Bolsonaro regretted not attending the women's event, the former army captain tweeted to his 1.3 million followers: "Who is Luiza Trajano?"
His rejection rate among women has jumped to 43 percent, the highest among the candidates, according to the latest Datafolha survey.