Scott Morrison Becomes Australia's 30th Prime Minister
(Bloomberg) -- Treasurer Scott Morrison will become Australia's sixth prime minister in 11 years after Malcolm Turnbull lost control of the ruling Liberal party, a shakeup aimed at boosting the government's flagging poll numbers ahead of an election due by May.
Morrison won 45 votes to 40 over right-wing populist Peter Dutton in a closed-door meeting of Liberal lawmakers, party whip Nola Marino told reporters on Friday. In comments after the vote, Turnbull denounced a "determined insurgency" to remove him as prime minister.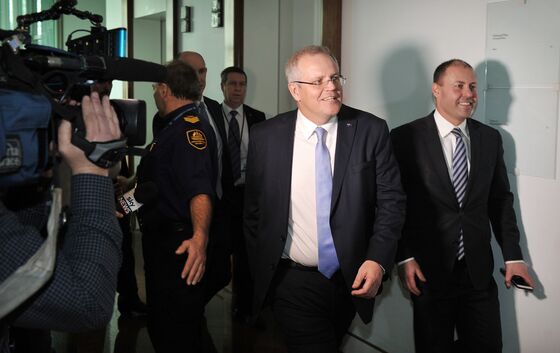 Morrison's victory after a tumultuous week represents a defeat for Dutton's allies in the party's right wing, who sought to channel concerns over economic inequality and immigration that also underpinned Brexit and the rise of U.S. President Donald Trump. He now has a narrow window to unite a rattled government against the main opposition Labor party, which holds a growing lead in opinion polls even though leader Bill Shorten isn't personally popular.
"They've gone for a compromise candidate in Morrison," said Paul Williams, a political analyst at Brisbane's Griffith University. "It does put the government back in the election race, albeit severely handicapped."
The change in leadership extends 11 years of political turmoil in Australia, with no prime minister serving a full term since 2007. This week's crisis has infected the nation's financial markets and prompted a string of business leaders to demand the government provide policy certainty.
Investors appeared relieved that lawmakers picked Morrison, who holds one of the most high-profile and powerful roles in government. Since being promoted to Treasurer in 2015, he has overseen a hiring boom and managed to shrink the budget deficit, even though stagnating wages and soaring housing prices have brewed discontent against the government.
The local dollar climbed as much as 0.6 percent against the greenback after Morrison's win, following a 1.4 percent decline on Thursday -- the steepest slump since May 2017. The benchmark S&P/ASX 200 Index was up 0.3 percent to 6,262.00 as of 1:16 pm in Sydney, erasing losses ahead of the party-room meeting.
"It's an initial relief for the market given he's someone similar, business as usual being the treasurer," said Jun Bei Liu, a portfolio manager at Sydney-based Tribeca Investment Partners that manages A$2.5 billion. Still, it lowers the Liberal party's chances to win the next election because Morrison was behind failed policies, including government efforts to cut taxes for large businesses, she said.
Morrison, 50, entered parliament in 2007 during an election that ended the Liberal party's 11-year rule under John Howard. After the party returned to power in 2013, Morrison was appointed immigration minister and charged with enacting "Operation Sovereign Borders" aimed at stopping asylum seekers arriving in Australia by boat.
After the vote, the Liberal Party -- which also elected Energy Minister Josh Frydenberg to replace Foreign Minister Julie Bishop as deputy leader -- at least publicly moved to overcome the intense infighting this week between moderates and conservatives. Dutton pledged "absolutely loyalty to Scott Morrison to make sure we win the election and we defeat Bill Shorten and make sure he's never prime minister."
For Turnbull, it was a minor victory that one of his allies took over after his position became untenable. He had struggled to unite moderates and conservatives ever since taking power in a 2015 party coup before winning an election the next year with a razor-thin majority.
His authority was terminally weakened earlier this week when he bowed to pressure from Dutton and others to water down his signature energy plan and not legislate Australia's Paris Agreement emissions target. That further hurt the government's popularity, which had been hit over high power bills and house prices despite maintaining a 27-year run of recession-free growth.
The Labor party has pledged to boost spending on hospitals and education, and also favors scrapping tax breaks for high-income earners and ambitious cuts to carbon emissions.
"It's up to Morrison to try to push the reset button so it least has a fighting chance in the next election," said Williams. "Given that Shorten still isn't a popular leader, you can't rule that out."