U.K.'s Raab Wants Business as Usual After a 'No Deal' Brexit
(Bloomberg) -- The U.K. will signal that it wants life to continue as normal in the event of a "No Deal" Brexit, in the face of warnings that aircraft might be grounded and hospitals run short of medicine.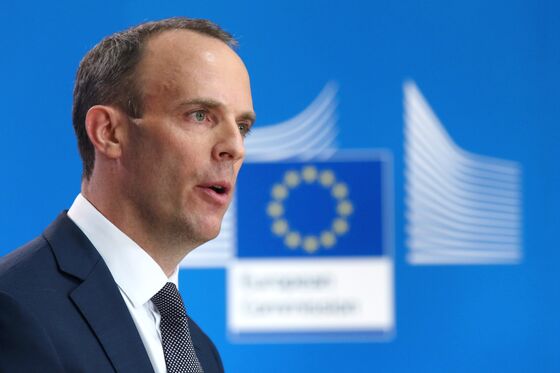 As he prepared to publish the first of around 80 "technical notices" for different business sectors, explaining how they should prepare for a collapse in talks with the European Union, Brexit Secretary Dominic Raab said individual institutions on both sides need to engage to agree "sensible" solutions to keep things running smoothly.
That reflects the government's overall approach that nothing should change immediately when Britain leaves the EU. It's not clear whether the notes will offer clues as to long-term plans. If they don't, they are in danger of describing a situation where the U.K. will pledge to continue to abide by EU rules without any input over how they are set.
"There are risks, but let's not have the risks blown out of proportion, out of context," Raab said in an interview with BBC Radio 4 on Thursday. "What we're making sure is that we have a measured, proportionate approach to some of the risks."
The documents will include "guidance" for companies, Raab said, adding that many of the continuity arrangements, including stockpiling vaccines and other medicines, are already common practice to mitigate the risks of port strikes or other interruptions to imports.
The publication of the No Deal plans has been the subject of political debate in recent weeks. Brexit-backers had urged Theresa May's government to do so, to show the EU that it was prepared to walk away from the table. Following reports that these plans would involve closing motorways to deal with queues of trucks, and importing generators to keep the lights on in Northern Ireland, Conservative lawmakers then accused May of trying to scare voters.
Different members of May's cabinet have offered varying views about whether talks might collapse, with Foreign Secretary Jeremy Hunt saying people should take the possibility seriously.
But Raab said that "a good deal is within our sights, we're confident about that."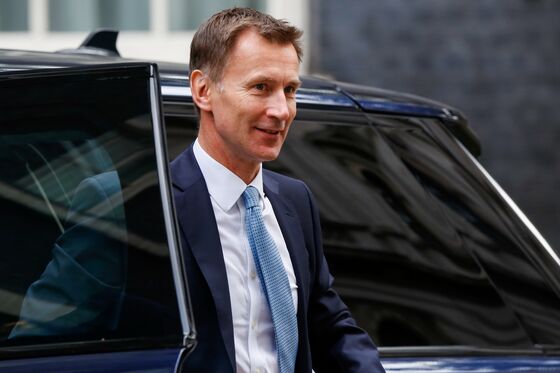 In a speech in London as the plans are published, the Brexit Secretary will urge EU and U.K. regulators to reach side deals, as the Bank of England and European Central Bank are trying to do over financial services regulation. In July, the government published a proposal that would give firms from the European Economic Area -- the EU plus Iceland, Liechtenstein and Norway -- as well as non-U.K. central counterparties the temporary recognition they'd require to continue operations.
"There are other areas where such engagement needs to take place, whether between the U.K. and the EU on data protection or between the U.K. and EU member states, for example between port authorities," Raab will say, according to his office. "That is the responsible thing for us to do on all sides."
May and her ministers have long argued that Britain and the EU are so intertwined that even a No Deal Brexit would require lots of side deals. The prime minister has also pointed out that these would be hard to negotiate in an acrimonious atmosphere after the collapse of talks.
Responding to a report in the Sun newspaper that British retirees living in EU states will not be able to access their pensions, Raab said the issue should be solved in time for Brexit if there is "good will" on both sides. As with a number of the side deals, it is in the interests of the EU leaders to reach an agreement with Britain as their citizens stand to lose out as well, he said.
A poll of 3,044 people commissioned by KPMG found that 54 percent of U.K. voters see a no deal outcome as likely, compared to 20 percent who see it as unlikely. The survey, carried out by Hanbury Strategy between Aug. 4 and 6 and published on Thursday, found that 70 percent of people think prices will rise if there's no deal.
"Our overarching aim is to facilitate the smooth, continued, functioning of business, transport, infrastructure, research, aid programs and funding streams," Raab will say in his speech. "In some cases, it means taking unilateral action to maintain as much continuity as possible in the short term, in the event of no deal -- irrespective of whether the EU reciprocates."