Trump Says China No Longer on Quick Path to Be Bigger Than U.S.
(Bloomberg) -- President Donald Trump said China's economy is no longer on a swift pace to be larger than the U.S., a comment likely to stoke concerns in Beijing that his administration wants to contain the Asian nation's rise.
Speaking at a rally in West Virginia on Tuesday night, Trump noted that China's market was "way down" even while saying he has "tremendous respect" for the country. He added that various trade talks would take time, a remark that dampens hopes for a breakthrough as low-level negotiations between the U.S. and China resume this week in Washington.
"When I came we were heading in a certain direction that was going to allow China to be bigger than us in a very short period of time," Trump said. "That's not going to happen anymore."
"I want to be their friend," he added. "But we had to do things that we had to do."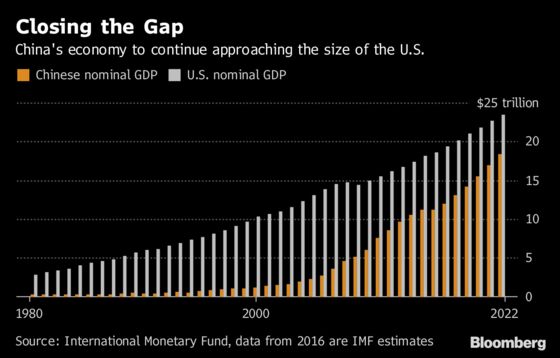 Chinese officials have become increasingly suspicious that Trump's moves to impose tariffs are part of a wider strategy to hinder the development of the world's second-biggest economy. The U.S. has imposed tariffs on $34 billion of goods already, and another $216 billion are in the pipeline.
While Beijing has been willing to cut a deal on narrowing its roughly $375 billion trade surplus with the U.S., President Xi Jinping's administration has resisted other Trump demands. Those include an end to subsidies for strategic industries, a stop to forced technology transfer and more competition for state-owned enterprises -- all measures that officials fear may undermine the Communist Party's legitimacy to rule.
China's roughly $12 trillion economy has steadily narrowed the gap with the U.S.'s, which is about $19 trillion. China's gross domestic product is forecast to expand 6.6 percent this year, according to estimates compiled by Bloomberg, which would be the slowest pace since 1990. The U.S. economy is forecast to expand 2.9 percent.