Trump's Helsinki Hopes Fade After Putin Rejects Microsoft Charges
(Bloomberg) -- Donald Trump strode into his summit with Vladimir Putin in July aiming to get relations with Moscow back on track. It hasn't worked out.
Just five weeks after the two leaders met in Helsinki, ties between the U.S. and Russia are at perhaps the lowest point of Trump's presidency, sunk by new allegations of Kremlin-linked efforts to disrupt the American political system.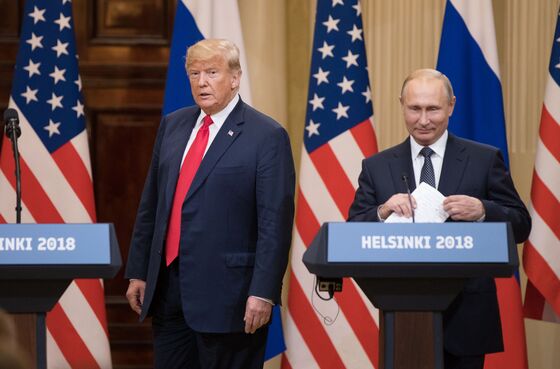 Microsoft Corp. revealed early Tuesday that it had seized websites created by hackers linked to the Russian military to mimic conservative think tanks, part of an apparent campaign to once again interfere in American elections. That set off a day of recriminations and calls in Congress and elsewhere to punish Moscow with additional sanctions.
In addition, the U.S. sanctioned owners of six Russian ships on Tuesday for violating international prohibitions against doing business with North Korea. Even heavier sanctions are expected this week over a nerve-agent attack on a former Russian spy in the U.K. earlier this year.
The events are the latest sign that Trump's hopes for a warmer relationship with Russia may never materialize. The Kremlin angrily denied Microsoft's allegations and threatened its own sanctions on the U.S.
Relations reached "a low point in the post Cold War era" after the U.K. attack, said Charlie Kupchan, a senior fellow at the Council on Foreign Relations. "And the relationship has remained at rock bottom ever since despite Trump's efforts to move the needle when he went to Helsinki."
The perspective from Moscow is no better. A Pew Research Center survey released Tuesday found that 71 percent of Russians don't believe their government meddled in the 2016 American election, while even more -- 85 percent -- think Washington interferes in other countries' internal affairs.
"We can hear the sound of the approaching waterfall," said Alexander Dynkin, president of the Institute of World Economy and International Relations, a state-run think tank in Moscow. "Many in Washington are paddling towards it, as are some on our side. We're on the way over together and everyone will get wet."
The Senate Banking and Foreign Relations Committees on Tuesday held simultaneous hearings at which lawmakers from both parties expressed frustration that Trump and his administration haven't acted more forcibly against Putin's government.
Senator John Kennedy, a Louisiana Republican, asked Treasury Department officials how Russia's economy could be "brought to its knees." Senator Tim Scott, a South Carolina Republican, said "our efforts have just not been effective enough."
Senator Bob Menendez, a New Jersey Democrat, promised: "Congress is going to act" -- a threat of even greater U.S. sanctions against Moscow. But Senate Majority Leader Mitch McConnell said time might not allow for passage of legislation before lawmakers head for the campaign trail.
Assistant Treasury Secretary Marshall Billingslea told lawmakers Tuesday that since January 2017, when Trump took office, the administration has sanctioned 217 Russian-related individuals and entities related to actions in Ukraine, cyberactivity, support for rogue states and elections interference.
Trump didn't comment Tuesday on Microsoft's revelation, and the White House referred questions to the Justice Department. The tech giant said the Russian hackers' intention was to make victims believe they were receiving legitimate emails or visiting the actual websites of the two think tanks, the Hudson Institute and the International Republican Institute. The groups are conservative bastions but have been at odds at times with Russia or Trump.
"Microsoft has been in touch," the department said in a statement, adding that "we appreciate such information sharing as it is precisely the type of cooperation with the private sector that is necessary to address and counter this continuing threat."
The statement didn't mention Russia or any official response to the attempted attack. Instead, it took an official of one of America's oldest allies to drive the point home.
U.K. Foreign Secretary Jeremy Hunt, in a speech Tuesday to the U.S. Institute of Peace, said Putin was testing the resolve of all Western nations and called on the European Union to increase sanctions as well.
"We must engage with Moscow, but we must also be blunt," he said. "Russia's foreign policy under President Putin has made the world a more dangerous place."