Trump Can Save Manafort With a Pardon. The Question Is, Will He?
(Bloomberg) -- With Paul Manafort convicted as a tax and bank cheat, President Donald Trump now has a decision to make about his former campaign chairman.
Just hours after the guilty verdict, Trump on Wednesday called Manafort a "brave man" who came under "tremendous pressure" in a "12 year old tax case" and "refused to 'break'." Now, the president could forgive Manafort's crimes and grant a pardon that allows him to escape all punishment. Or Trump could make a less politically risky move, like waiting and eventually commuting Manafort's sentence, which would free him from prison but leave his conviction intact.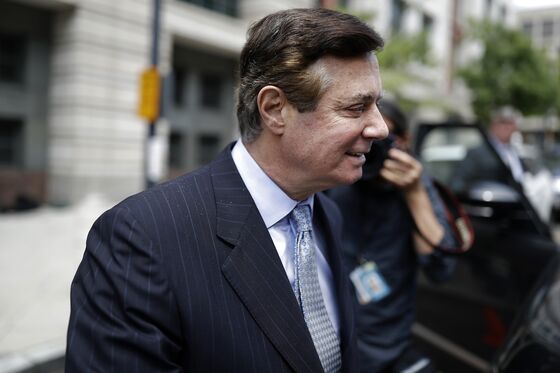 Trump may wait months before acting, but a pardon or commutation would be his most dramatic moment of defiance -- a declaration that he, and not the special counsel, has the last word on an investigation he calls a "witch hunt."
"Trump has been laying the groundwork for this, saying it's an unfair prosecution, that Manafort was targeted because he 'worked for me'," said Mimi Rocah, a former federal prosecutor who teaches at Pace Law School. "Trump would be acting like he can decide things."
Either action carries political risks. Besides the short-term fallout from letting off a man convicted of eight counts of fraud, Trump could face peril if Manafort is summoned to testify before a grand jury by Special Counsel Robert Mueller.
Whether Trump would pardon Michael Cohen, his former lawyer who pleaded guilty on Tuesday to tax fraud and campaign finance crimes, is another question. In his guilty plea, Cohen said he was directed by Trump to break the law in the days before the election. This morning, Trump compared Manafort favorably to his ex-fixer.

Almost from the start of Mueller's investigation last year, Manafort's actions suggested he's betting on a pardon. Rather than cooperating in Mueller's probe of Russian meddling in the 2016 election, Manafort, 69, took his case to trial -- but then presented no witnesses in the face of strong evidence that he lied to banks to win millions of dollars in personal loans and failed to pay taxes on a fortune stashed in overseas accounts. Jurors in Alexandria, Virginia, took four days to convict him.
Manafort, who's being held in jail awaiting trial in a second case brought by Mueller, could seek a reduced sentence by finally cooperating, assuming the Republican political consultant has information the special counsel would want.
Or he can await Trump's intervention, which might not come until after the second trial.
The president has sweeping authority to grant clemency to Manafort, both for Tuesday's conviction and for any other federal crimes for which he stands accused. Trump has freely exercised that power in recent months, granting forgiveness to conservatives including author Dinesh D'Souza and Arizona sheriff Joe Arpaio. He's even said he can pardon himself, though he claims he won't need to.
The U.S. Constitution gives the president that power, said Seth Taube, a former federal prosecutor now at the law firm Baker Botts. "That's his sovereign authority."
Yet a grant of clemency is a gamble for Trump.
A pardon before November's midterm elections could play into Democrats' hands, opening Trump to criticism that he's seeking to buy Manafort's silence as part of a cover-up of suspected collusion with Russia. Previous high-profile cases -- say, President Gerald Ford's pardon of Richard Nixon, or President Bill Clinton's forgiveness of oil trader Marc Rich -- have touched off political firestorms.
"This would be an outrageous pardon," said Rocah. "You're talking about someone who's been a fraudster for decades and has gotten away with it." Under normal circumstances, a president would never take such a controversial action, but with Trump, she said, it's impossible to predict.
Nor might a pardon end Manafort's tangle with the special counsel. Mueller could still call him to testify before the grand jury probing the Trump campaign's ties to Russia. Manafort, in turn, might still seek to invoke his Fifth Amendment right against self-incrimination by citing the risk of prosecution by authorities in New York state, where he has been under investigation, or other states.
But Mueller could seek a court order compelling him to testify with a grant of immunity, meaning Manafort's testimony couldn't be used against him.
"Prosecutors do it routinely when there's a need," said Kendall Coffey, a former U.S. attorney for southern Florida who's now in private practice. "It's not a difficult thing to achieve."
Mueller may want to question Manafort about the June 2016 Trump Tower meeting with a Russian lawyer or a change in the Republican platform that watered down support for Ukraine, said Harry Sandick, a former federal prosecutor now in private practice at Patterson Belknap Webb & Tyler LLP in New York.
It's unclear if Manafort could face state charges in New York or Virginia, where he had assets and business dealings. Trump's pardon power reaches only federal crimes, so he'd have no power to halt those cases. But there may be legal reasons why state prosecutors couldn't bring one.
A commutation might be the most attractive option for Trump, at least politically. The guilty verdict would stand in Virginia (and in Washington, if Manafort is convicted there of money laundering and failing to register as a foreign agent), but freeing Manafort from a lengthy prison sentence would go a long way -- and a full pardon could still follow later.
Even if Manafort's sentence is commuted, Mueller could still drag him before a grand jury with an immunity grant and, if he refuses to testify, ask a judge to jail him for civil contempt. Manafort would stay behind bars until he agrees to talk, and this time Trump wouldn't have the power to free him, said Steven Duke, a Yale Law School professor.
That's because the president's pardon power doesn't extend to civil contempt, a judicial tool that can be used to force compliance with court orders. In that case, the courts would be left to sort it out.