Americans See Surge of Women Candidates Positively, Poll Says
(Bloomberg) -- More than six-in-ten Americans say it's a good thing more women are running for Congress this year, but the public is divided by gender and party about whether an influx of female lawmakers would make the legislative branch more effective.
Those Pew Research Center findings are in a report released Wednesday that explores a defining trend of the first midterm campaign of Donald Trump's presidency, one that could help determine whether Republicans keep control of Congress in November's elections.
The record number of women running has been fueled by the #MeToo movement against sexual harassment, an expanded bench of women in local and state offices, and -- at least among many Democratic women -- Trump's 2016 victory over Hillary Clinton.
Pew's telephone survey of 2,011 adults found that 61 percent of adults view the uptick as positive, while 33 percent are neutral and 5 percent percent think it's negative. Women are more likely than men -- 68 percent to 54 percent -- to view the increase in female candidates positively.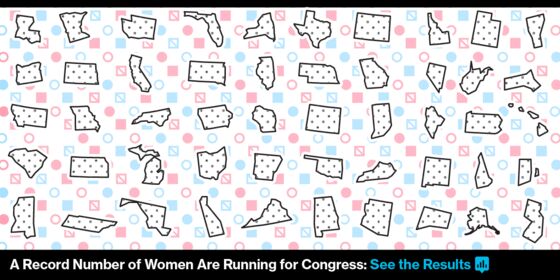 Views are more sharply divided along partisan lines and are reflective of the party breakdown of the female candidates running for Congress this year, almost three-quarters of whom are Democrats.
Among Democrats, large majorities of men (75 percent) and women (83 percent) say it's a good thing that more women are running.
Republican women are roughly evenly divided, with 45 percent saying good and 47 percent saying neither good nor bad. Men who identify with the GOP are the least likely to see the surge as a positive, with just 34 percent viewing it that way.
While most Americans say it's good that more women are running, they not nearly as positive that having more women in Washington would make congressional operations better.
Just 39 percent think Congress would do a better job of dealing with the country's problems, while 36 percent think the tone of the political debate in Washington would be more respectful and 34 percent think there would be more openness and transparency.
As with the other questions, there are partisan divisions on those questions.
"Women and Democrats -- and Democratic women, in particular -- tend to have more positive views of the potential impact of having more women in Congress," the report says. "For example, 46 percent of women -- versus 30 percent of men -- say Congress would do a better job of dealing with the country's problems if more women were elected."
Last week's primaries brought to 19 the number of women nominated for Senate seats in the Nov. 6 election, breaking the record of 18 set in 2012, according to the Center for American Women and Politics at Rutgers University. Five of the six Senate nominees selected in Aug. 14 primaries in the battleground states of Minnesota and Wisconsin are women, three Democrats and two Republicans.
With primaries not concluding until mid-September, the center's data shows that 154 Democratic women and 44 Republican women have won House primaries so far, already shattering the previous record of 167 in 2016.
More than two-thirds of Americans -- 68 percent -- say they expect there to be a female president in their lifetime. That is down slightly from 2014, when 73 percent said they thought the U.S. would elect a woman before they die.
Much of the change since 2014 has come from those ages 50 and older, the report said. Four years ago, 67 percent of that group said they expected a woman president in their lifetime, a number that has now dropped to 57 percent.
Pew's survey was conducted July 18-30 and has a margin of error of plus or minus 2.6 percentage points on the full sample.