Steyer Campaigns for Trump's Impeachment While Other Democrats Stay Away
(Bloomberg) -- Tom Steyer is a numbers guy. But when it comes to his campaign to impeach Donald Trump, he's got a gut feeling.
Sitting backstage ahead of a town hall meeting in Lansing, Michigan, the billionaire listened eagerly as Martha Patzer, the head of digital operations for his Need to Impeach organization, told him the group had collected about 5.6 million signatures seeking the president's removal.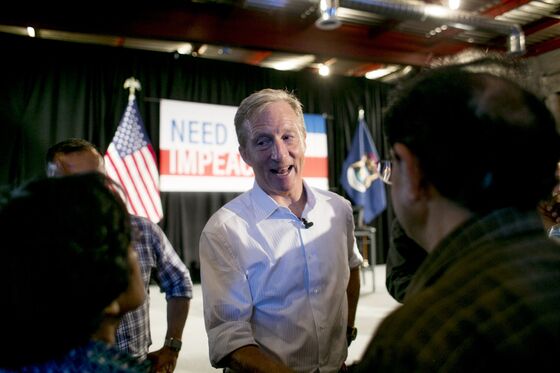 "I know it's more than that, I only look at it about five times a day," Steyer said. "Trust me, I will bet you a million dollars on that, and collect."
Steyer's intense focus on growing his petition and pressuring Democrats to seek impeachment has put him on a collision course with the party's establishment. Democratic leaders consider his campaign a distraction that could backfire, boosting GOP turnout and jeopardizing their efforts to win control of Congress.
The former hedge fund manager and Democratic donor's strategy depends on the party at least winning the House. At town hall events around the country, Steyer is dangling the prospect of impeachment, hoping to inspire Americans who don't regularly cast ballots to turn out in November and change the balance of power in Washington.
It will be a tough promise to deliver. To gain a House majority, Democrats need to flip 23 seats, a prospect that independent analysts say is within reach. The party will have a tougher time gaining two seats to control the Senate, where Democrats have 26 seats to defend, compared with just eight for Republicans.
A narrow win in either chamber would still leave Steyer with the task of rallying resistant lawmakers to oust the president. Even if Democrats win a House majority and vote to impeach Trump -- only 66 House Democrats voted to advance impeachment in January -- conviction in the Senate requires a two-thirds vote.
Steyer, 61, remains unfazed. He says he's consulted 58 legal scholars who say there is already a case for impeachment. He's enlisted psychologists to speculate on the president's mental state. And he's been on a 30-city town hall tour that began in March.
"Nobody wants to face this, including me," Steyer said in an interview, referring to impeachment. "Do you really want to believe that your president is breaking the law and not putting the American people first, and corrupt? I don't want to believe that. Unfortunately it's true."
Steyer's organization is seeking to capitalize on the latest developments in criminal cases involving Trump associates. On Tuesday, the president's former campaign chairman was convicted on tax and bank fraud and his former fixer and lawyer Michael Cohen pleaded guilty to violating campaign law; Cohen did so at Trump's behest, said Lanny Davis, Cohen's lawyer.
Need to Impeach started airing $300,000 in new digital ads Tuesday tied to the developments and plans to run a TV ad to encourage people to sign the petition and call their lawmakers.
Cohen's "admission of guilt is further proof that Donald Trump has long been intimately engaged with deceitful, lawless, and corrupt associates," Steyer said in a statement.
In Detroit last week, the 26th stop on his tour, Steyer was met with a standing ovation as he took the stage before 200 people. Wearing navy blue slacks, a colorful beaded belt and a light blue button-down shirt with the sleeves rolled up, he paced the stage, speaking in an animated voice as he answered questions from the audience, sometimes drawing applause. At the end, Steyer greeted supporters and took selfies with a long line of them.
He plans to spend as much as $120 million this election cycle, with $70 million going toward NextGen America, his organization seeking to turn out young voters and fight climate change, and $50 million toward Need to Impeach. Included in that amount is $10 million in new spending he announced last week to get those who signed the petition to turn out in November. The effort includes TV and digital ads, mailers, a letter writing campaign aimed at infrequent midterm voters in competitive House districts, and 25 field organizers.
Steyer is becoming one of the biggest spenders on this year's election, just as he was in the last one. Steyer's funds are primarily going into his two organizations, rather than individual candidates or committees.
So far this election cycle, billionaire casino mogul and GOP mega-donor Sheldon Adelson and his wife, Miriam, are the top individual donors. They've given more than $55 million, primarily to two super-political action committees trying to help Republicans keep control of the House and Senate. Michael R. Bloomberg, the founder of Bloomberg LP, the parent company of Bloomberg News, has pledged to give millions of dollars in 2018 to help Democrats retake control of the House.
Andrea Flitton, a retired customer service representative from Lansing was among the 50 people who showed up at Steyer's event in that city. Flitton, 70, praised Steyer for pushing impeachment.
"Something needs to be done, and this is a good movement," she said. "Maybe it won't result in impeachment but it's bringing a lot of people together that have the same basic beliefs."
A July 25 Quinnipiac poll that Steyer's group often cites found that 65 percent of Democratic voters want the House to begin impeachment proceedings if the party wins the House. But it also showed that just 39 percent of all voters and 42 percent of independents back impeachment. Democratic officials say independent voters are key to winning swing districts.
House Democratic leader Nancy Pelosi has called the impeachment drive a "gift" for Republicans and said the party's candidates should be focused on jobs and the economy. An aide for Pelosi declined to comment, and pointed to comments she made in a Rolling Stone interview last month. "I wish he would spend the money pointing out the horror show that the tax bill is," Pelosi said.
The movement is also unpopular in the Senate, where Democrats are defending 10 seats in states Trump won.
"I don't pay any attention to Tom Steyer, quite frankly," said Senator Jon Tester of Montana, a former chairman of the Democrats' Senate campaign arm, running for re-election in a state Trump won by 20 points. "There needs to be accountability, but I think it's kind of goofy."
Republicans in some contested races are already using the impeachment threat in an attempt to raise money and rally Trump voters. For instance, earlier this month Texas Republican Senator Ted Cruz blasted his opponent, Democratic Representative Beto O'Rourke, for supporting an impeachment vote.
Democratic "leadership knows that it's not where their candidates should be and we would agree with them," said Michael Ahrens, a spokesman for the Republican National Committee.
Steyer personally has endorsed two candidates, including California state Senator Kevin de Leon, a Democrat who supports impeachment and is challenging Senator Dianne Feinstein, another Democrat, who is far ahead in polls.
"Republicans consistently go for the jugular while Washington Democrats continually play by the country club rules," de Leon said, adding the if the tables were turned, Republicans would pursue impeachment "in a heart beat."
Steyer said the case for impeaching the president needs to be made to the American people. At his Detroit town hall, Steyer acknowledged Washington Democrats oppose his push for impeachment. "Let me explain how we feel about that," he said, drawing laughter and cheers from the crowd.
"Are we telling the important truth and are we standing up for the democracy that we inherited?" he said. "If we believe those two things, we are not going to stop."
Steyer's aides said the project will help Democrats by getting apathetic voters to the polls. They say they have an average of 10,000 petition signers in the most competitive congressional districts, two-thirds of whom don't regularly vote in midterm elections.
"Part of this whole movement is that there are people who are disaffected with the process, or felt like politics wasn't working for them," said Kevin Mack, Need to Impeach's chief strategist. "What the Need to Impeach movement has done is give them a way to get reenergized and get back in the political process."
The Steyer organization also has all the makings of a budding political campaign: a large list of followers, a campaign that's building his name recognition and taking him around the country, political advisers who've worked on congressional and presidential campaigns, and money to sustain that movement indefinitely.
All that would help Steyer stand out if he decides to join what is likely a big crowd of Democrats vying to challenge Trump in 2020.
At town hall meetings, Steyer sounds like he's giving a stump speech -- referring not just to impeachment but describing a "corporate takeover" of America and declining wages. Yet Steyer said he's focused on the midterm elections, not running for office.
"If we weren't running Need to Impeach, no one would be running Need to Impeach," he said.