Right-Wing Party Gets to Name Austria's Next Central Bank Chief
(Bloomberg) -- Austria's next central bank governor is set to be named by the nationalist Freedom Party.
The junior coalition partner in Chancellor Sebastian Kurz's right-wing government is likely to pick Robert Holzmann, an economics professor who became friends with the party's late leader Joerg Haider when they were working at Vienna University in the 1970s. He would replace incumbent Ewald Nowotny as governor and member of the European Central Bank's rate-setting governing council when Nowotny's term expires in August 2019.
Kurz announced the appointment of a new central bank president Wednesday, a mostly representative role which his party picked.
While he dodged questions about candidates for the governor post, Austria's usual political arithmetic would give the right to that job to his nationalist coalition partner. The Freedom Party has Holzmann in mind, according to Norbert Hofer, the minister responsible for coordinating the coalition's decisions.
Holzmann is "very well suited" to the job and there is a "certain probability" he will be appointed, Hofer told journalists. Holzmann will be 70 years old if he takes the post after Nowotny's term expires a year from now. Austria's government will formally decide before January, Finance Minister Hartwig Loeger said in Vienna.
Holzmann has taught economics at the universities of Graz and Vienna, and has worked at the OECD, the IMF and the World Bank, mostly on labor markets, pensions or social security systems. His academic writing also focused on those issues, not on monetary policy.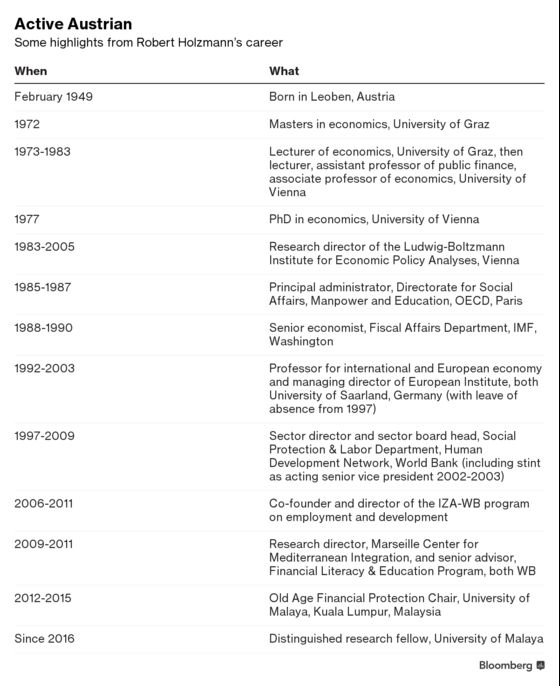 The decision comes amid heightened concerns over central-bank independence in western economies as anti-establishment parties gain in influence.
Members of Italy's populist coalition administration have urged the European Central Bank to protect the nation from speculators, the Bank of England has been attacked by politicians over its Brexit warnings, and U.S. President Donald Trump this week criticized Federal Reserve interest-rate hikes.
Kurz shook Austria's establishment last year when he teamed up with Heinz-Christian Strache's nationalist Freedom Party. The government named Harald Mahrer, the head of Austria's chamber of commerce and a leading member of Kurz's People's Party, as the non-executive president of the central bank on Wednesday.