Dead People Left More to May's Tories Than Living Paid in Dues
(Bloomberg) -- Theresa May's Conservative Party received twice as much money from dead people as it did from dues paid by members last year.
The party's income from legacies was 1.7 million pounds ($2.2 million) in 2017, five times higher than a year earlier, suggesting some large one-time payments from people's wills. Income from membership fees dropped to 835,000 pounds from 1.5 million pounds, which may be attributable to the way fees are distributed between the national party and local branches .
Even with those caveats, the latest numbers reflect a serious demographic problem facing the Tories: Their members are getting fewer and older -- there were 124,000 of them as of earlier this year. The main opposition Labour Party, meanwhile, saw its membership soar under leader Jeremy Corbyn to 564,443 in 2017, the highest level in decades.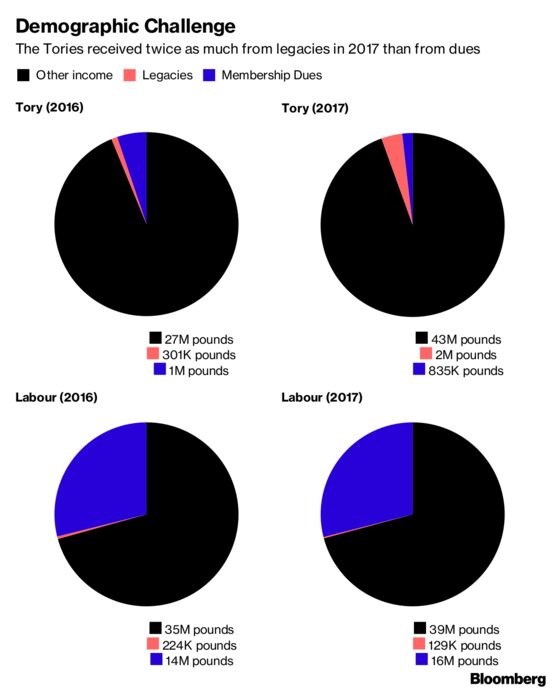 Many of those Labour members -- at least anecdotally -- also seem to be younger. And while they may not be as rich as the typical Tory supporter, Labour received 16 million pounds in membership fees in 2017, helping the party to outspend the Conservatives in a year that saw them beat everyone's expectations in the general election.
For the record, Labour spent 54.3 million pounds on income of 55.8 million pounds; the Tories spent 44.6 million pounds on income of 46 million pounds.