Ryan Strips Indicted GOP Lawmaker of Committee Assignments
(Bloomberg) -- A Republican congressman from Southern California -- indicted on charges of using hundreds of thousands of dollars in campaign funds for personal expenses -- has been stripped of his committee assignments by the House speaker and urged to resign by the chamber's top Democrat.
Representative Duncan Hunter, 41, faced the swift, bipartisan rebuke after federal prosecutors on Tuesday unveiled criminal charges against both him and his wife, Margaret, 43. The office of the U.S. Attorney in San Diego, which filed the charges, said the Hunters improperly accessed more than $250,000 in campaign money.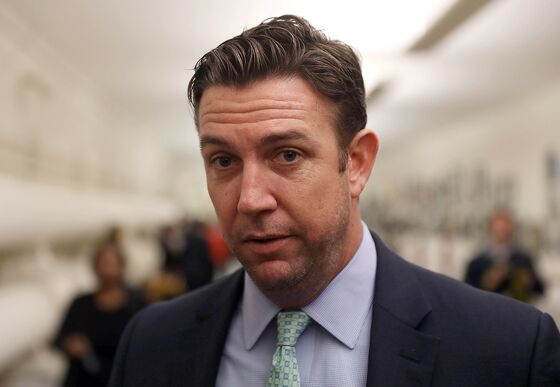 According to the indictment, campaign funds were used to pay for personal expenses like family vacations, school tuition and dental work, as well as smaller purchases including fast food and movie tickets. Hunter, a five-term congressman who represents the San Diego area, also is accused of filing false campaign records with the U.S. Federal Election Commission.
House Speaker Paul Ryan, in a statement on Tuesday night, called the charges against Hunter "deeply serious" and said that he would be stripped of his assignments. He is a member of the Armed Services, Transportation and Infrastructure Committees and the Committee on Education and the Workforce.
Hunter said in a statement Wednesday that the Justice Department's actions were politically motivated.
"We are seeing this with President Trump; we are seeing this with my case," Hunter said. "This is evidenced by the fact that after two years of investigating, the Department of Justice decided to take this action right before my election."
The indictment was announced less than two weeks after Representative Chris Collins, a New York Republican, was charged with insider trading in Manhattan Federal Court. Hunter and Collins were the first House members to endorse the presidential candidacy of Donald Trump and did so on the same day, Feb. 24, 2016.
Word of Hunter's legal troubles capped a bad day for the president and the Republican Party: Trump's former personal lawyer, Michael Cohen, implicated him in a crime at almost the same moment his former campaign chairman, Paul Manafort, became a convicted felon.
Top House Democrat Nancy Pelosi said that "the charges against Congressman Hunter are further evidence of the rampant culture of corruption among Republicans in Washington today." She asked Ryan to demand Hunter's resignation.
Pelosi and her fellow Democrats are trying to make accusations of wrongdoing by Republicans an issue in the November midterm elections.
Hunter, a former combat Marine who served in Iraq, represents California's 50th congressional district, which includes parts of San Diego and Riverside counties. Elected in 2008, he succeeded his father, also named Duncan Hunter.
Among the personal expenditures Duncan and Margaret Hunter paid for with campaign money were a $14,000 family Thanksgiving vacation to Italy, a $6,500 excursion to Hawaii, and a $3,700 trip to Las Vegas and Boise, Idaho, according to the 47-page indictment.
In March 2015, Hunter told his wife that he was planning "to buy my Hawaii shorts" but had run out of money, according to the indictment filed in federal court in San Diego. She advised him to buy the shorts at a golf pro shop so they could describe the expense as golf balls "for the wounded warriors" -- a service organization for veterans.
The Hunters also paid their dental bills, their children's tuition and thousands of dollars in groceries and meals with campaign funds, prosecutors said. They also overdrew their bank account more than 1,100 times in a seven-year period, according to the charges.
Prosecutors said that to hide the personal nature of their spending, the Hunters "mischaracterized the purchases in FEC filings as 'campaign travel,' 'dinner with volunteers/contributors,' 'toy drives,' 'teacher/parent and supporter events,' 'gift cards' for charitable donations, and 'gift basket items,'" among other false descriptions.
Tickets for the Duncans to see "Riverdance" at a San Diego theater, according to the indictment, "became 'San Diego Civic Center for Republican Women Federated/Fundraising.'"
According to recent polls, Hunter's lead over his Democratic opponent in November, Ammar Campa-Najjar, has narrowed to single digits.
A pending House Ethics Committee investigation of Hunter regarding alleged misuse of campaign funds was previously announced by the panel and deferred at the request of the Justice Department.
Gregory Vega, a lawyer for Hunter, said in an Aug. 6 letter to Deputy Attorney General Rod Rosenstein, which was provided to Bloomberg News by Hunter's office, that the indictment "will result in a solidly Republican district being handed to a Democratic candidate who garnered a mere 16 percent of the vote in the primary."
Campa-Najjar said that the indictment "confirms just how deep this corruption can reach when someone like Duncan Hunter Jr. is in it for himself instead of representing the people."
The case is U.S. v. Hunter, 18-cr-3677, U.S. District Court, Southern District of California (San Diego).