California Attorney General Says His Cause Is Bigger Than Trump
(Bloomberg) -- California Attorney General Xavier Becerra insists that his state isn't at war with President Donald Trump, even as he files lawsuits against the administration at a breakneck pace and warns of an existential threat to democracy.
"What Donald Trump is doing is asking us to backslide. We don't wish to backslide," Becerra said Tuesday during a meeting with Bloomberg News reporters and editors in New York.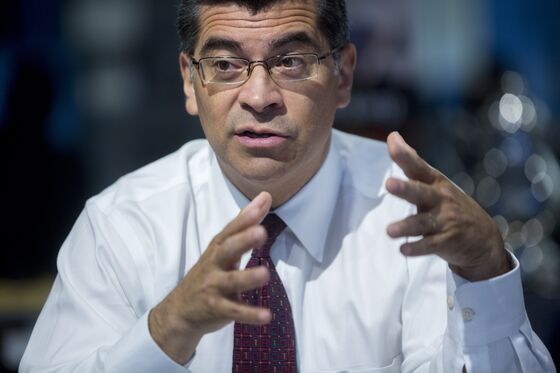 Becerra and California Governor Jerry Brown have positioned their state as a champion of the so-called Trump resistance -- Brown has even called it "war" -- but Becerra said he's fighting for Californians, and not against a single force.
"My job is to protect the people, the values and the resources of the State of California. That's my job," he said. "Someone wants to get in the way, we have to take them on. I don't categorize that as war."
Becerra has filed 41 lawsuits against the Trump administration, has more in the works and has also signed onto other states' suits challenging federal policy. He said he believes that many of the administration's actions will ultimately be scrapped by the courts because they are based on numbers that don't add up, questionable science and ignorance of precedents. That includes the administration's pollution limits on auto emissions, announced this month, and coal-fired power plants, announced Tuesday.
"We're going to continue to do what we need to do, and that could include suing the Trump administration yet again on trying to backslide on a very important protection," Becerra said of the power plant proposal.
In addition to environmental issues, Becerra has challenged the administration's policies on immigration and scolded Health and Human Services Secretary Alex Azar over proposed changes in the way Medicaid pays home-care workers.
On yet another front, he said Tuesday that he expected California, the largest U.S. state, to play a leading role in a nationwide legal battle over the opioid crisis.
'Arbitrary and Capricious'
"The two words that we keep raising in most of our filings in court against this administration just reverberate: arbitrary and capricious," Becerra said.
A former 12-term congressman representing a predominantly Latino section of Los Angeles, Becerra, 60, was appointed to his current post early last year by Brown and is up for election to a full term in November.
He was a potential running mate for Hillary Clinton in 2016 and spent a substantial amount of time for her campaigning in Nevada, a key early state in the presidential nominating process. As for the 2020 Democratic presidential nomination, he signaled a run was unlikely but wouldn't rule it out when asked.
"Whatever I get I'm going to earn," he said after a six-second pause. "I feel fortunate to be able to be in a place to make a difference. Did I ever think I would be the AG for California? No. Did I ever think I'd run for Congress? No. Did I ever think I'd be in elected office? No. It's gone well, I hope I've been able to show that I can make a difference," he said. "I meant what I said to my daughters: The sky really is the limit for you. And so it will be for me. But whatever I get, whatever that is, it'll come because I earned it. Not because I just want it."
When a reporter told him that wasn't a no, he replied: "It's a never a no because if the sky's the limit, but I'm not telling you I'm out there searching for something. I'm really happy doing what I'm doing."
Becerra wouldn't say much about the 2020 prospects of Senator Kamala Harris, who he succeeded as California's attorney general, or about the rest of the potential field. " think the sky's the limit for Kamala Harris. I think she's proven that, and we're fortunate on the Democratic side," he said, adding, "There are a lot of very capable people who are making noise."
He left the House as the fourth-ranking Democrat, on the verge of being term-limited out of his post as chairman of the House Democratic Caucus and with limited options for another leadership role, given the dominance and longevity of the three leaders ahead of him – Nancy Pelosi, Steny Hoyer and Jim Clyburn. Even so, he's not in the camp of some Democrats who are jostling for leadership changes.
Becerra said he thinks the angst is, more than anything else, a symptom of the party's lack of power.
"I would attribute most of what you're hearing externally about the House Democratic caucus to the fact that Democrats are in the minority," he said. "I don't think you heard a lot of people complaining about leadership in 2007, '08, '09 or '10 when Democrats were busy getting a whole bunch of stuff done."
That all changes if Democrats take back the chamber in the midterm elections. "Winning the majority cures a lot of this because all of a sudden you have a lot of people who will be needed to step up and do a lot," he said. "And, by the way, that's when they're going to find out that it's not always fun to be in leadership because you sometimes have to take positions that may not sit well with some faction in your constituency or whatever else."
Pelosi, the current minority leader and a fellow Californian, is on good footing no matter what happens in November, Becerra said. "My bet," he said, is that "Nancy Pelosi will win a race in the House Democratic caucus because she's earned it, because she's proven herself."
As the simmering debate over immigration flared up yet again earlier this year, Washington's policy of separating migrant families unfolded on California's border with Mexico.
Becerra was asked about the Trump administration considering regulations it hoped to use to supersede the Flores Settlement Agreement, which limits the time migrant children can spend in federal custody to 20 days and which it used to justify its family separation policy.
Becerra said that wouldn't work. "It shows how President Trump just -- the synapses aren't connecting. You can't just abandon a settlement"reached through the courts, he said. "I guess he, once again, thinks that he can just undo it because he's president. No, he can't. Not if our laws and institutions are still working."