Ukrainian Rock Star Teases Fans Over Rumored Presidential Bid
(Bloomberg) -- A Ukrainian rock star who polls suggest has a shot at winning next year's presidential election has released a song hinting he'll confirm long-standing rumors of a run for the country's highest office.
The latest track by Okean Elzy, Ukraine's most popular band, is stoking speculation on social media that frontman Svyatoslav Vakarchuk will announce a challenge to President Petro Poroshenko at the ballot box in March. Lyrics, all written by the singer, include "how many of us have souls that hurt, have woken up and can't sleep in these new times," and "we've had enough of the lies, we're dizzy from artificial dreams."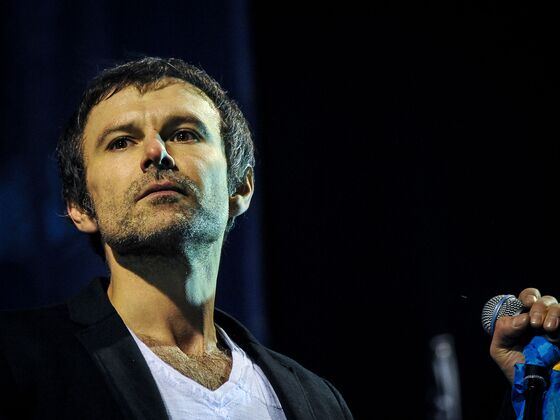 While the latest poll gives Vakarchuk only 5.7 percent support, no candidate has an unassailable lead and previous surveys have shown he'd stand a good chance of victory in a head-to-head second-round vote, which would be held if no one gets more than 50 percent initially. The current favorite is ex-Prime Minister Yulia Tymoshenko, with backing of just over 11 percent. Hopefuls have until Dec. 31 to confirm they'll run.
Vakarchuk, who once briefly served as a lawmaker, is probably still only considering rejoining the political fray, according to Dmitry Vasylev, a political consultant in Kiev. "His song suggests he wants to work with society to urge people to be more comprehensive when they vote for politicians, to be more demanding," he said.
Poroshenko still hopes to secure a second term, citing successes that include creating a court to tackle crooked officials, maintaining payments from a $17.5 billion international bailout and winning visa-free travel to the European Union. But there are good reasons why candidates across the board have low support. More than four years after Ukraine's second pro-European revolution in a decade, corruption remains rife, economic growth is muted and a war with Kremlin-backed insurgents in the country's east drags on.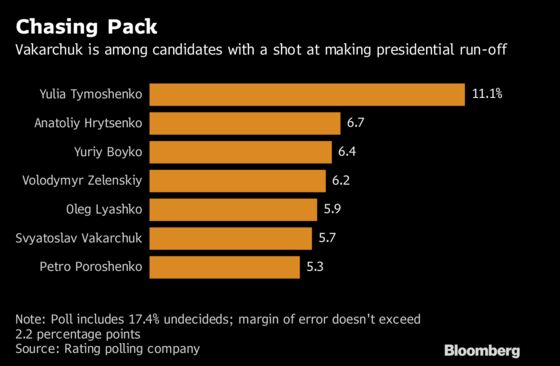 With dissatisfaction high among voters, candidates including Vakarchuk and comedian Volodymyr Zelenskiy, who also hasn't confirmed his bid, are polling at a similar level to well established politicians before the March 31 election. Vakarchuk remains coy on whether he'll run. His band declined to elaborate on the lyrics to their latest track.
"Usually, one would explain what the new song is about, what one wants to say and what a listener should hear," Okean Elzy tweeted. "We won't do that. The song's lyrics say it all."