China's Economic Might Erodes Taiwan's Support in U.S.'s Backyard
(Bloomberg) -- China undermined one of Taiwan's last bastions of diplomatic support Tuesday, as the Central American nation of El Salvador cut ties with the democratically run island.
Taiwan and El Salvador announced their break in a series of briefings and speeches that illustrated how China's economic might was accelerating Beijing's effort to isolate Taipei. While Salvadoran President Salvador Sanchez Ceren said the move would "create great benefits," Taiwanese Foreign Minister Joseph Wu vowed not to engage in "money competition" with its larger rival.
The country is the sixth lured away by Beijing since the 2016 election of Taiwan's China-skeptic president, Tsai Ing-wen, leaving the island with just 17 formal diplomatic partners. The loss of El Salvador -- coming a year after a similar decision by Panama -- demonstrates China's growing influence in Central America, where a shared anti-communist past had provided a stronghold of support for Taiwan.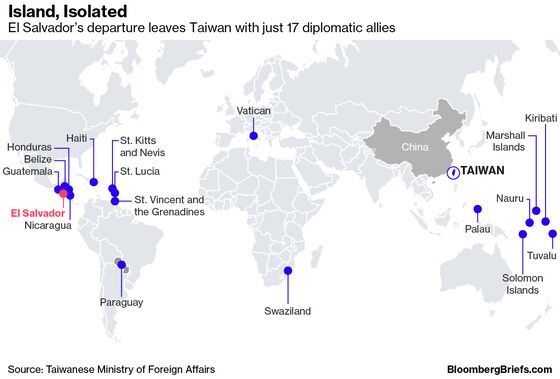 The exodus has left Taiwan's 24 million people isolated, even as the Trump administration takes steps to expand military and diplomatic support for the island, which China considers part of its territory. El Salvador's decision came hours after Tsai returned from a trip to Belize and Paraguay -- including stopovers in the U.S. -- aimed at bolstering her remaining relationships with Latin American governments.
On Tuesday, Tsai urged Taiwan to "unite and defend our sovereignty together." "In future, we will work with like-minded countries to counteract China's increasingly out-of-control behavior," she told a briefing.
In his own televised address, Sanchez said the move would "bring extraordinary personal opportunities to each" of El Salvador's more than 6 million people. "China plays a large role in world peace and promotion of shared development by encouraging countries like ours through cooperation," he said.
Earlier, the Taiwanese foreign minister had accused El Salvador of making several financial demands, including support for a port development. The president's Farabundo Marti National Liberation Front had also sought campaign funds for next year's election, Wu told a news conference.
Chinese Ministry of Foreign Affairs spokesman Lu Kang told a briefing that El Salvador placed "no economic preconditions" on the establishment of ties. Lu said Beijing was willing to establish diplomatic relations with any country that accepted that both sides were part of "one China."
While Beijing and Taipei have been jockeying for support since they were divided by civil war almost 70 years ago, the Communist Party party held off on luring away Taiwanese allies when the more China-friendly Ma Ying-jeou was president. But Tsai, whose Democratic Progressive Party supports independence, has angered Beijing with her refusal to accept the "one China" framework.
During her time in office, China has established ties with Burkina Faso, the Dominican Republic, Gambia and Sao Tome and Principe. Beijing has also sought to exclude Taiwan from international organizations and pressured airlines and other multinational companies to stop treating the island as a separate country.
Lin Ting-hui, deputy secretary-general of the Taiwanese Society of International Law research institution, said that formal diplomatic relations were less important than material support from informal allies such as the U.S. The Trump administration and Republican-controlled Congress have this year approved a series of measures to expand ties with Taiwan, including a law that would allow high-level visits by American diplomats.
"Taiwan's allies are only a legal token in Taiwan's diplomacy and the most important element remains its relations with major countries including the U.S., which is a major export market and the key defense partner," Lin said.