Serbia's Vucic Says Russian Support Is Necessary for Kosovo Deal
(Bloomberg) -- Serbian President Aleksandar Vucic is planning to meet Russia's Vladimir Putin at least twice in the coming months as he tries to reach a deal over Kosovo, key to the Balkan state's aspirations of joining the European Union.
Putin has been invited to visit Belgrade this year. The Serbian and Russian leaders are also working to arrange another meeting, possibly in Moscow, Vucic told reporters at an airfield near Belgrade where the Air Force received two refurbished MiG-29 jets from Russia.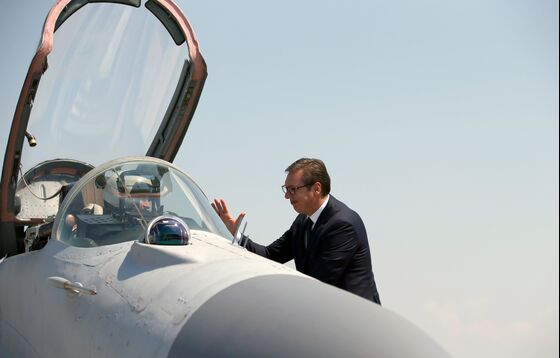 "We are waiting for him. He promised to come," Vucic said as he thanked the Russian Federation for helping Serbia upgrade its army. "Without Russia, it's impossible to reach an agreement" over Kosovo, he said. It broke away two decades ago with help from a NATO bombing campaign and declared independence in 2008.
Serbia hopes to join the world's biggest trading block next decade. But it refuses to recognize Kosovo's secession, a position shared with Russia, China and five EU member states. The EU, which has been mediating talks between the Balkan neighbors for years, has ruled out accepting new members that can't resolve border disputes.