Fixing Italy's Infrastructure Market
(Bloomberg Opinion) -- The collapse of a 50-year-old highway bridge in Genoa, Italy has cost the lives of at least 43 people. There's an understandable desire for justice, compensation and guarantees that this won't happen again. But sweeping calls for nationalization are unlikely to pay off. Better to improve what can be improvedin a flawed market.
Italy's populist coalition government probably knows the risks of throwing money at this sector too hastily. The reasons for the privatizations of the 1990s — the country's high debt load, lack of investment, and ineffective decision making — are all still valid today. The state is still deeply indebted, investor confidence is deteriorating, and the government includes politicians who have long fought against big infrastructure projects.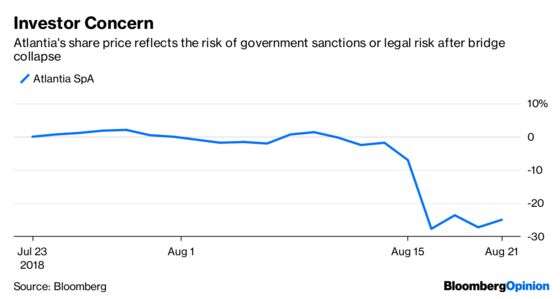 But while privatization still makes sense, we should question how effectively the market has been run and regulated over the past few decades. That should be a priority in deciding how to evaluate the responsibilities of both government and contractor going forward.
The Italian market is very concentrated, and very local. Atlantia SpA's Italian unit, better known as Autostrade, has a market share of about 50 percent, not too different, perhaps, from other European markets like France. But there's no comparison in terms of profitability: Atlantia's operating margin is 47 percent, and its underlying profit margin is 67 percent, according to Bloomberg data. France's Eiffage SA and Vinci SA have operating margins of 11 percent and underlying profit margins of 16 percent.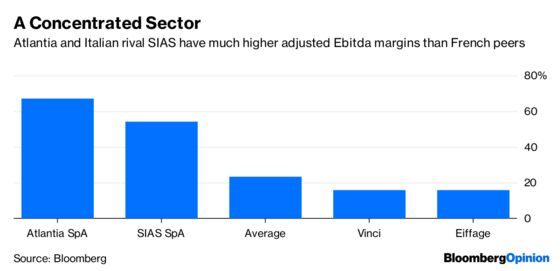 To be fair, much of the gap is explained by the fact Atlantia doesn't have a sizable low-margin construction business to drag down profitability. Vinci's concessions arm is just about as profitable as Atlantia is at group level. And for governments, it is obviously a good thing to have profitable concessionaires that will be around to invest for the long run — the collapse of U.K. contractor Carillion Plc shows what happens when competitive pressures lead to bad financial decisions.
But one might question whether life got too cushy for Italy's domestic operators. The European Commission referred Italy to the European Court of Justice last year for twice extending a motorway concession without any competitive tendering process. It's not clear the risk of losing a concession was very high. And Italy is still playing catch-up to France and Germany in terms of motorway length, according to Eurostat data.
Even if it's hard to argue that Atlantia didn't invest — over the last decade, the company effectively invested more than 1 billion euros a year in its Italian motorway network and plans to spend a further 10 billion euros in coming years — there needs to be more responsibility and transparency on the side of the government in holding concessionaires to account.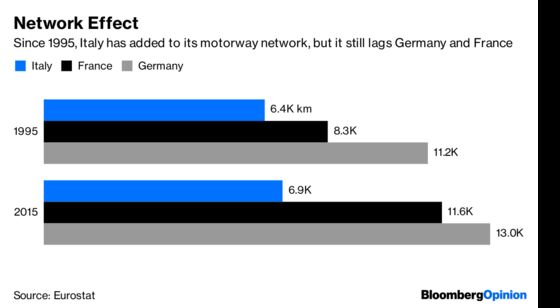 More data collection by independent bodies would be a big help, according to Nicola Limodio, assistant professor of finance at Bocconi University in Milan. Quantifying investments can only get us so far. Details on exactly where the money is going and the benefits it is bringing should be transparently and independently evaluated. Without that, it becomes harder to regulate effectively.
The harsh and contradictory rhetoric coming from the Italian government is damaging investor confidence in Italy, and is of little help in getting to the root cause of this crisis.
More competition, better regulation and transparent data would be one way to better guard against what Genoa's prosecutor has described as an "abdication" of the state's responsibility in keeping its citizens safe. That should go hand in hand with any sanctions for the companies involved or compensation to the victims.
This column does not necessarily reflect the opinion of the editorial board or Bloomberg LP and its owners.
Lionel Laurent is a Bloomberg Opinion columnist covering finance and markets. He previously worked at Reuters and Forbes.