Fed Boss Powell Feels Trump's Fleeting Loyalty
Donald Trump has never shied away from expressing an opinion about people who've been part of his inner circle – criticizing Attorney General Jeff Sessions, while offering qualified support to his former campaign chairman, Paul Manafort. Now Federal Reserve Chairman Jerome Powell is in his sights.
Like Sessions and others, the fact that Trump hired Powell isn't insulating him from public fault-finding. Nor is a long-held practice of presidents considering the central bank above the fray.
Trump on Friday lamented Powell's job performance to wealthy Republicans at a Hamptons fundraiser, telling them that he'd expected a cheap-money chairman and was disappointed with the Fed's interest-rate increases.
He repeated the criticism yesterday in an interview with Reuters, asserting that China and European countries have been helped by their central banks' actions during trade disputes with the U.S.
The dollar weakened on Trump's comments. And the remarks reveal two things: the extent to which a president who places a premium on loyalty isn't willing to reciprocate and the degree to which Trump disregards the traditional boundaries of his office.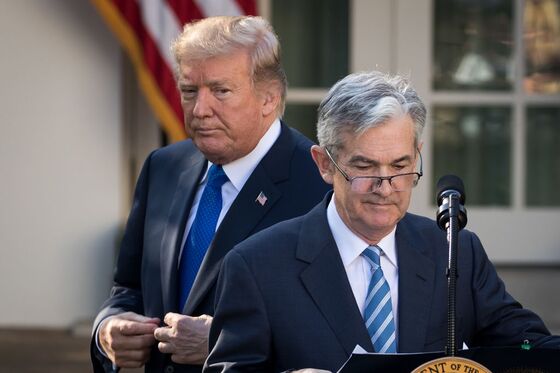 Dead man walking | It was groundhog day in Australia, with yet another ruling party leadership battle dominating the national capital. Prime Minister Malcolm Turnbull – whose coalition has a razor-thin majority – emerged victorious but vulnerable to another challenge, while the fate of his flagship energy policy remains unclear. It caps a tumultuous decade in which the nation has switched prime minister five times and none has lasted a full term.
Not blinking | Trump said he won't make any concessions to Turkey to secure the freedom of a detained Christian evangelical pastor at the center of the diplomatic dispute that has rocked the NATO ally's economy. The president – in the Reuters interview – waved off concerns that steep steel and aluminum tariffs he's imposed on Ankara would reverberate through Europe's economy.
Increasing isolation | China further undermined one of Taiwan's last bastions of international support, as the Central American nation of El Salvador cut ties with the democratically run island, leaving it with just 17 partners. El Salvador's decision to switch its diplomatic allegiance to China – after a similar move by Panama – demonstrated Beijing's growing influence in the U.S.'s backyard, where a shared anti-communist past had provided Taiwan with a stronghold of support.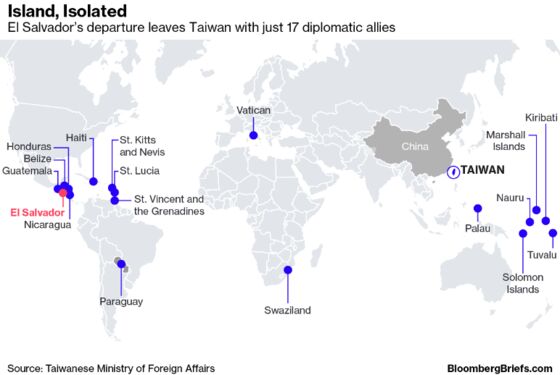 High roller | Billionaire casino owner Sheldon Adelson and his wife delivered $25 million to help Republicans try to hold the Senate in November's midterm elections, adding to the $30 million they've given to bolster the party's campaign to keep the House, Bill Allison and John McCormick report. Adelson, a supporter of pro-Israel causes, funded Trump's campaign in 2016 and was a leading supporter of the decision to relocate the U.S. embassy to Jerusalem.
Hackers are back | Microsoft Corp. President Brad Smith says a group of cyber-attackers linked to the Russian government are targeting American groups ahead of the midterms. While Microsoft obtained a court order to take over six domains associated with the hackers, at least three candidates have already been hit with phishing attacks that strongly resemble Russian efforts to sway the vote in 2016.
Immigration success | Migration has become the hot-button issue ahead of Sweden's election next month, with a far-right party poised to emerge as a power-broker. But even as politicians compete in taking the toughest line, becoming a magnet for refugees and job-seekers from abroad has transformed Sweden's economy into a powerhouse with growth rates far above the European average, Rafaela Lindeberg reports. 
Supreme Court nominee Brett Kavanaugh is likely to face tough questions regarding his views on abortion when he sits down today with Republican Senator Susan Collins, whose support could be pivotal to his confirmation.
And finally... Ukraine's most popular band has released a song hinting that its frontman will run in next year's presidential election. Opinion polls show singer Svyatoslav Vakarchuk would stand a good chance of winning if he progressed to a runoff vote. "We've had enough of the lies," he sings in the track titled "How Many of Us," a sentiment that runs deep in a country where corruption remains rife, economic growth is muted and a war with Kremlin-backed insurgents drags into its fifth year.