Brexit 'Bad Boy' Wants Supporters to Take Over May's Tory Party
Why is Arron Banks, who became famous for funding the U.K. Independence Party, urging people to join the Conservatives? It's not because he's suddenly become a fan of Prime Minister Theresa May.
Banks has spent most of the last four years trying to make life difficult for the Conservative Party. Even to Tories who backed leaving the European Union, he was an extreme player, a self-described "bad boy" of Brexit who paid for anti-immigration posters that Conservatives said were beyond the pale.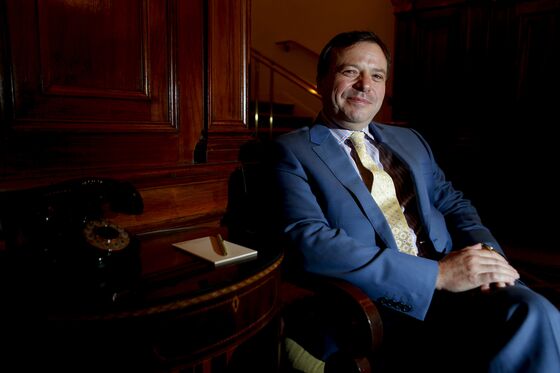 But Banks expects the Tories to throw May overboard in the next six months, and has told backers of his Leave.EU movement to "push for fundamental change within the party." The more that join, the more likely it is that the next Tory leader -- and prime minister -- chosen by party members would support Banks's world view and his demand for the hardest of splits from the EU.
Banks is not alone in trying to take advantage of the turmoil over Brexit, which is fanning nationalist and populist flames across Britain's right-wing politics.
UKIP's former leader, Nigel Farage, has re-entered the fray as part of another pro-Brexit group. And Steve Bannon, the mastermind behind Donald Trump's ascent to power, sees the U.K. as fertile ground for his mission to unite European anti-immigration parties.
Bannon has singled out Boris Johnson for praise. And May's former foreign secretary -- a leading figure in the 2016 referendum -- is viewed as the preferred candidate for Brexit purists.
The Banks-backed Leave.EU website doesn't specify who it wants members to support, though the relevant page has a picture of Johnson as well as Margaret Thatcher and hard-liner Jacob Rees-Mogg.
How could the Brexiteers usher one of their own into office? Right now the leadership rules don't favor a populist favorite like Johnson.
A pro-Brexit Tory, John Strafford, is exploring ways to change the process: Specifically how to ensure party lawmakers can't block a candidate like Johnson, who is popular with grassroots members but lacks support in Parliament.
Under the current system, Tory MPs hold a series of votes until there are only two candidates left, with grassroots members picking the winner. Strafford told the Sunday Telegraph that the party should instead have an open vote, with anyone who has the support of 20 lawmakers allowed to stand.
That's also the way opposition Labour leader Jeremy Corbyn got onto his party's ballot in 2015, in spite of most of his parliamentary colleagues believing he would be a poor leader.
Corbyn's brand of straightforward socialism turned out to be wildly popular with party members tired of compromises, but his struggles with his lawmakers -- now in their third year -- show the problem with having a leader who doesn't enjoy support in Parliament.
Former Foreign Secretary William Hague, who as Tory leader between 1997 and 2001 was responsible for bringing in the current system, wrote in the Telegraph on Tuesday that changing the rules would be a mistake.
Tory members "are not remotely representative of society at large or even of their own voters," he said. Candidates should have to "jump through the extra hoop of showing strong support from those who know them best."