U.S. Deports Suspected Nazi Camp Guard, 95, to Germany
(Bloomberg) -- A 95-year-old man from Queens, New York, who has lived in the U.S. for almost 70 years was deported to Germany because he lied about his collaboration with the Nazis during World War II.
The U.S. says that Jakiw Palij was a Nazi guard at the Trawniki camp who helped to prevent the escape of prisoners who later were shot during a November 1943 massacre. Palij played an "indispensable role" in ensuring their later murder by the Nazis, according to a statement from the U.S. Immigration and Customs Enforcement. He was stripped of his American citizenship in August 2003.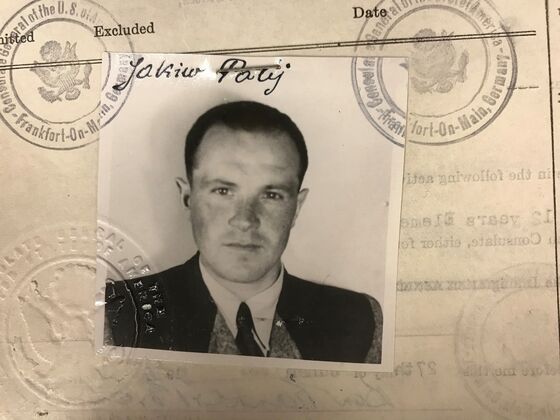 The Germans agreed to take him after U.S. lawmakers and Jewish organizations had argued that Nazi-collaborators shouldn't be allowed to chose where they want to spend their sunset years, according to a statement from Germany's Interior Ministry. Germany didn't ask for his extradition.
"The United States will never be a safe haven for those who have participated in atrocities, war crimes, and human rights abuses," U.S. Attorney General Jeff Sessions said in a statement. "Palij lied about his Nazi past to immigrate to this country and then fraudulently become an American citizen. He had no right to citizenship or to even be in this country."
Palij, who is now stateless, was deported based on an order of removal the U.S. Department of Justice obtained in 2004. Germany accepted him because of the country's "moral responsibility" for the Nazi crimes, the German Interior Ministry said. He arrived in a plane at Dusseldorf airport on early Tuesday morning.
The deportation came after years of unsuccessful efforts by the U.S. to convince Germany, Poland or the Ukraine to take the man.
After more than a dozen years of impasse, officials in the German government took a fresh look at the issue, Richard Grenell, the U.S. ambassador to Germany, told reporters in a conference call Tuesday. He said German Foreign Minister Heiko Maas and Interior Minister Horst Seehofer were key to the change in attitude.
Palij was the last person in the U.S. facing deportation related to Nazi-era crimes. The U.S. Department of Justice had looked into 17 cases of men who served at Trawniki and at last four of them died before they could be sent to Europe.
Palij entered Germany under a rule that allows the government to accept foreigners if it serves the political interests of the country, according to the Interior Ministry. Palij will be hosted by the German state of North-Rhine Westphalia, which will also pay his living expenses, according to the Interior Ministry.
Palij denies he took part in any atrocities. As an 18-year old, he was forced by the Nazis to train as a guard in then-occupied Poland, he told the New York Times in a 2003 interview. He did it to save his life and his family and only guarded bridges and rivers, he said.
Prosecutors in the Bavarian city of Wuerzburg reviewed Palij actions in Trawniki but didn't find enough evidence to link him to the murders and the probe was dropped in 2016, their spokesman Boris Raufeisen said in an emailed statement.
The U.S. couldn't criminally prosecute him because at the time of the alleged action there was no statute authorizing prosecution of such crimes that occurred outside the country.
Palij was born in a part of Poland that is now in Ukraine. He immigrated to the U.S. in 1949 and became a citizen in 1957. He told immigration officials that he had spent the war on his father's farm and in a German factory. He later admitted that he was trained in Trawniki.
During World War II, German prisoners of war were trained at Trawniki in occupied Poland. Many of them served as guards in the extermination camps in Sobibor, Treblinka and Belzec. The most famous was John Demjanjuk, who was extradited from the U.S. to Germany and later convicted by a Munich court and sentenced to five years in prison for aiding the Nazis in the murder of at least 28,000 Jews at the Sobibor death camp. His case prompted a wave of new prosecutions of camp guards in Germany.