U.K. Demands Further EU Sanctions on Russia After Spy Poisoning
(Bloomberg) -- Britain's top diplomat will call on the European Union to increase its sanctions against Russia and match the U.S. response to the poisoning of a former Russian spy in the English town of Salisbury this year.
Jeremy Hunt is on his first visit to Washington since replacing Boris Johnson as foreign secretary, and will draw attention to the use of a nerve agent to try to kill Sergei Skripal. British authorities believe the Kremlin was behind the attack. A U.K. woman subsequently died from exposure to the poison.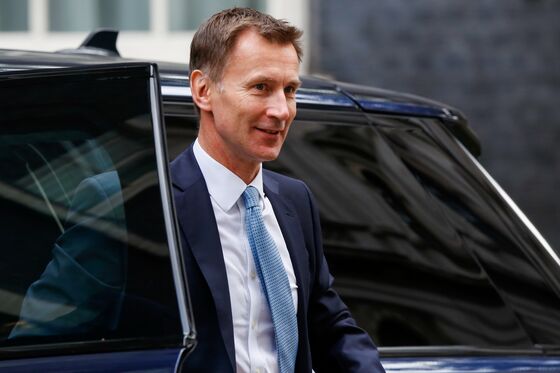 Russia's foreign policy under President Vladimir Putin "has made the world a more dangerous place," Hunt will say, according to extracts of a speech to the U.S. Institute of Peace. The U.K. is calling on the EU "to ensure its sanctions against Russia are comprehensive, and that we truly stand shoulder to shoulder with the U.S."
The veiled criticism of the EU comes as the U.K. is pursuing Brexit and courting the U.S. for a favorable trade deal, an example of how foreign policy can bleed into domestic politics.
Back in March, EU states expelled Russian diplomats after the attempted murder of Skripal and his daughter, Yulia. But the death of Dawn Sturgess last month after coming into contact with the nerve agent has raised the stakes. Hunt argues the EU should do more.
He will draw attention to U.S. steps -- including sanctions due to come into force Wednesday on electronics, lasers and some oil and gas production technologies -- and ask that the EU follow suit. The bloc hasn't expanded the sanctions it imposed in response to Russia's annexation of Crimea.
In a further swipe at Brussels, Hunt will echo his warning that a failure to reach a Brexit deal with the EU would threaten cooperation across the continent.
"The risk of a messy divorce, as opposed to the friendship we seek, would be a fissure in relations between European allies that would take a generation to heal -- a geostrategic error for Europe at an extremely vulnerable time in our history," Hunt will say.