Australia Mutiny Wounds Turnbull, Helping Labor's Election Hopes
(Bloomberg) -- While Australian Prime Minister Malcolm Turnbull fought off a leadership challenge on Tuesday to stay in power, the main opposition Labor party may ultimately be the biggest winner from the drama in Canberra.
Turnbull, 63, put down a right-wing rebellion for the time being, defeating Home Affairs Minister Peter Dutton by 48 votes to 35 in a ballot of lawmakers from his Liberal Party. But he's not out of the woods yet: Dutton, 47, quit his post and refused to rule out another challenge, which may come before parliament is adjourned on Thursday, while other ministers threatened to resign.
The potential for a sweeping political shift adds more uncertainty for businesses in a nation that has endured repeated policy missteps and flip-flops over the past decade. Since 2007, Australia has switched prime ministers five times, and none has lasted a full term. Turnbull, who came to power in 2015 and in 2016 won an election with a razor-thin majority, has struggled for both policy traction and political authority.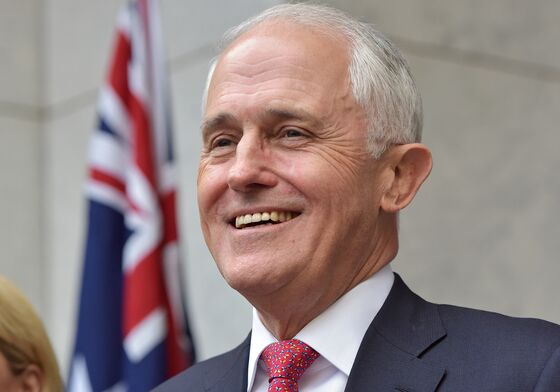 Even if he makes it through the week, he's unlikely to get anything done before the next federal election due by May 2019. That's good news for Bill Shorten, 51, whose Labor party led Turnbull's ruling coalition by 10 percentage points in a poll released on Monday.
"The ability of this government to produce meaningful policy positions has been greatly compromised because the authority of the prime minister has been severely weakened," said Martin Drum, a senior political lecturer at Notre Dame University in Perth. "Shorten is a winner from this. Labor will do well in the next polls."
The Labor party has pledged to ramp up spending on education and hospitals if it wins the next election. It also wants to reduce tax breaks for property investors to address generational disparity.
Even though Australia has gone 27 years without a recession, discontent has been brewing among its 24 million people. Wages have stagnated, power bills have spiraled, household debt has climbed and property prices are beyond the reach of many Australians.
"We need to have some clarity in terms of policy," Elizabeth Gaines, chief executive officer of Fortescue Metals Group Ltd., the world's No. 4 iron ore exporter, told Bloomberg Television in an interview Tuesday. "It's really important for those long-term investment decisions."
How politics is wrecking Australia's chances of forging an energy policy
Since his narrow election win in 2016, Turnbull has fought to gain momentum. While he oversaw legislation allowing same-sex couples to marry, shrunk the budget deficit and enacted tax cuts for small businesses, other policies have been stymied in parliament.
A planned A$49 billion ($36 billion) broadband network, designed to thrust Australia into the forefront of the digital revolution, was plagued by cost overruns and construction delays. Sniping between state and federal governments has stalled crucial infrastructure to ease crippling traffic congestion.
Earlier this week, Turnbull de-fanged his signature energy policy, which was drafted to give voters cleaner, cheaper power -- a move that came after Dutton and others demanded the government provide more support for the coal industry and abandon its Paris Agreement emissions target.
Immediately after the secret party vote, Turnbull turned his guns on Shorten and called for unity in the party.
"Australians expect us to be focused on them, and talking about their issues," Turnbull said. "They don't like us being focused on ourselves, or talking about each other."
While Dutton said after the vote that he supports Turnbull, he resigned his position in the cabinet. Three other lawmakers followed and offered their resignations, the Australian Associated Press reported.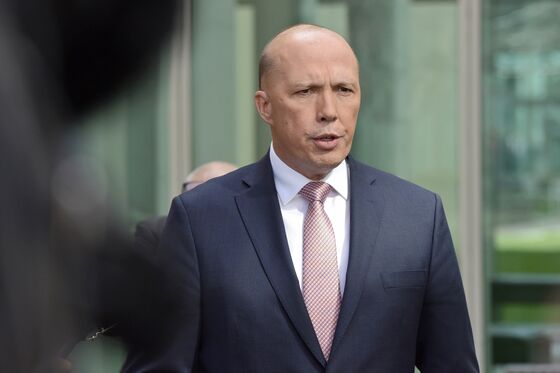 Dutton is seen as a leader of the party's right wing, and has risen to prominence as a staunch supporter of the government's hard-line policy of detaining asylum seekers in offshore camps. He's been accused by human rights advocates of creating racial division by urging a crackdown on "African gang violence" in Victoria state, and if voted in as leader could announce cuts to immigration.
Looking relaxed during an interview with Sky News on Tuesday afternoon, Dutton said leaving the cabinet would allow him to talk more about his normal side, including liking watching sport and having a drink.
"When you're stuck in front of a camera talking about the serious issues of national security and border protection, it's pretty hard to crack a smile," Dutton said.
The close vote on Tuesday was a better outcome for Dutton than many political watchers expected, according to Jill Sheppard, a political analyst at the Australian National University. Turnbull is on "shaky ground," she said, adding that he'd likely face another leadership vote in weeks or months even as he tries to appease the party's right wing.
All of the chaos is helping the Labor party. In remarks to parliament on Tuesday, Shorten looked to kick Turnbull while he's down.
"Australia has a prime minister in name only -- without power, without policies," Shorten said. "If nearly half of his own government do not want him to be the prime minister, why should the rest of Australia have to put up with him?"