Australia's Leader May Face Challenge as Poll Support Falls
(Bloomberg) -- Malcolm Turnbull's government slumped in an opinion poll, heaping further pressure on the Australian prime minister amid mounting speculation he will face a challenge to his leadership from Home Affairs Minister Peter Dutton.
Turnbull's Liberal-National coalition trails the main Labor opposition 45 percent to 55 percent, according to a Fairfax-Ipsos poll released Monday. The 10 percentage point margin has widened from 2 points a month ago.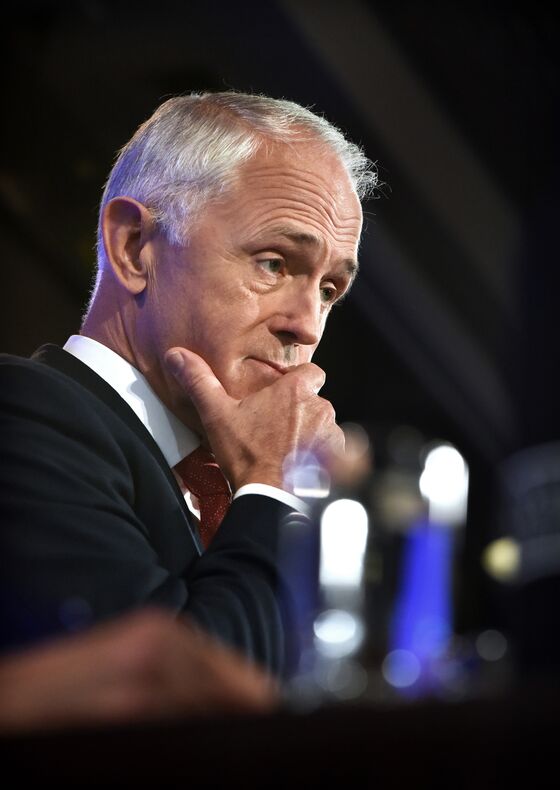 The poor poll result comes as Turnbull tries to defuse a revolt over a key energy policy from some backbench lawmakers, who are urging him to abandon Australia's Paris Agreement emissions target and provide more support for the coal industry. While former policeman Dutton, 47, on Saturday pledged support for the prime minister, the Sydney Morning Herald reported that he'd have sufficient support from party colleagues to topple the prime minister if he mounted a challenge.
The party infighting over energy policy risks tipping the nation into a renewed period of political chaos and revolving door leadership that's seen Australia switch prime ministers five times since 2007. The polls indicate Labor will easily win office in elections due in May.
"There are trouble-makers on our side kicking up the dust," Treasurer Scott Morrison said in a Sky News interview when asked if Turnbull's changes to energy policy would save his leadership. "The policy has overwhelming support of the party-room."
Turnbull, 63, has struggled for policy traction and political authority since winning the July 2016 election by a razor-thin margin. His bid to reduce company taxes for Australia's biggest businesses has stalled in parliament and he may abandon the cuts this week, the Australian Financial Review reported Monday.
It's no surprise that energy policy is again the fuse for the latest round of infighting. A decade of political dithering and climate policy missteps has left the nation with spiraling electricity prices and unreliable supply.
Turnbull's National Energy Guarantee seeks to deliver affordable and reliable energy while reducing emissions. A chief critic of the plan is former leader Tony Abbott, who Turnbull toppled in a party-room vote in 2015 to become prime minister. Abbott argues that a rapid uptake of renewables such as wind and solar have made electricity supplies unreliable and is advocating more coal-fired power.
To stave off a revolt, Turnbull said Monday he was dropping a key part of the NEG -- the plan to legislate Australia's Paris Agreement commitment to cut emissions by at least 26 percent below 2005 levels by 2030. He also backed a key recommendation from the competition watchdog for a default price that electricity retailers can charge. He'll seek support for the changes at a party-room meeting in Canberra on Tuesday.
"I enjoy the confidence of the Cabinet and my party room," Turnbull told reporters in Canberra, adding that Dutton had assured him of his support.
Dutton, 47, is seen as a leader of the party's right wing, and has risen to prominence as a staunch supporter of the government's hard-line approach in detaining asylum seekers in offshore camps. He's been accused of creating racial division in communities by urging a crackdown on "African gang violence" in Victoria, and if voted in as leader could announce cuts to Australia's immigration level.
Dutton previously supported Abbott over Turnbull as leader. Asked if he'd lost confidence in Turnbull's leadership, Abbott on Monday called for an energy policy the government could take to the election and win.
"It's not about personalities," he told reporters. "It's not about him, it's not about me. It's about what's going to give Australians the best possible energy system that delivers affordable, reliable power."