Netanyahu Tells Bolton Israel Values 'All Manner' of U.S. Aid
(Bloomberg) -- Prime Minister Benjamin Netanyahu told White House National Security Adviser John Bolton that Israel appreciates "all manner" of U.S. aid, outlining how he is seeking to boost the country's defense budget.
Netanyahu greeted Bolton in Jerusalem on Monday during the American official's three-day trip to Israel, the biggest recipient of U.S. aid. Netanyahu said they planned to talk about joint defense projects as well as threats from Iran, Syria and the Gaza Strip.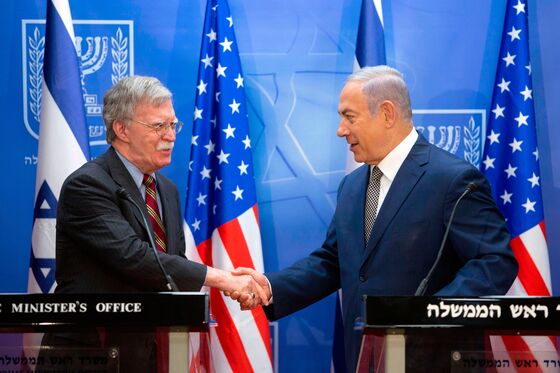 "We've consistently increased our defense spending," Netanyahu said, according to a statement from his office sent by text message. "We insist on defending ourselves by ourselves and we appreciate all manner of American support."
The U.S. under former President Barack Obama agreed in 2016 to a 10-year commitment that would increase annual aid for Israel to $3.8 billion from about $3 billion, though it required that all the money be used to buy American equipment. Netanyahu said last week that he will seek a $1 billion increase from parliament in Israel's annual defense spending.
On Sunday night, ahead of a dinner at Netanyahu's residence, Bolton said Iran's nuclear and ballistic missile programs are "at the top of the list" of Trump administration concerns. Netanyahu said the visit should help Israel and the U.S. align policy more closely on Iran, Syria and Gaza.