Manafort Jury Deliberates, Omarosa Tell-All: Trump Legal Update
(Bloomberg) -- A Virginia jury is deliberating the fate of Paul Manafort, President Donald Trump's former campaign chairman, who faces decades in prison if convicted of charges that he lied to banks to get loans and hid millions of dollars offshore from the Internal Revenue Service.
The jury is to return Monday to continue deliberations after spending two days mulling the case last week.
Trump's campaign is trying to force former White House staffer (and "The Apprentice" contestant) Omarosa Manigault-Newman into arbitration, claiming she breached a non-disclosure agreement with the publication of a tell-all book.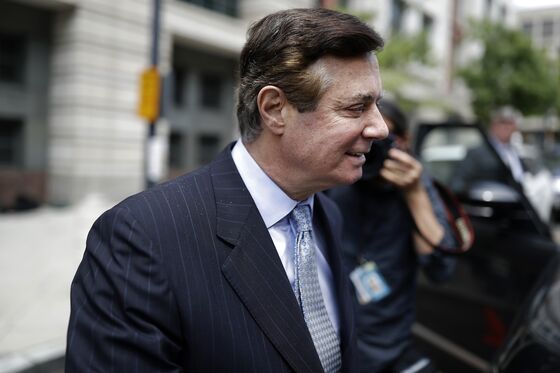 And Russian operative Maria Butina's health is deteriorating in a U.S. jail as the government pressures her, the Russian Embassy complained on Twitter. The gun-rights activist is charged with failing to register as a Russian agent.
Those are last week's highlights from legal cases surrounding the president.
Deliberating Manafort's Fate
Jurors spent two days deliberating 18 counts against Manafort, including tax and bank fraud, but didn't reach a verdict. They'll return Monday.
Prosecutors finished presenting evidence to the jury Tuesday, having called 27 witnesses and offering 388 photographs, emails and other documents to support their claims that Manafort hid more than $16 million in income and misrepresented his financial health to banks to get $20 million in loans.
Manafort's lawyers called no witnesses. In their closing arguments, they urged the jury to acquit him. They depicted him as an innocent victim of right-hand man Rick Gates, who they say embezzled millions of dollars and lied to jurors to avoid prison.
Near the end of the first day of deliberations, jurors sent a note with four questions, asking for clarification of "reasonable doubt" and a "shelf company." They also asked about requirements for the filing of foreign bank accounts and whether the exhibits could be matched to the indictment. The judge only answered the question about reasonable doubt, telling jurors that prosecutors aren't required to provide their case "beyond all possible doubt."
U.S. District Judge T.S. Ellis III also disclosed that he had received threats during the trial. "I won't tell you what threats I've received," he told lawyers, "but I have the Marshals' protection. Where I go, they go."
"I had no idea this case would excite these emotions," the judge said.
The judge told lawyers about the threats to support his decision to keep the names of the jurors secret.
Trump weighed in on the trial, telling reporters Friday Manafort is a "very good person." It's unusual for politicians to comment on ongoing trials, especially during jury deliberations, but that didn't stop the president. "I think it's a very sad day for our country," he said. "I think it's very sad what they've done to Paul Manafort." Trump declined to comment on whether he'd pardon Manafort if he's convicted.
Manafort's lawyer Kevin Downing told reporters "we really appreciate the support of President Trump."
Regardless of the verdict in Virginia, Manafort is due to stand trial on more charges in September in Washington. There, he's accused of money laundering, obstruction of justice and acting as an unregistered foreign agent. The D.C. judge revoked his bail and sent him to jail after prosecutors said Manafort tried to tamper with witnesses.
Here are some of recent stories on the Manafort case:
Papadopoulos Gets Set for Sentence
George Papadopoulos, whose claim in 2016 that Russians had dirt on Hillary Clinton was a catalyst for Special Counsel Robert Mueller's probe of Russian interference in the U.S. election, should be sentenced to no more than six months in prison for lying to federal agents, prosecutors told a judge.
The recommendation came in a court filing Friday in Washington.
Mueller's team hammered out a plea deal with Papadopoulos 10 months ago. Papadopoulos pleaded guilty and agreed to assist Mueller. He's scheduled to be sentenced on Sept. 7, after defense lawyers file their sentencing brief.
Omarosa's Tell-All Riles Trump
Trump's campaign said Tuesday it filed for arbitration, accusing former campaign aide Manigault-Newman of breaching a confidentiality agreement with the release of her tell-all book and numerous television appearances in which she's critical of the president and her former co-workers, according to the New York Times.
Trump campaign litigation counsel Charles Harder also sent Simon & Schuster executives a threatening letter on Aug. 13, warning that publication of Manigault-Newman's book would subject the company to liability for "substantial monetary and punitive damages," the Washington Post reported. Simon & Schuster outside counsel Elizabeth McNamara responded in a letter that the company "will not be intimidated by hollow legal threats," according to the newspaper.
Trump railed against Manigault-Newman at least half a dozen times on Twitter, calling her a "dog" in one post.
Meanwhile, Trump lost another attempt to remove a dispute with a former campaign staffer from public view. Jessica Denson, a Los Angeles-based actress who claims she was harassed while working on Trump's campaign, said a judge denied Trump's request to shift her case to arbitration. Denson is representing herself in the lawsuit. The order wasn't immediately available in public records.
Here are some stories from Omarosa's busy week:
Russian Complaints Over Butina
The Russian Embassy claims Maria Butina's health has deteriorated in a U.S. jail. The embassy, in a statement on Twitter, says U.S. officials are intentionally making her living conditions "as difficult as possible."
Butina has been in U.S. custody since her July 15 arrest. The gun-rights activist is accused of working as an unregistered agent of the Kremlin. She was denied bail after prosecutors said she had ties to Russia's intelligence services and oligarchs who could offer her safe harbor. Butina pleaded not guilty.
The embassy accused the U.S. of "psychologically pressuring and humiliating our fellow citizen" and said "everything the U.S. government has presented to the public, at least, does not hold water."
The next hearing in the Butina case is scheduled for Sept. 10.
Here are some recent stories:
Mueller's investigation of Russia's interference in the U.S. elections is coming under a renewed challenge from a former aide to Roger Stone, Trump's long-time adviser.
Andrew Miller, who did administrative work for Stone, refused to appear at a grand jury proceeding and was found in contempt of court. He's appealing the ruling, challenging Mueller's authority to subpoena him. So far, everyone who challenged Mueller's authority has lost.
Concord Management and Consulting LLC was the latest to lose such a challenge. A U.S. judge last week refused the Russian catering company's request to throw out charges against it on grounds that Mueller was unlawfully appointed by Deputy Attorney General Rod Rosenstein. Concord is controlled by Yevgeny Prigozhin, who is known as "Putin's chef."
Concord was charged in February along with a St. Petersburg troll farm and 13 Russian nationals by Mueller, who accused them of manipulating social media to sow discord among U.S. voters in the run-up to the 2016 election.
Miller is due to file his appeals argument by Sept. 7.
Meanwhile, a New York Times story over the weekend that White House counsel Donald McGahn had at least three voluntary interviews with Mueller's investigators totaling some 30 hours over the past nine months prompted a tweet storm from Trump. He insisted he "allowed" McGahn to cooperate and rejected a suggestion that McGahn feared being set up by Trump to take the blame for any possible illegal acts of obstruction or was a "John Dean type 'RAT."'
Trump lawyer Rudy Giuliani said on two Sunday political shows that the president has nothing to fear from McGahn's cooperation.
Here are some of recent stories about challenges to Mueller's investigation:
Trump's former national security adviser, Michael Flynn, who was fired for lying to the FBI and the vice president about his contacts with Russians, is a key cooperating witness in Mueller's probe. He's awaiting sentencing. A judge asked to be updated on the status of his case by Aug. 24.
Here are some of recent stories on Flynn:
The Manafort cases are U.S. v. Manafort, 17-cr-201, U.S. District Court, District of Columbia (Washington), and 18-cr-83, U.S. District Court, Eastern District of Virginia (Alexandria).
The Butina case is U.S. v. Butina, 18-cr-00218, U.S. District Court, District of Columbia (Washington).
The Cohen case is In the Matter of Search Warrants Executed on April 9, 2018, 18-mj-3161, Southern District of New York (Manhattan).
The Russian GRU hackers case is U.S. v. Netyksho, 18-cr-215, U.S. District Court, District of Columbia (Washington).
The hacking indictment is U.S. v. Concord Management, 18-cr-00032, U.S. District Court, District of Columbia (Washington). The DNC case is Democratic National Committee v. the Russian Federation, 18-cv-3501, U.S. District Court, Southern District of New York (Manhattan).
The Clifford cases are Clifford v. Trump, 18-cv-2217, U.S. District Court, Central District of California (Los Angeles); Clifford v. Trump, 18-cv-3842, U.S. District Court, Southern District of New York (Manhattan); and Clifford v. Davidson, 18-cv-5052, U.S. District Court, Central District of California (Los Angeles).
The Playmate case is Bechard v. Broidy, BC712913, California Superior Court, Los Angeles County (Los Angeles).
The Denson case: Denson v. Trump, 18-cv-2690, U.S. District Court, Southern District of New York (Manhattan).
The Flynn case is U.S. v. Flynn, 17-cr-232, U.S. District Court, District of Columbia (Washington).
The Apprentice case is Zervos v. Trump, 150522/2017, New York Supreme Court, New York County.
The emoluments cases are Blumenthal v. Trump, 17-cv-1154, U.S. District Court, District of Columbia (Washington); District of Columbia v. Trump, 17-cv-1596, U.S. District Court, District of Maryland (Greenbelt); Citizens for Responsibility and Ethics in Washington v. Trump, 17-cv-00458, Second U.S. Circuit Court of Appeals (Manhattan).
The Trump Foundation case is People of the State of New York v. Trump, 451130/2018, New York Supreme Court, New York County.
The driver's case is Cintron v. Trump Organization LLC, 653424/2018, Supreme Court, State of New York (Manhattan).