Congress on Track to Avoid Government Shutdown, Mulvaney Says
(Bloomberg) -- The U.S. Congress appears to be on track to avoid a government shutdown when the federal fiscal year ends next month, White House Budget Director Mick Mulvaney said.
The U.S. House and Senate are ahead of schedule in writing spending bills needed to keep the government open, Mulvaney said on "Fox News Sunday."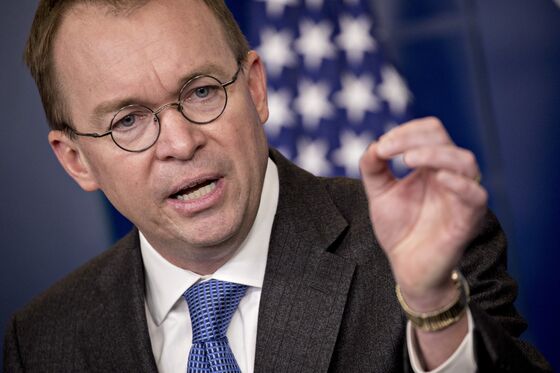 "All signs are good that we're going to actually get some spending bills passed before the end of the fiscal year," Mulvaney said.
President Donald Trump has threatened a shutdown before the November elections if Congress doesn't fund the construction of a wall at the Mexican border and enact other immigration reforms. Without new appropriations, the government could close as soon as the fiscal year ends on Sept. 30.
House Speaker Paul Ryan and Senate Majority Leader Mitch McConnell have said they are trying to complete full-year funding bills for most agencies before the start of the next fiscal year and will wait until later to seek $5 billion for the wall.
For the budget negotiations, Mulvaney said Trump had made clear to Congressional leaders that he doesn't want another omnibus spending bill and that while he doesn't want the government to spend so much money, "If you do, I'd like to have my priorities funded."
Mulvaney said he also thinks recent economic growth can be sustained, arguing that recent cuts in taxes and regulation are "not a sugar high" and are "fundamentally changing the way we create wealth in this country."
Many economists and the Congressional Budget Office have forecast that the recent spurt of more than 3 percent annual growth in gross domestic product will fall to less than 2 percent by 2020.