Tourist Spot Suffers $2.8 Billion Hit as India Floods Kill 324
(Bloomberg) -- The worst floods in a century in India's southern state of Kerala have killed 324 people, caused $2.8 billion in damage and left more than 220,000 homeless since start of the monsoon season in June as the armed forces and rescue teams try to evacuate low-lying areas in which others are still stranded.
One of the country's top tourist destinations, promoted for decades as 'God's Own Country,' Kerala boasts of miles of beaches and palm-fringed backwaters. It has been hit by unprecedented rain in the past few days, forcing authorities to open flood gates at as many as 80 dams.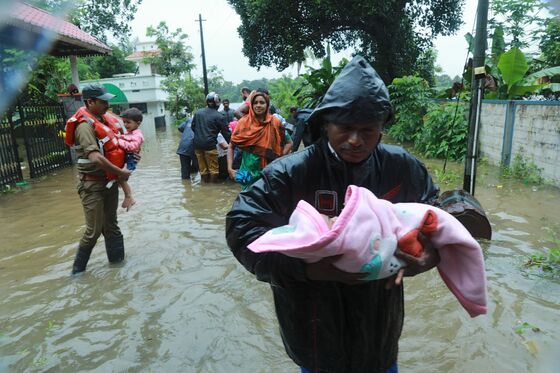 Prime Minister Narendra Modi on Saturday made an aerial assessment of the damages and announced a fresh financial aid of 5 billion rupees. As well as the escalating death toll, 223,139 people have taken shelter in more than 1,500 relief camps since arrival of monsoon rain, the office of the Kerala Chief Minister Pinarayi Vijayan, posted on Twitter.
A "red alert" has been sounded in all but one of the 14 districts of Kerala. The meteorological department has warned heavy rain may affect these districts, according to a Twitter post by Vijayan on Friday.
Widespread downpours are forecast until at least Aug. 20 in the region, which has already witnessed 41 percent more monsoon showers than normal this year, according to the India Meteorological Department. That is in stark contrast to rainfall across the entire country, which has been 8 percent below average.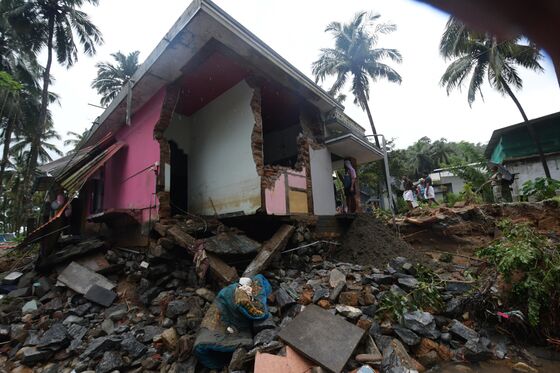 The armed forces have joined federal and state disaster relief services to rescue people trapped in swirling waters, moving many to rooftops or higher ground.
The facilities of Tata Consultancy Services Ltd., Asia's largest software exporter, in Kochi and Thiruvananthapuram were not directly affected, according to a company spokeswoman.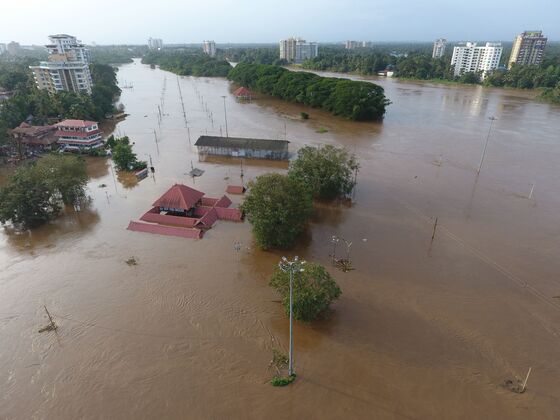 While it's not the peak tourist period in the state, the monsoon season does attract many visitors. The international airport at Kochi has been shut until Aug. 26 after the runway was submerged, according to Cochin International Airport Ltd. Train services in several parts of the state have also been suspended because of landslides and flash floods, according to a Twitter post by Southern Railway.
"Tourism is completely out of gear," Pronab Sarkar, president of the Indian Association of Tour Operators, said by telephone. "Rescue operations for existing tourists are going on and no fresh tourists are bring sent at the moment."
The floods will have an adverse impact until the middle of September, Sarkar said. Tourism accounts for about 10 percent of Kerala's gross domestic product, with the state welcoming about 1 million foreign tourists last year and 14.7 million local visitors.
The natural disaster could mean a loss of tourism income for an entire season while the state rebuilds itself, said Abhijit Sen, a New Delhi-based economist. "But this is also a wake-up call for India to plan better in the long run to help adapt for extreme climate change events."