Merkel and Putin Form Marriage of Convenience Forged by Trump
(Bloomberg) -- The whirlwind tearing through international relations that is U.S. President Donald Trump may be forcing Angela Merkel and Vladimir Putin into a marriage of convenience after years of antagonism.
On Saturday, the German chancellor will host the Russian president at an 18th century Baroque palace near Berlin, their first bilateral meeting in Germany since before Putin's 2014 annexation of Crimea plunged relations into crisis. The invitation from Merkel, who's been his most implacable critic since then, is a major breakthrough for Putin in ending Russia's isolation and reaffirms her pivotal role in Europe despite election setbacks.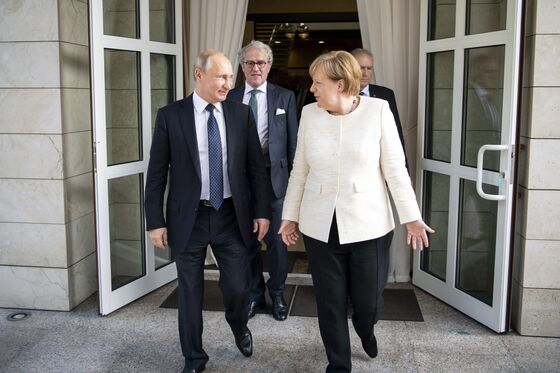 "Merkel is hedging and Putin is exploiting," said Josef Janning, senior policy fellow at the European Council on Foreign Relations in Berlin. After Trump met Putin while attacking Merkel and the German economy, "she needs to have her own contact with Putin. She doesn't want to give up the chance of keeping Putin within a margin that is manageable for Germany."
This is Putin's highest profile bilateral visit to Germany since 2013, though he and Merkel have met at international events including last year's Group of 20 summit in Hamburg. Merkel has visited Putin in Russia several times, most recently in May. She's advocated engagement principally to deliver blunt messages rather than being a bridge between the European Union and Russia.
"It's a working meeting and one shouldn't expect any special results," Merkel told reporters in Berlin on Friday. "But we're dealing with so many problems, from Ukraine to Syria to cooperation in the economic sphere, that it is justified to keep up a permanent dialogue."
The leaders will discuss the conflicts in Syria and Ukraine as well as "big commercial projects in the context of threats that are being made by third countries," Kremlin spokesman Dmitry Peskov told reporters on a conference call on Friday.
The meeting comes after Trump last month slammed Germany as "totally controlled by Russia" because of its dependence on Moscow for natural gas supplies. Work on a new gas pipeline linking the two countries, the Gazprom PJSC-backed Nord Stream 2, began in May amid a U.S. threat of sanctions targeting the project.
Putin-Merkel Confab Aside, Denmark Holds Key to Nord Stream 2
"In a world that's getting more and more unpredictable, we need to talk even with difficult partners like Russia," Achim Post, a senior lawmaker for Germany's Social Democrats, Merkel's junior coalition partner, said in a statement.
Putin stressed the importance of Merkel's support for Nord Stream 2 as evidence of her willingness to assert Europe's independence, said three people who attended a recent meeting between the president and senior diplomats.
The Kremlin views divisions between the U.S. and Europe over trade and the Iranian nuclear deal as a chance for Russia to mend relations with Germany by presenting itself as a more reliable partner in negotiations, according to other officials, who asked not be identified discussing internal matters.
There'll be no breakthrough over Ukraine, though "it's advantageous for Putin to play along with Merkel because there's no-one else in Europe to rely on," said Andrey Kortunov, head of the Russian International Affairs Council, a research group set up by the Kremlin.
"Merkel understands that it's now time to look for opportunities with Russia," said Alexander Rahr, a former member of the German Council of Foreign Relations who's now a senior adviser to Gazprom. "If it's possible to take a step forward on Syria, energy issues or Ukraine, it will be good for Germany as the leader of Europe."
Merkel's suffering domestically after a political backlash against her 2015 decision to leave the border open and allow more than 1 million refugees, most of them Syrian, into Germany. She needs an end to the war in Syria to allow migrants to return home, while she's also under pressure from German businesses to allow the lifting of EU sanctions on Russia over the Ukrainian crisis.
Germany's seeking a political solution on Syria that would create conditions for refugees to return, though "we're still a long way away from that," Steffen Seibert, Merkel's chief spokesman, said on Wednesday.
After Putin used his military to tip the war in Syrian President Bashar al-Assad's favor, Russia's joined with Turkey and Iran in trying to engineer a settlement. Putin also agreed coordinated steps with Trump at their Helsinki summit last month to try to stabilize the situation.
The economic crisis in Turkey may loom over Saturday's talks. The risk of a new refugee exodus from Syria may give Turkish President Recep Tayyip Erdogan "potential if unsavory leverage" to secure western aid by deciding whether to open Turkey's borders, according to Jacob Funk Kirkegaard, senior fellow at the Washington-based Peterson Institute for International Economics.
Amid growing conflict between Trump and Turkey that's prompted U.S. sanctions on its North Atlantic Treaty Organization ally, Merkel "doesn't have an interest in Erdogan being driven into Moscow's camp by Washington," said Janning of the foreign relations council. "She doesn't have an interest in Putin breaking Turkey away from NATO."