Italy Bridge Disaster Shows Faultline in Populist Coalition
(Bloomberg) -- The collapse of a 50-year-old highway bridge in northern Italy this week has highlighted the tensions running through the country's populist coalition.
The anti-establishment Five Star Movement and the anti-immigrant League have so far managed to work together in government in areas where they disagreed during this year's election campaign, such as limiting immigration, boosting benefits for poorer Italians and simplifying the tax system. When it comes to major infrastructure projects, cohabitation may prove more difficult.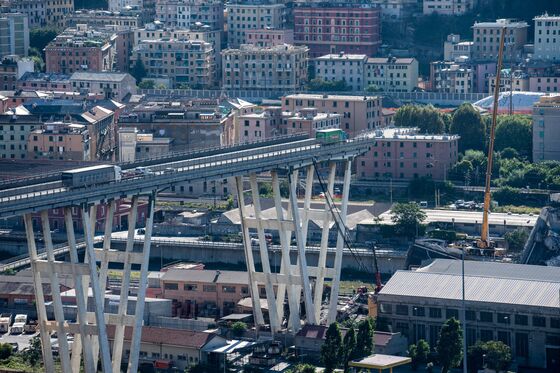 How they resolve that conflict will shape foreign investors' views of Italy and their willingness to sink money into the euro area's third-largest economy.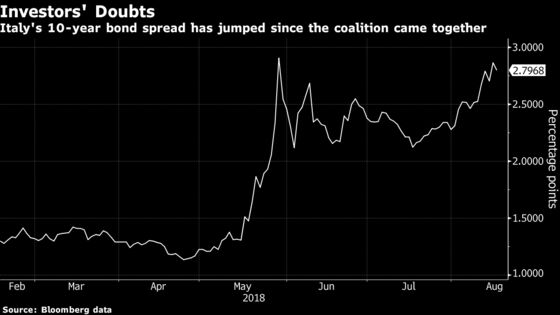 Deputy Prime Minister Luigi Di Maio's Five Star was born as an environmental movement and has opposed projects such as a high-speed train link to France and a highway bypass around Genoa -- which would have diverted some traffic from the overpass that collapsed Tuesday killing at least 38 people. His fellow deputy premier, Matteo Salvini of the League, gets much of his backing from businesses in the north and is an enthusiastic supporter expanding transport and energy links.
So after Tuesday's accident, Salvini pointed the finger at European Union restrictions, hinting that they had prevented maintenance spending and contributed to the disaster. Di Maio focused his fire on the private operators of the highway, Atlantia SpA's Autostrade per l'Italia.
"There's been a division of labor in how they responded to the Genoa tragedy, which just underscores the deep divisions that they are trying to paper over," Carlo Alberto Carnevale Maffe, professor of business strategy at Milan's Bocconi University, said in an interview.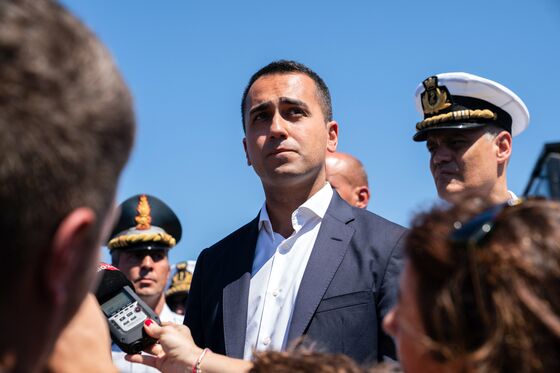 The cracks widened a little Thursday when Di Maio vowed to revoke Autostrade's concession without paying a penalty. Salvini said rescue efforts should come first and suggested the government might go easier on Autostrade if it used its profits to pay victims and offer free tolls.
A phone call from market regulator Consob to the premier's office warning against volatility and the costs of withdrawing the concession, reported by La Stampa Friday, may not help to bring the two sides any closer.
The newspaper reported that while Salvini was advised by his staff that the cost to withdraw the license could rise up to 20 billion euros, Di Maio kept to his point. "Whoever doesn't want to revoke the license will have to walk over my dead body. The government is not stepping back, it's accelerating," Stampa quoted him as saying.
A statement from the transport ministry Thursday evening said that Autostrade might be able to keep its concession depending on the actions it took before the tragedy.
With few analysts predicting the coalition will last a full five years, both sides are sensitive to shifts in sentiment that could upset the balance and trigger an election, pitting them against each other as rivals again. Since the election in March, Salvini has wiped out a 17 percentage-point deficit to edge ahead of Di Maio in the latest surveys, giving him a strong hand in any tussle.
The aftermath of the Genoa disaster also carries asymmetric risks for the partners.
Local groups linked to Five Star have been fighting for years against a 3 billion-euro ($3.4 billion) project to cut a new highway through the hills behind the thriving port city. While the project wouldn't have done away with the 1,100-meter (3,600-foot) viaduct that collapsed, it would have reduced it to a local link between neighborhoods rather than a major north-south artery. The League is part of the regional government has been trying to push the project forward.
Five Star opposed the project because Autostrade never gave any indication the bridge needed repairs, said Mario Turco, a lawmaker for Five Star representing the southern region of Puglia. He said the real problem is rushing into privatizations.
"There aren't sufficient controls on how much profit these companies make or how it's used," he said in an interview. "How much profit is given to shareholders, how much to maintenance?"
Two more issues coming down the track will divide the coalition partners along similar lines.
Di Maio says it would be a waste of money to spend 10 billion euros on a rail tunnel through the Alps linking the industrial center of Turin with France's second biggest city, Lyon. Salvini argues that Italy needs better transport links for its exports.
Italy would face penalties if it abandons the French-Italian project, known as TAV, and newspaper reports said Di Maio had been looking at ways to slim down the plan without fully walking away. Turco, the Five Star lawmaker, said Genoa would harden his party's position.
"This tragedy is going to accelerate our commitment to halt large infrastructure projects such as TAV because we must save resources for existing maintenance," he said. "We cannot risk another bridge falling down."
Five Star's environmental roots are also at odds with the League's pro-business instincts over a planned pipeline to bring gas from the Caspian Sea to Italy. Di Maio campaigned against the link while Salvini has said Italy needs more access to energy.
Prime Minister Giuseppe Conte, chosen as a compromise figure to keep the peace between the two party leaders, said during his July trip to Washington that it's a strategic project for Italy, a further sign that Salvini may have the upper hand.
The League leader's attempts to use the Genoa disaster to fuel opposition to the EU will only raise passions in Italy's combustible political environment.
"Blaming the EU for this is just another thing that puts up the heat in the domestic Italian debate," Guntram Wolff, the director of Bruegel said in a Bloomberg Television interview. "That, ultimately, can be very dangerous."