Turkey's Inevitable Credit Rating Cut
(Bloomberg Opinion) -- S&P Global Ratings is scheduled to update financial markets about how it views Turkey's creditworthiness on Friday. Investors have already delivered their collective verdict by driving up the nation's borrowing costs and sending the lira to record lows this week.
But it's how Turkey's leaders respond to what looks like an inevitable downgrade at some point that will set the tone for the next chapter in the country's unfolding economic drama.
Turkey is currently rated BB- at S&P, three levels below investment grade, after a one-step downgrade in May. S&P attributed its decision to the risk of a hard landing for the country's "overheating, credit-fueled economy."
A look at the bond market show investors are assuming that the picture has only gotten worse. Yields on Turkey's $3.25 billion of government securities repayable in 2025 are commensurate with those of far lower-rated borrowers.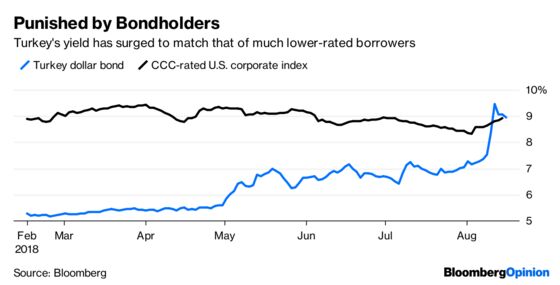 Moody's Investors Service rates Turkey one grade higher than S&P on its scale, at Ba2. Its most recent action was also a downgrade, by one level in March. But an announcement in June from Moody's that it was considering a further cut, a couple of weeks before elections, prompted an angry rejoinder from the administration.
Thankfully, the government doesn't seem to have followed through on those threats. But in the current febrile climate, with Erdogan accusing "economic hitmen" of inflicting damage that he regards as "no different than a military coup attempt," the implementation of the downgrade that bond investors are anticipating could prompt a furious response.
That would be a mistake. It would threaten to undermine the uneasy truce that's seen the lira stabilize after reaching a record low of 7.23 against the dollar on Monday, albeit one engineered by the central bank starving commercial lenders of one-week repo funding since then. Forcing banks to borrow at its more expensive overnight rate makes it harder for them to short the lira.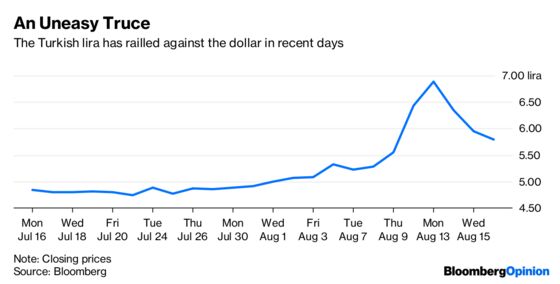 There's scant evidence of Erdogan retreating from his position that interest rates need to be cut to control inflation that's three times higher than the target set by the central bank. The latter, meantime, hasn't exercised its alleged independence to tighten monetary policy. That's worrying enough.
But if Erdogan threatens reprisals against the credit-rating companies for any additional downgrades they deem appropriate, investors may decide that their capital is better off not being invested in a country with little respect for economic orthodoxy or the independent financial institutions designed to keep politicians in check.
This column does not necessarily reflect the opinion of the editorial board or Bloomberg LP and its owners.
Mark Gilbert is a Bloomberg Opinion columnist covering asset management. He previously was the London bureau chief for Bloomberg News. He is also the author of "Complicit: How Greed and Collusion Made the Credit Crisis Unstoppable."