Turkey's U.S. Treasury Dump Is More Vexing Than Russia's
(Bloomberg Opinion) -- A country in the crosshairs of American foreign policy has experienced a drastic decline in its ownership of Treasuries, falling off a list of "major foreign holders" of U.S. government securities. Sound familiar?
No, it's not Russia. This time, it's Turkey — and that could spell even bigger trouble for financial markets.
Turkey's stash of U.S. Treasuries declined for eight consecutive months through June 30, the longest stretch since at least 2002, Treasury Department data showed this week. At $28.8 billion, the country's holdings are down by more than 50 percent during that eight-month period and no longer meet the $30 billion threshold to be considered a major holder for the first time since 2012.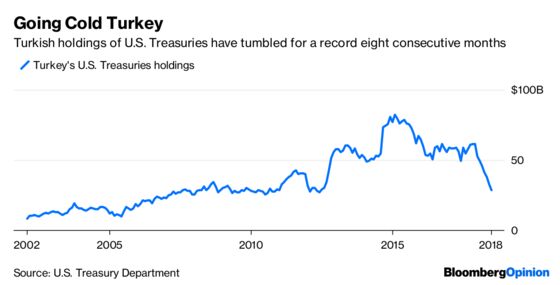 Like Russia, Turkey is a relatively small player in the $15 trillion Treasuries market. Most investors focus on flows from China and Japan because they each hold more than $1 trillion of U.S. debt. But unlike Russia, Turkey is in the middle of an economic crisis, spurred by tensions with the Trump administration, that's caused its currency to weaken sharply. Persistent dumping of Treasuries only limits its ability to defend the lira and for dollar borrowers to make their debt payments.  
"Given the pace of the decline, this could increase investor concern around Turkey's ability to make good on its foreign currency obligations in the coming months," BMO Capital Markets strategists said in a report Thursday.
This week, at least, those fears seem to be abating. It was looking downright scary when the Turkish lira traded at more than 7 per dollar on Monday. But since then, it's come down to about 5.8 per dollar after the central bank used stealth tactics to raise borrowing costs and Qatar pledged $15 billion to support the economy.
The foreign-exchange rate is still high relative to history, though, and comes after years of explosive debt growth. According to the Institute of International Finance, nonfinancial corporate borrowers in Turkey have increased debt 132 percent over the past decade, to $543.3 billion from $233.6 billion. Financial corporations' obligations have surged 220 percent, to $216.6 billion from $67.7 billion.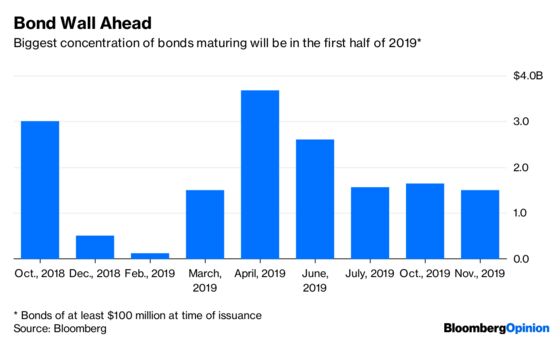 Businesses may need to refinance at least $16 billion in bonds denominated in foreign currencies that are due by the end of the year, according to calculations by Bloomberg. Turkish companies have a net foreign exchange debt pile of $217 billion, according to central bank data. 
An easy way to obtain an influx of dollars, of course, is by selling U.S. Treasuries, which is why the months of offloading should raise some red flags. It's one less tool to help quell concern about a rash of debt defaults. To a lesser extent, it also weakens Turkey's hand in negotiating with the U.S.
Russia's mysterious selling, on the other hand, appears to have been driven by an effort to diversify away from American securities after new U.S. sanctions. Its central bank is instead ramping up purchases of gold, bringing the share of bullion in its international reserves to the highest of President Vladimir Putin's 18 years in power.
For Russia, it's clear the selling seems to at least be partially strategic. But in Turkey's case, any further significant dumping will most likely be forced, and that's never a good position. 
This column does not necessarily reflect the opinion of the editorial board or Bloomberg LP and its owners.
Brian Chappatta is a Bloomberg Opinion columnist covering debt markets. He previously covered bonds for Bloomberg News. He is also a CFA charterholder.