Trump Picks a Horse in Europe's Election Race
Viktor Orban has long been a pariah within the European Union for his "illiberal democracy." For some outside the bloc, he's now becoming its go-to leader.
Shunned by the Obama administration, Hungary's prime minister is being wooed by President Donald Trump. He's already close to Vladimir Putin as an admirer of the Russian president's authoritarianism and the U.S. endorsement strengthens his hand as he champions the populists sweeping through Europe.
Orban has pledged to rally right-wing forces in next year's European Parliament elections to tilt the EU toward his political philosophy. Trump's former strategist, Steve Bannon, another Orban fan, has set up an organization in Europe to pursue similar ends.
Europe's liberal establishment is already getting squeezed between the strongmen in Washington and Moscow, and their acolyte in Budapest is winning support in Poland and Italy for his anti-immigrant nationalism.
Trump has shown how this plays out in the Middle East: praise for the autocrats in line with his priorities, punishment for defiant Turkey. If Orban is now the model for what he wants in Europe, that's bad news for the leaders who've vowed to defend the liberal order against Trump's 'America First' agenda.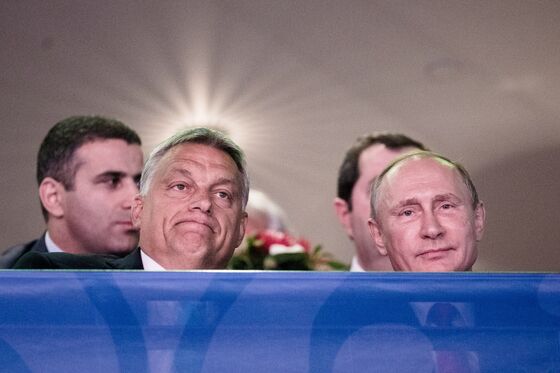 Sticking points | China announced plans to dispatch a vice commerce minister to the U.S. in the first trade talks since negotiations broke down two months ago. Still, there's little expectation for a breakthrough, since several Trump administration demands would require China to rethink a development model that made it rich and kept the Communist Party in power long past the Cold War. Bloomberg News breaks down five big issues here.
Enter Merkel | She might not have the best relationship with Trump, but the German chancellor is reminding Turkish President Recep Tayyip Erdogan he has a potential ally in Berlin, offering Germany's credibility to avert a spillover of economic turmoil. As Birgit Jennen and Arne Delfs write, Angela Merkel wants Turkey to avoid a financial meltdown and can't allow the country to descend into chaos, despite last year's war of words over democratic values. For a look at how the currency crisis is testing Erdogan's gamemanship, click here.
Imaginary friends | Listen to enough Trump speeches and you'll spot a regular feature – the anonymous figure, important and powerful, who defies conventional wisdom to back up the president. Last month, Toluse Olorunnipa reports, it was a big CEO backing tariffs, despite the cost to his bottom line. In May it was a friend endorsing Trump's prisons policy. "When he doesn't have real anecdotes, it appears that he finds his own," says Robert Rowland at Kansas University.
Washington purge | Trump pulled the security clearance of Obama-era CIA chief John Brennan who's labeled the president a threat to the nation. A host of senior officials from the previous administration are also under review, including James Comey, the former FBI director at the center of the Mueller probe.
Realpolitik in Nigeria | President Muhammadu Buhari's bid to win reelection next year has been hit by party defections and discontent over graft. But as Dulue Mbachu reports, he does have one crucial advantage: incumbency allows him to wield the power of the state against his opponents.
Brexit talks are set to resume in Brussels today with the two sides still tussling over how to handle the Irish border.
And finally… Europe's got the geeks and it practically invented craft beer, but it just can't turn its tech startups into billion-dollar unicorns. Now though, as Jeremy Kahn reports, there's serious money going into European ventures for the first time, raising hopes that the industry could finally come of age.