Penser Bank Dumps All Swedish Small-Caps Ahead of Messy Election
(Bloomberg) -- Waiting for the Swedish election results to roll in may be too late.
Sweden's Erik Penser Bank AB has already sold off its small-cap stocks and is avoiding the krona ahead of what may be the most tumultuous time for the Nordic country's democracy in a century. The privately owned bank, which has 32 billion kronor ($3.5 billion) under management, says the Sept. 9 election is a unique event that will require unusual caution in the normally stable Swedish markets.
"Does the market have a reason to be worried and stressed ahead of this election?" asks Jonas Thulin, head of asset management at Erik Penser, in a phone interview. "Our conclusion is that yes, it has."
Sweden is facing political turmoil with a nationalist, anti-European Union party potentially emerging as the largest in parliament. The Sweden Democrats have so far been shunned by the other parties and it doesn't look like any of the two blocs will win a majority. There's an all-out campaign to lure voters, but no one knows what will happen on Sept. 10.
Part of the reason for a rise in political tension is that Sweden has actually suffered a rise in inequality over the past four decades, according to the bank's analysis. The spread in incomes has even risen more in Sweden than in the U.S.
"Mr. and Ms. Svensson have a pretty good reason to be skeptical," Thulin said. "If you add political uncertainty, real wage growth etc.. to that, then it's not so strange that the distrust grows in Sweden."
Added to the uncertainty is a deceleration in Swedish economic growth after a long boom. That means that the central bank will probably not be able to raise interest rates as planned later this year, which will weigh on the krona, according to the bank.
Erik Penser's decision to dump Swedish small-caps is based on uncertainty regarding the election outcome, but also on historical data. Its analysis shows that smaller companies have performed worse than their larger peers before and after Swedish elections in the past.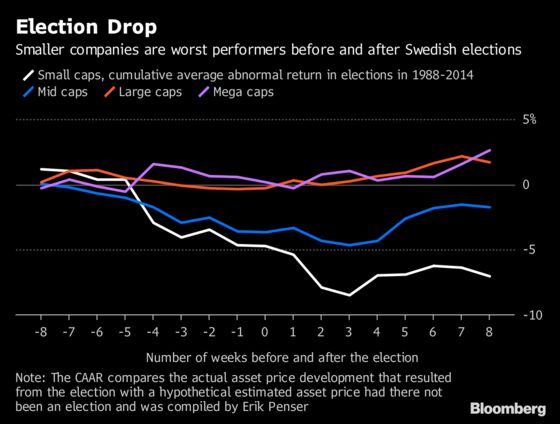 A best-case scenario is that things will calm down in a couple of months. But a worst-case outcome, a prolonged situation with a minority government and talk about re-election and budget fights, probably means under-weighting Sweden, according to Thulin.
"Our naïve hope is that the parties now really start discussing government alternatives to calm this down," he said. "But the probability of that happening is quite small. So far the discussions are more colored by populism."
Penser's analysis of elections from 1988-2014 shows that company size matters.

Large- and mega-caps are minimally affected during the election period, with excess return observed about 3 weeks after the election
Small- and mid-caps start underperforming significantly about 4-5 weeks ahead of the election
All market caps begin showing excess returns about 2 weeks after the election
Sectors directly affected by election results are technology, telecommunications and financials
The technology and telecommunications sectors have typically shown excess returns when a leftist government has won, while the financial sector has benefited from a center-right government victory