Markets Should Stop Panicking Over Brexit, Duncan Smith Says
Iain Duncan Smith, a former leader of Prime Minister Theresa May's Conservative Party and a leading Brexiteer, urged investors to calm down as he accused financial markets of overreacting to negative forecasts in the run-up to Britain leaving the European Union.
He said economic experts, including Bank of England Governor Mark Carney, have been proved repeatedly wrong on the impact of Brexit and insisted that the fundamentals of the U.K. are strong -- though he also acknowledged it's "impossible to predict how things go" as Britain negotiates with the EU and becomes the first country to quit the bloc.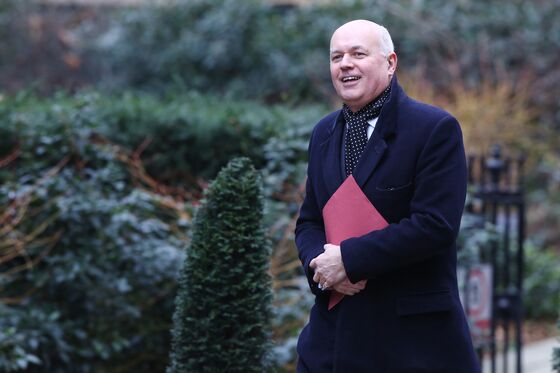 "The markets themselves have got to be a bit more responsible about constantly panicking, jumping and being jittery," Duncan Smith told Bloomberg TV on Thursday. "It will eventually get settled," he said. "The economy is more robust than people give it credit for."
The pound has slumped amid growing warnings that Britain is at risk of crashing out of the EU without an agreement -- Carney himself said this month the chance of that outcome was "uncomfortably high." May's struggles to unite the pro- and anti-Brexit wings of her party have also led to speculation she may face a leadership challenge.
Duncan Smith refused to criticize May directly over Brexit, though he did say he doesn't "particularly like" the plan agreed with her Cabinet because he said it compromises in the wrong areas. When asked to score the premier's performance out of 10, he said Brexit "is a work in progress -- you can't score it until you get to the end."
He also refused to be drawn on the chances of Boris Johnson, who quit as foreign secretary over May's Brexit plan, succeeding her in the top job.
"I don't think it's about leadership at the moment, it's about getting the right arrangements," Duncan Smith said.
He did, however, take time to defend Johnson's right to free speech over his comments comparing women who wear burqas to "letterboxes" and "bank robbers."
Duncan Smith, who spent his short tenure as party leader under almost constant sniping from those wanting him out of his job, may have just been exhibiting the solidarity of a once beleaguered leader to his similarly challenged successor.
Or maybe he was just biding his time.