How Freaked Out Are Italian Investors? Very.
(Bloomberg Opinion) -- Italian bonds have been getting hit pretty hard lately, and it's understandable, given the turmoil in Turkey and the serious worries about the nation's budget. But when markets turn risk-off, as they did earlier this week, it can be hard to assess just how worried investors in Italy really are. 
One way to find out is to look at two-year notes.
Two-year Italian bond yields have nearly tripled in the past month to 1.4 percent. The magnitude of the move in the 10-year, though substantial, still isn't nearly as big — yields on the security have risen about 60 basis points to 3.2 percent.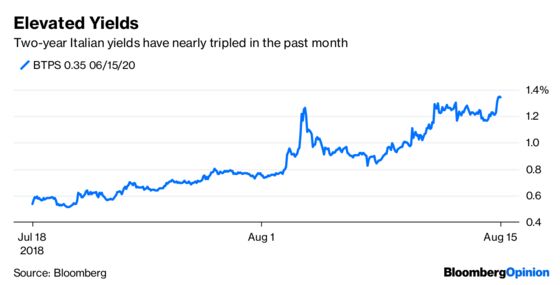 The information that trading in shorter securities gives you is particularly relevant to Italy's situation. For a start, this is where the bulk of financing activity takes place, so a pickup in borrowing costs here is felt more acutely. That's crucial for Italy, which has a 2.3 trillion euro ($2.6 trillion) debt mountain. The end of negative two-year yields is a painful affair.
Furthermore, the short end is more reflective of present circumstances, while longer securities are more of a bet on where inflation will be in a few years' time. A bigger selloff in Italian two-year debt versus 10-year bonds suggests serious concern about the nation's near-term financial stability, mixed with concerns with how the European Central Bank will deal with its holdings of Italian securities as it tries to step away from extraordinarily loose monetary policy. 
The plight of the two-year throughout Italy's political crisis this year shows its sensitivity. On May 29, when the coalition government of euroskeptics looked inevitable, it jumped nearly 200 basis points for its biggest one-day yield gain ever. Though it has recovered from that peak stress point, the recent rockiness shows investors know trouble is coming.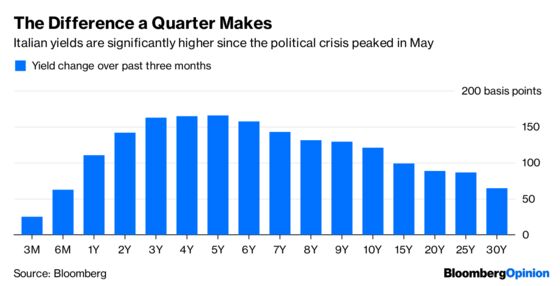 The big worry is the new government's commitment to following European Union budget rules. The Genoa bridge tragedy prompted Deputy Prime Minister Matteo Salvini to pledge extra infrastructure spending presumably regardless of what this did to the country's fiscal position. It's not the first time he's pressed the limits of what the EU can accept.
But an important sign that the thinking of the nation's officials has turned came from comments by Finance Minister Giovanni Tria, who said on Wednesday that "public investment in infrastructure is a priority of the current government for which there will be no budgetary constraints." That's a long way from his pledge July 4 (which he reaffirmed on Aug. 3) to respect the bloc's rule that deficits must amount to no more than three percent of gross domestic product.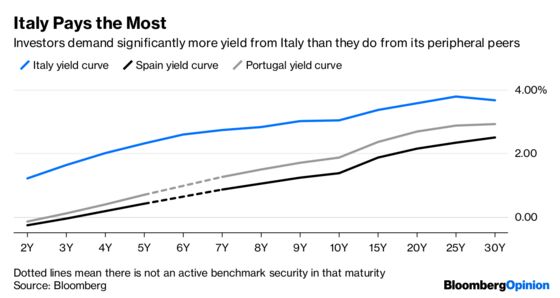 The stage is set for some serious EU heartburn, and officials are sure to push back to prevent budget discipline across the bloc from falling apart. Though the European Commission said Wednesday Italy is free to set infrastructure as a policy priority, that doesn't seem to have assuaged investors' concerns.
Italian bond yields will be the stress point if relations fray. The volatility in recent days and weeks could well continue right through the budget negotiations in September. So much for the August holidays.
This column does not necessarily reflect the opinion of the editorial board or Bloomberg LP and its owners.
Marcus Ashworth is a Bloomberg Opinion columnist covering European markets. He spent three decades in the banking industry, most recently as chief markets strategist at Haitong Securities in London.