U.K. Could Drop Train-Fare Link to Highest Measure of Inflation
(Bloomberg) -- Britain is looking at dropping the link between rail fares and the highest measure of inflation in a move aimed at staving off criticism surrounding annual hikes in ticket prices.
Rather than base fares on the retail prices index, increases could be pegged to the lower consumer prices measure, Transport Secretary Chris Grayling said Wednesday. Under the existing system, July's RPI figure -- revealed today as 3.2 percent -- determines the maximum hike in regulated tariffs in January.
"Let's get the routine increases in train fares, that are there each year to cover increase in costs, down to the lower level of inflation which is used by pretty much the whole of the rest of the public sector and much of the rest of our economy," Grayling said on BBC Breakfast. Annual consumer-price growth stood at 2.5 percent in July, according to the Office for National Statistics.
Grayling said a re-basing of fares would inevitably present a "challenge" for rail unions, and the RMT labor group dismissed the measure as an attempt to cap pay. It added in a statement that the latest indicated price hike represents "another nail in the coffin" of Britain's privatized railway.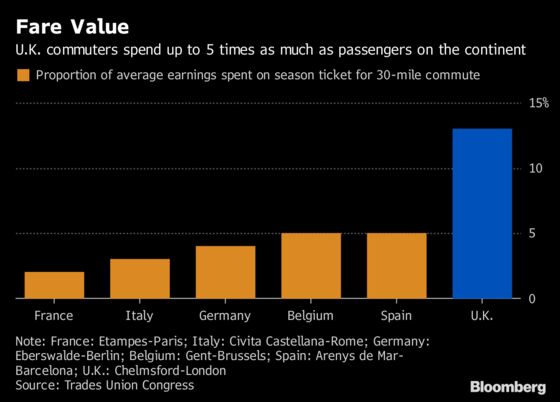 A return to state-run trains, as favored by unions and the opposition Labour Party, would deprive the railway of cash and do nothing to ease prices and overcrowding, Grayling said.
"Our problem is that the railways are bursting at the seams," he said. "You take away the private sector, you lose the private investment that's predominantly going into new trains. Instead, every year when it comes to the budget, the railways have to fight with schools and hospitals for the money."