Thousands March in Brasilia as Lula Files Election Paperwork
(Bloomberg) -- Tens of thousands of supporters of Brazil's jailed ex-president Luiz Inacio Lula da Silva marched in Brasilia on Wednesday as the Workers' Party formally registered his application to run for the presidency in October's elections.
Party president Gleisi Hoffman emerged from the Superior Electoral Court late on Wednesday afternoon to address a large crowd of red-shirted supporters, many of whom had traveled across the country in solidarity with the opinion poll front runner. "President, thank you for your trust and for the trust of the Brazilian people,"she said. "You are our candidate now, Lula."
The former trade union leader is serving a 12-year prison sentence for corruption and money-laundering, but he has denied wrongdoing. Under Brazilian law, a candidate convicted of a criminal offense, upheld on appeal, cannot stand for public office for eight years.
Lula and his backers say the conviction is political and designed to bar him from running for the presidency. Hours after his court filing, the prosecutor general filed a petition to challenge Lula's candidacy, according to the G1 news website.
In a letter to the crowd, read out by Fernando Haddad, Lula's vice-presidential candidate, the former president wrote, "Only if I die, resign or I'm pulled out by the electoral courts will I not be the candidate. I do not intend to die or resign, and I will fight with all of my strength."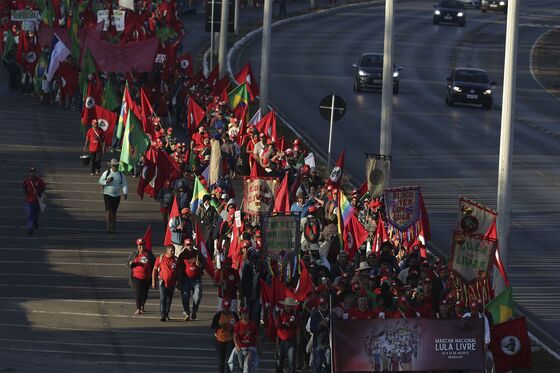 Maria Isabel Santos, 64, a supporter from the northeastern state of Sergipe, said that Lula was the person who had done the most to help Brazil. "He was put in jail, but we are here to fight and to see Lula become president again," she said.
Brazil's electoral court should decide on Lula's political fate within the next three weeks, but few expect he will be allowed to run in October. In public, the ex-president's allies are pulling out all the stops to get the imprisoned leftist leader to compete. In private, however, many leaders of his Workers' Party say Lula should, and will, eventually stand down if the authorities uphold the law that bars convicted felons from running for elected office.
The drawn-out process is adding to the uncertainty surrounding the most unpredictable presidential election since Brazil's return to democracy. Thirteen candidates have now registered to run for the presidency. Polls without Lula are led by ex-Army captain Jair Bolsonaro, though several other candidates, including environmentalist Marina Silva and former Ceara governor Ciro Gomes, are close behind.
If Lula is barred from running, the key question will be whether he can transfer votes to Haddad, a former mayor of Sao Paulo. Electoral law establishes that the legality of all candidacies, including appeals, must be ruled upon at the latest by Sept. 17, a date that's less than three weeks before the first round vote.
While Lula remains hugely popular among the millions of citizens who saw their lives improve during his time in power, he is also loathed by many for the corruption that took place during his administration and the sharp economic downturn that followed.
Voters and candidates were reminded of the feeble state of Brazil's economy earlier on Wednesday, when the central bank reported that activity dropped in the second quarter.