South Africa Close to Tax Deal to Lure VW, Ford, BMW Investment
(Bloomberg) -- South Africa's government is close to agreeing to new tax breaks for international carmakers including Toyota Motor Corp., Ford Motor Co. and BMW AG in return for initiatives to boost jobs and exports, according to Trade and Industry Minister Rob Davies.
A deal on a 15-year incentive program to replace one that expires in 2020 should be reached this year, Davies said in an interview Tuesday. While work is still to be done, failing to reach a compromise could lead to companies closing plants and building vehicles elsewhere, he said.
"We will be spending probably 2 or 3 billion rand ($136 million-$204 million) a year on support for the auto program," the minister said at Bloomberg's Johannesburg office. "This is it. You either do it or you don't have a motor industry."
At stake is an industry that accounts for about 7 percent of South Africa's gross domestic product, according to the minister, with car makers building a combined 600,000 vehicles in the country in 2017. BMW has spent more than 6 billion rand on a plant in Rosslyn, north of Pretoria, and in April started production of the X3 sports-utility vehicle at the site, the first time it's been made outside the U.S. Volkswagen AG and Nissan Motor Co. have both been expanding in the country in recent years.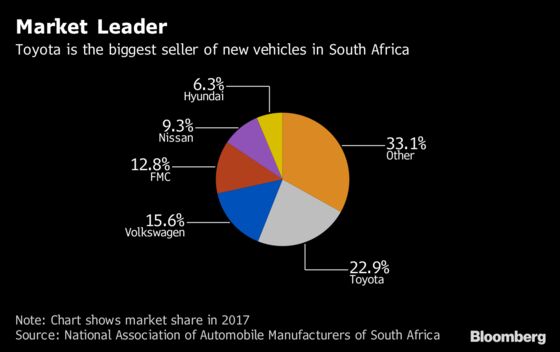 The National Association of Automobile Manufacturers of South Africa has said two sticking points in the deal negotiations were overambitious government targets for production and employment. The industry employs more than 150,000 people, Davies said. The Department of Trade and Industry had asked for that to be increased to about 225,000 by 2035, Naamsa Director Nico Vermeulen said in May.
That's hard to achieve as the global car industry shifts toward automation, he said at the time. However, South Africa has an unemployment rate of 27.2 percent and the ruling African National Congress is desperate to reduce that figure.
"The trick is to calibrate it so the incentive is attractive enough on the one hand, but also that when we do provide support, we get value for it," Davies said.
Vermeulen declined to comment when contacted by phone Wednesday.
The government has told carmakers it wants to see increased levels of black empowerment, with manufacturers starting to source their components from local black-owned companies, Davis said. The proposal is part of South Africa's efforts to redress economic imbalances caused by apartheid.
"We're providing an incentive and I think our quid-pro-quo is investment and employment, which is pretty significant," he said. "Already some of the programs are being designed around getting a better investment incentive if you employ more."