Palestinian Succession Talk Heats Up as PLO Council Convenes
(Bloomberg) -- A series of illnesses that sent Palestinian Authority President Mahmoud Abbas to hospital and sparked rumors he was dead has put the 83-year-old leader under renewed pressure to designate a successor. He's still resisting.
Abbas lashed out at Israel, Hamas and the Trump administration Wednesday in a speech at the opening the Palestine Liberation Organization's Central Council meeting in Ramallah, once again rejecting the White House's "Deal of the Century" proposal for peace with Israel that hasn't been unveiled yet. "We will continue to fight it until it is dropped," he said.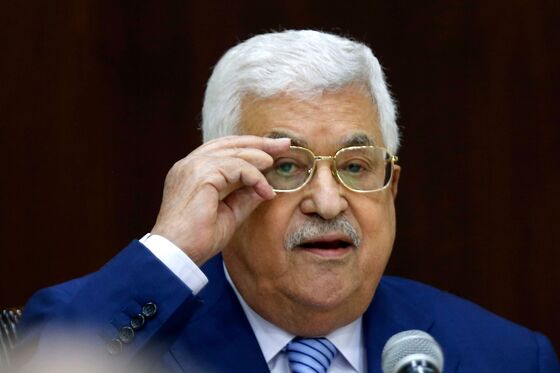 When Abbas was last hospitalized -- and his release repeatedly postponed -- opponents sent a string of messages on Twitter that he had died. In response, his office released a video of the leader shuffling down a hospital corridor in pajamas and slippers.
The two-day gathering this week is aimed at "trying to reinforce Abbas's legitimacy, which is fumbling in a way that is apparent to all," said Sam Bahour, a Ramallah business consultant and founder of Americans for a Vibrant Palestinian Economy.
Abbas's dismissal of President Donald Trump's peace plan even before its release sacrificed financial and political support that had buoyed the Palestinian Authority since the Clinton administration. A potential vacuum at the top of the Palestinian Authority has generated so much concern because of the prospect for chaos and violence.
From time to time Abbas has raised the possibility of deliberately letting the Palestinian Authority collapse, potentially forcing Israel to assume responsibilities it gave up 25 years ago with the Oslo peace process, ranging from providing electricity to postal service and sewage repair.
Abbas, known as Abu Mazen, was elected in 2005 for a five-year term, but after Hamas wrested control of Gaza in 2007 he stayed in power in the West Bank without holding another election. He has occasionally raised the prospect of retiring, but shown no indication he intends to do so.
Hamas, deemed a terrorist organization by the U.S. and European Union, has eclipsed the Palestinian Authority on the world stage since Gazans started staging weekly protest marches against Israel in late March, and could seek to take over the West Bank as well. The leadership of Abbas's Fatah party is so splintered that any succession battle is liable to turn bitter.
"As long as Abbas is there, nobody in Fatah will dare press this issue openly," said Khalil Shikaki, director of the Palestinian Center for Policy and Survey Research in Ramallah. Once he's gone, "there will be a very different environment."
If Abbas dies and the Palestinian Authority follows constitutional protocol, his immediate successor pending elections would be a Hamas leader, Palestinian Legislative Council speaker Aziz Dweik. Abbas will do whatever he can to avoid that scenario, Shikaki said.
Top contenders in elections could include:
Mahmoud al-Aloul, 68, deputy chairman of Abbas's Fatah Party and a leader of efforts to boycott Israeli consumer goods in the West Bank;
Saeb Erekat, 63, PLO secretary-general and longtime peace negotiator;
Majid Faraj, 56, chief of the P.A.'s intelligence service;
Jibril Rajoub, 65, sports minister and former West Bank security head;
Ismail Haniyeh, the 56-year-old chief of Hamas;
Marwan Barghouti, 59, a charismatic former deputy to Yasser Arafat imprisoned by Israel for murder; and
Mohammed Dahlan, 56, a former Palestinian Authority interior minister who was purged by Abbas in 2011 and lives in exile in Abu Dhabi.
Abbas addressed the succession issue obliquely in a May 30 speech to Fatah leaders, without indicating whom he favored.
"We do not want to keep the culture of the individual,'' he said. "We want the culture of the institution."
Barghouti has been a consistent frontrunner in Shikaki's polls even though he's serving five life terms in Israeli prison, convicted of planning terrorist attacks. Haniyeh, polling second, would stir a hornet's nest if he were to win a presidential election, facing vigorous opposition to his vision of Islamic government from secular Fatah leaders and much of the West.
Abbas, overweight and a heavy smoker, underwent a cardiac catheterization in 2016 and has a history of prostate cancer. In February, he took time from a trip to the United Nations for unexplained medical tests at Johns Hopkins Hospital in Baltimore. In May he was admitted to a private hospital with what was described as an ear infection, later reported to be pneumonia.
Time and illness also are catching up with the new generation. Erekat underwent a lung transplant last year, Faraj went to the U.S. for heart surgery in March and Rajoub was hospitalized last month with what was described as an earache. Like Abbas, that set off speculation it was something more serious.
Despite years of antagonism between Abbas and Prime Minister Benjamin Netanyahu, the next Palestinian leader likely will have to continue security coordination to survive, says Yaakov Amidror, Netanyahu's former national security adviser. Otherwise, he said, Hamas could overwhelm the Palestinian Authority in the West Bank as it did in Gaza.
Uncertainty about succession plans could affect foreign direct investment in Palestine, said Bahour, who has spent 20 years raising funds from the U.S. for Palestinian businesses. FDI to Palestinian areas dropped 31 percent in 2017 from the year before, to just over $200 million, according to the World Bank.
"People are scared," Bahour said. "They want to know who is going to be in charge."